PHOTOS: First Look at New Park on Governors Island
Thursday, November 14, 2013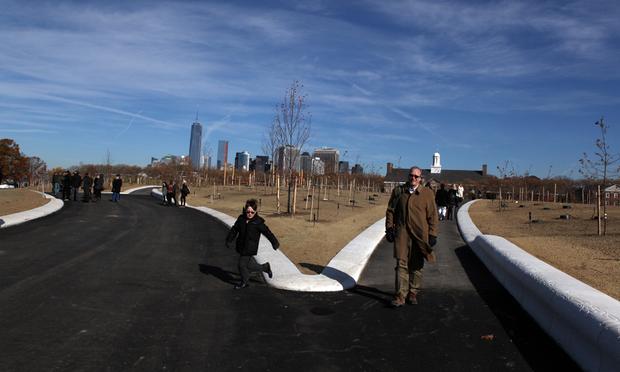 (Stephen Nessen/WNYC)
The city unveiled a new park on Governors Island on Thursday with curving paths, towering sculptures and dozens of hammocks. Though it won't open to visitors until May 2014, we got a sneak peek.
The 30-acre park, designed by the Dutch firm West 8, will include two natural-turf baseball fields, 50 hammocks and 1,500 trees. Mayor Michael Bloomberg also announced that there will be a campus for international students, an arts center and a spa center. 
Governors Island also received infrastructure upgrades for flood prevention and communications, developed with $75 million in city capital funds and $260 million by the Bloomberg administration.
The second phase of development includes The Hills, several mounds 25 to 80-feet high with skyline views and made of recycled construction and fill. They are expected to be completed by 2015.
Swing set designed by West 8 on the southern end of the Governors Island. (Stephen Nessen/WNYC)
Hammock Grove, a 10-acre stretch of land with play equipment and lawn chairs. (Stephen Nessen/WNYC)
Phone in a Tree sculpture on Governors Island by Mark Handforth. (Stephen Nessen/WNYC)
Designer Peter Heon, who worked on Governors Island, relaxing in one of 50 hammocks in the new park. (Stephen Nessen/WNYC)
Play equipment designed by the Dutch firm West 8 (Stephen Nessen/WNYC)
New baseball field and trees on Governors Island in front of where The Hills will be built. (Stephen Nessen/WNYC)
More in:
Stephen Nessen reports for the WNYC Newsroom and can often be heard live on Morning Edition.