Photos: First Look at the 9/11 Memorial Museum
Wednesday, May 14, 2014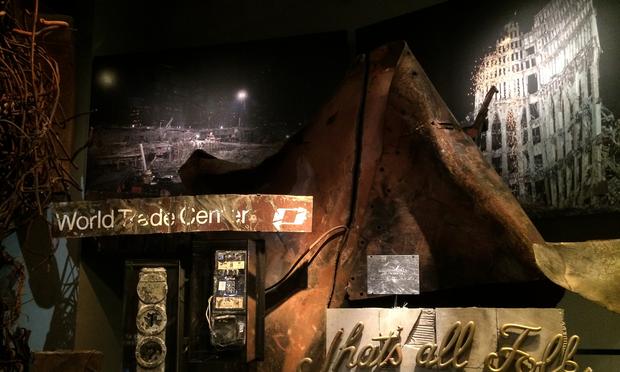 (Stephen Nessen/WNYC)
The National September 11 Memorial Museum is preparing to open its doors to victims' families on Thursday. Situated below the original Twin Towers, the museum features hundreds of artifacts from ground zero, as well as audio recordings of 911 phone calls, voice mails and oral histories of survivors.
Carl Krebs, the design architect for the museum, said the open hall, 70 feet underground in the footprint of the North Tower, is a powerful part of the museum. "We felt that this large void was an important symbol for the site; it reflected the scale and the absence of towers," he said.
Former Mayor Michael Bloomberg, the chairman of the 9/11 Memorial and Museum, called its opening an important milestone for the city. "The museum is a place to understand 9/11 through the lives of those killed and those who rushed here to help," he said, speaking at a media preview of the museum.
There will be a six-day dedication period, in which the museum will be open 24 hours for the families of victims. It will open to the public next Wednesday. Tickets are $24, but are free for victims of families and 9/11 rescue and recovery workers.
Here's a time-lapse video of the site's construction — photos of the museum are below.
The entrance to the 9/11 Museum is just below ground level and leads to a long ramp that goes 70 feet underground. (Stephen Nessen/WNYC)
The "We Remember" exhibit features recordings of people recounting their memories of where they were on 9/11. (Stephen Nessen/WNYC)
The slurry wall, part of the original Twin Towers' foundation, which was not destroyed when the buildings collapsed. (Stephen Nessen/WNYC)
The North Tower's elevator motor, which was severed by Flight 11 and left hundreds of people stranded above floor 93. (Stephen Nessen/WNYC)
Former Mayor Rudy Giuliani touring the 9/11 Museum. (Stephen Nessen/WNYC)
Ladder Company 3's truck at the bedrock level of the museum. All 11 members of the company died in the North Tower when it collapsed. (Stephen Nessen/WNYC)
More in:
Stephen Nessen reports for the WNYC Newsroom and can often be heard live on Morning Edition.