PHOTOS: First Look at 4 World Trade Center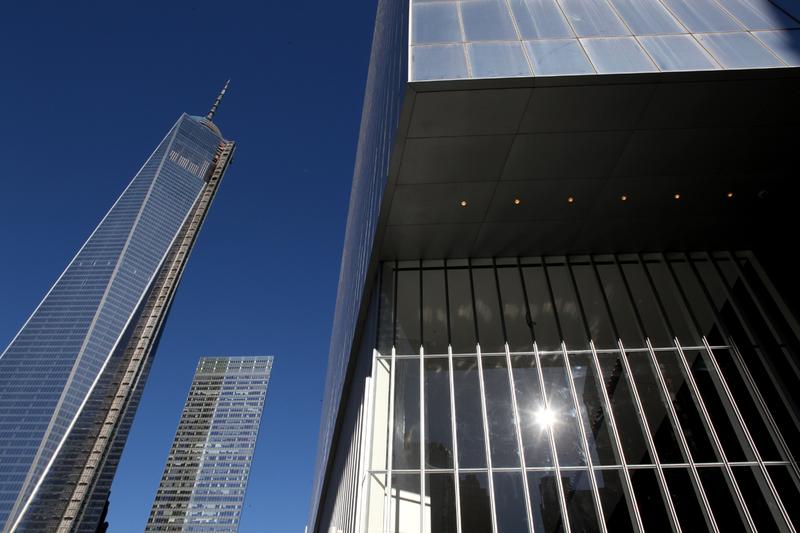 The 977-foot office tower at 4 World Trade Center officially opened in lower Manhattan; it's the first building in the old World Trade Center plaza area to open since the attacks on Sept. 11, 2001.
At a ribbon cutting ceremony Tuesday Mayor Michael Bloomberg called the opening of the new building a turning point in the redevelopment of Lower Manhattan.
"As we open its doors, the site once again becomes a part of New York's continued growth, reconnected with the city that surrounds it and the people who live and work in this neighborhood," he said.
The Port Authority of New York and New Jersey and the city are the only tenants so far. They're expected to move in next year once they build out their offices.
Officials at ribbon cutting ceremony in front of 4 World Trade Center. (Stephen Nessen/WNYC)
1 World Trade Center reflected in the glass of 4 World Trade Center. (Stephen Nessen/WNYC)
Corner of 4 World Trade Center and the older buildings of Lower Manhattan. (Stephen Nessen/WNYC)
The floor to ceiling glass windows and mirrors in the lobby of 4 World Trade Center with video art installations near the elevators. (Stephen Nessen/WNYC)
View from the top of 4 World Trade Center. (Stephen Nessen/WNYC)