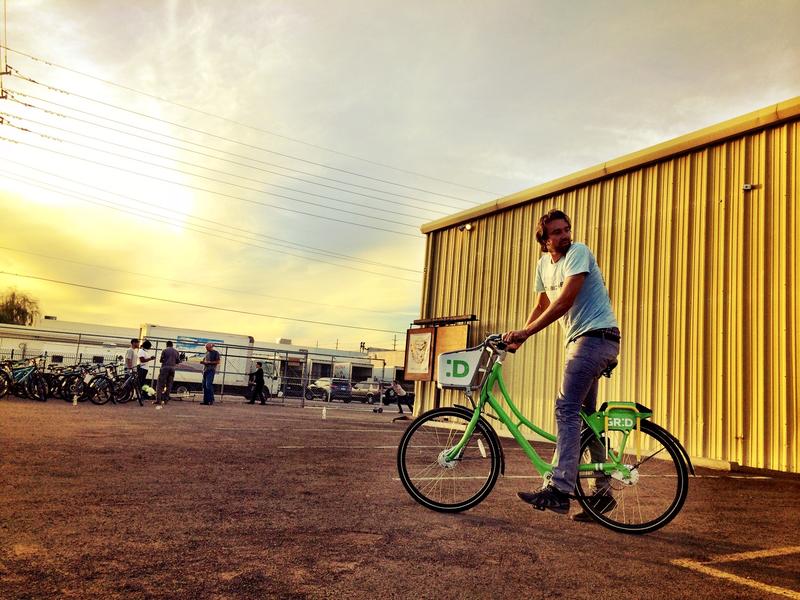 Phoenix's grid system is the inspiration behind the name of its new regional bike share program. But the bike's green color: that's more neon, less cactus.
GR:D -- a.k.a.'Grid' -- is set to launch next year with 500 bikes in Phoenix and another 500 in the neighboring cities of Mesa and Tempe.
"If our region is going to compete globally," Phoenix Mayor Greg Stanton said in a statement, "we need Grid to help attract those high-wage employers and bright, educated young workers who want livable cities and multiple transit options."
Docking stations will be located near transit connections, like Phoenix's light rail system. But it sounds like stations might not be necessary: according to a press release, Grid bikes are equipped with solar-powered, GPA-enabled U-locks that and can be parked not at any bike rack.
Note the lock on back of the bike (image via Facebook)
Rates range from $5 a day, to $30 a month to $79 annually, with a discount for students. (Side note: Tempe is the home of Arizona State University.)
CycleHop, the company operating Grid for Phoenix, is currently looking for sponsors. The company is also launching bike share programs in Orlando and Tampa Bay next year.
Our streets aren't just for cars...they're for everyone. We're proud to launch Grid Bike Share! Rolling out soon at http://t.co/2fi2JAeMov

— Greg Stanton (@MayorStanton) October 28, 2013
(That woman to the right of the mayor in the below picture looks awfully familiar.)
Smile :D. Bike share is here! @MayorStanton introduced the Phoenix Regional Bike Share Program today! #gridbikes. pic.twitter.com/dg4CKFl7F3

— Grid Bike Share (@GridBikes) October 28, 2013