If Pfizer Leaves NYC, Will It Start a Trend?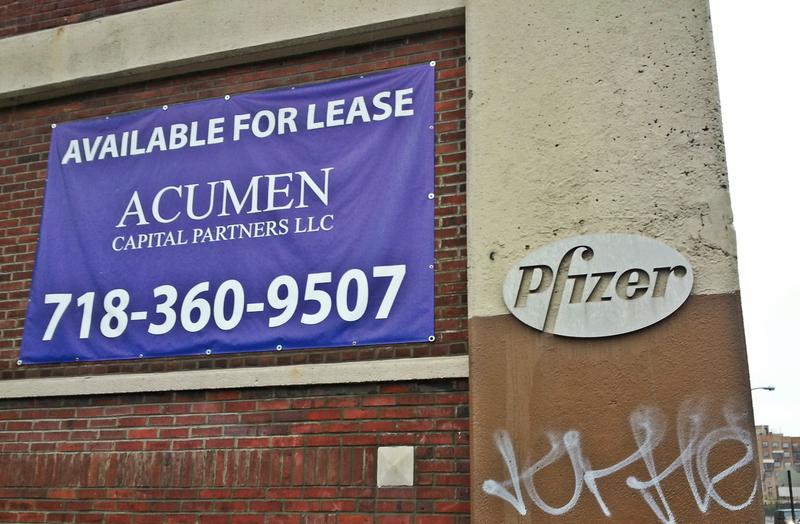 This week New York-based Pfizer announced plans to buy British drugmaker AstraZeneca, and then re-incorporate in Britain. The pharmaceutical giant will take advantage of lower corporate tax rates in the U.K. while keeping its Manhattan headquarters. It's a sign that the city could have trouble keeping other multinational corporations that currently call New York home.
Pfizer has deep roots in New York, reaching back to before the Civil War. As recently as 2003, it looked as if Pfizer's future in the city was bright. That year, the company committed to hire 2,000 new staff in exchange for a city subsidy package worth $46 million.
But in the last few years, Pfizer has paid back part of that subsidy as it's laid off workers, sold off real estate and retreated to its headquarters on East 42nd Street.
Today, just six percent of the company's global workforce is based in New York.
Erik Gordon, a professor of business at the University of Michigan, said high corporate tax rates explain Pfizer's choice to, in effect, renounce its American citizenship. The top U.S. corporate tax rate is 35 percent; in Britain it's 21 percent and drops to 20 percent next year.
"Increasingly, they're going to get lots more of their revenue outside the U.S. and they have to decide whether they can afford to have that revenue taxed at high U.S. rates even though it's actually being earned outside the U.S.," Gordon said.
Pfizer isn't the first U.S. corporation to pursue this strategy. But it's one of the biggest and best known.
Kathryn Wylde, CEO of the Partnership for New York City (which includes Pfizer), said she fears other companies will follow. "Every company in the city is looking now at, 'What is the cost of maintaining a large number of mid-level jobs in the city?'" Wylde said.
Over the last decade, the city's has lost 105,000 middle-income jobs, many of them at banks and other large corporations with a global workforce, Wylde said.
"Certainly we don't want to see a city where we only have the senior executives and we don't have the middle class," Wylde added.