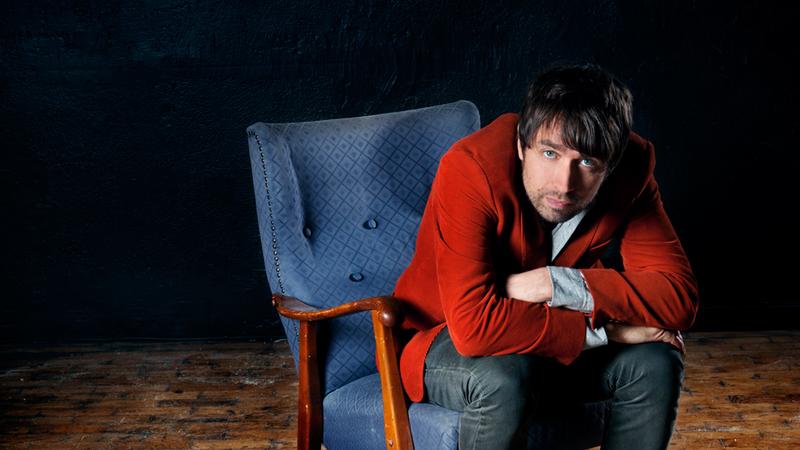 Peter Morén -- the singer and guitarist of Peter Bjorn & John fame -- says that with his last two solo releases he found a new freedom in writing and singing entirely in his native Swedish for the first time. Morén's songs on 2010's I spåren av tåren and 2012's Pyramiden, explored new influences like soul, New Wave, and even Brazilian rhythms, while retaining many of PB&J's core calling cards -- namely, the infectious pop hooks and his familiar Lennon-esque voice. But lyrically, he was able to tackle more Swedish-leaning politics and cultural references that he couldn't do as easily in English.
Still, that lyrical complexity remained lost on listeners more familiar with his work with Peter Bjorn & John who don't understand Swedish. Until now.
With his recently-released EP, Broken Swenglish Vol. 1 (the first in a series of planned solo EPs), Morén collects four previously-issued songs, now translated or reinterpreted into English. And the bittersweet pop song "Say My Name," ("Säg mitt namn" from Pyramiden) was first written in English, translated to Swedish, and then back again. The result creates an odd and fun deja vu like hearing a familiar song again for the first time.
That song is now accompanied by a brand new music video.
Simply shot in stark black-and-white, and with a sort of handmade 3D color separation, the video depicts an introspective Morén wandering around a snowless ski slope in Stockholm, staring out at the landscape. Morén, via email, had this to say about video and it's making:
"Me and my friend Tomas Nordmark from Fanatic did this video in exactly one hour. It doesn't have to be more complicated than that. I'm lying a little 'cause I'm not sure how many hours he spent editing. But the shooting took an hour. We went up the little ski slope that is situated close to my apartment in the southern suburbs of Stockholm just by a nature reservation park.

"It's called Hammarbybacken and got a great view. This was last fall before the snow made its grand entrance but it was still pretty damn cold. At least if you're wearing a really thin summer suit with a t-shirt as I had set up my mind to do. But we thought it would look good with the scenery in B&W. I think it did. The only script idea was walking up the slope and walking down again. It suits the desolate mood of the track I think. Sort of desperate but calm all at once!"
Peter Morén's EP, Broken Swenglish Vol.1, is out now. A second EP is planned for release later this spring.