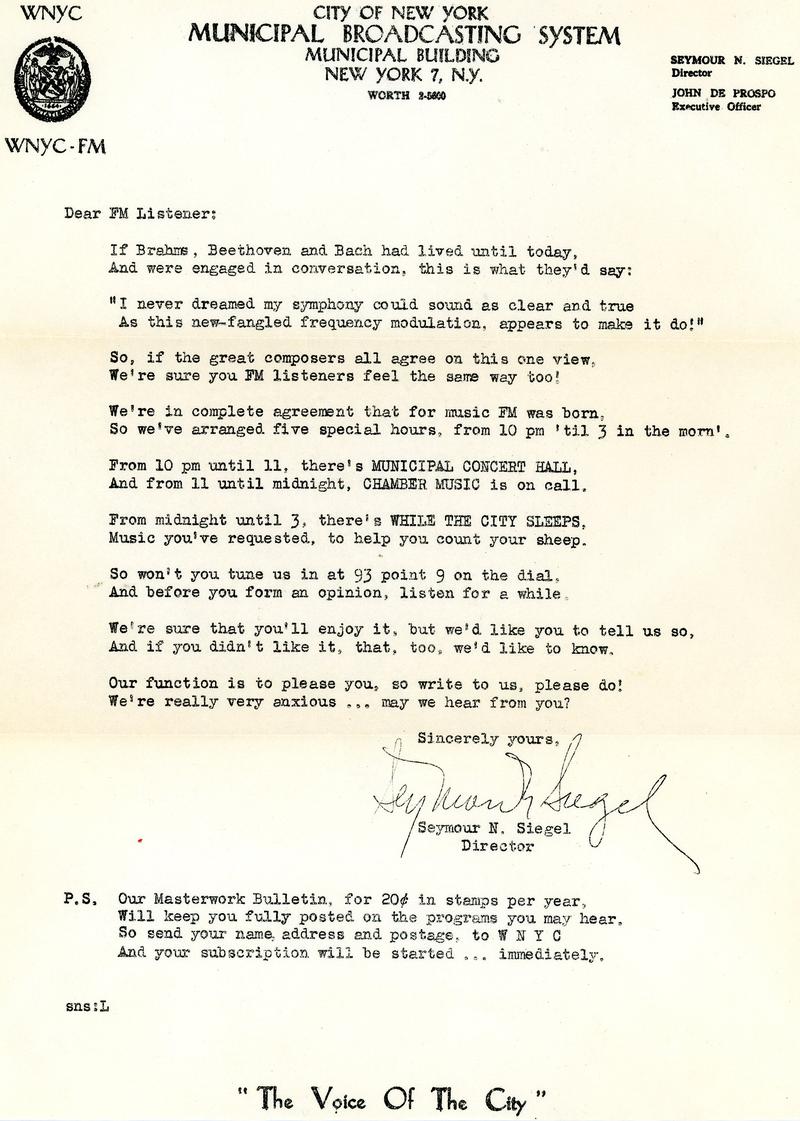 Even though WNYC had been broadcasting on FM for some seven years, the FM radio band in 1950 was still a fairly new medium. AM broadcasting was dominant and a few new FM stations actually promoted themselves by offering FM receivers to listeners in an effort to build an audience.
At the time, WNYC's schedule had a lot of classical music programming, as the above letter suggests. This also included The Masterwork Hour, radio's first regular broadcast of recorded classical music, as well as David Randolph's Music for the Connoisseur, and Edward Tatnall Canby's Recordings E.T.C. All were largely classical music oriented programs.
You'll note too in the postscript that Director Siegel reminded listeners that they could subscribe to the station program guide, The Masterwork Bulletin, by sending in some uncancelled postage stamps. Not mentioned, however, was the philatelic nightmare all those stamps had become. Siegel was desperate to unload them. The entertainment trade publication Billboard asked readers if anyone was interested in buying $15,000 worth of unused postage stamps from WNYC and explained:
"Thruout the years WNYC has been accumulating the stamps--roomsfull of 'em. Once a year key execs in the comptroller's office come over and count them out in an annual audit of the station's books. Used to be they counted the stamps, one by one, by hand, but they finally gave in and put hundreds of them in sealed envelopes to simplify matters. Not too long ago, Siegel, tired of tiptoeing his way into his office between stacks of stamps and envelopes, tried to get the U.S. Post Office to take them back. U.S. policy calls for payment of around 65 cents on the dollar. Siegel got the ante up to 90 cents, but the corporation counsel said this sort of stuff couldn't go on with city property. Meanwhile, more subscribers subscribed, and more stamps came in..."[*]
$15,000 in one, two and three cent stamps is indeed a lot of stamps. How did Siegel get rid of them? Did he get face value? When did they stop asking for program guide subscriptions paid for in stamps? These are just some the questions we still seek answers to. Please let us know, if you find out. 
 ___________________________________________

[*] "WNYC is Awash in Postage Stamps," The Billboard, August 12, 1950, p. 3.
Special thanks to listener Cathy Marczyk.