Soundcheck
The Strange Dream World Of Singer Peggy Lee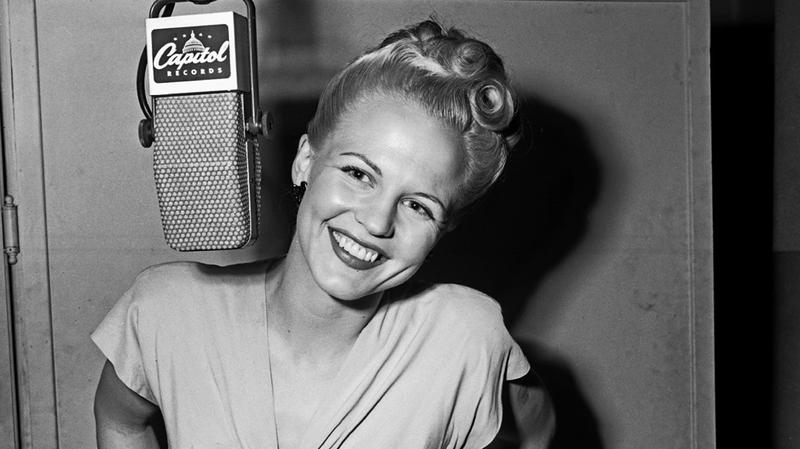 Most don't immediately associate the blues with blonde-haired, alabaster-skinned Scandinavian women. But Duke Ellington, Count Basie, and Ray Charles all agreed that when Peggy Lee sang, they heard an unmistakable quality, a tone we've come to call "softly, with feeling." They heard the blues. 
"Peggy had this air of strangeness and mystery about her that you couldn't quite identify when you heard her sing," James Gavin, author of the biography Is That All There Is? The Strange Life Of Peggy Lee, says in a conversation with Soundcheck host John Schaefer. "But there was just something askew about Peggy Lee when you heard her sing that set the imagination awhirl." 
Yet Lee was more than just an alluring voice. As a composer, she wrote a huge breadth of work, including "Manana (Is Soon Enough For Me)," "What More Can A Woman Do?" and music for the Disney animated film The Lady And The Tramp, in which, she voiced a dog, two cats, and a human. And at a time when women faced serious discrimination in the music industry, Lee won hard-fought legal battles to hold onto the royalties from her work. 
As an actress, she received an Oscar nomination for her role in Pete Kelly's Blues. Unfortunately, her role in the film was not too far off from the real-life Lee.
"Deeply depressed and alcoholic," Gavin says that Lee's turbulence took many forms: drinking, prescription drugs, and both real and imagined illnesses. Lee died in 2002, and left behind a huge legacy including dozens of Billboard hits, three Grammy Awards, and an induction into the Songwriters Hall of Fame. 
---
Interview Highlights:
James Gavin, on what made Peggy Lee's life "strange":
Peggy Lee lived in a dream world. She created her own reality in order to escape terrible conditions that she was growing up in and anything else that seemed distasteful to her. As I was writing this book I realized that Peggy Lee's bio as she told it was largely a myth and in fact it was largely a myth drawn along the lines of Cinderella. If someone successfully lives in a dream world life is very happy. If you pull it off 100 percent there is nothing to be upset about -- most of the time you do not and that is the monster that nips at your heels throughout life and drives you to do things to try and blot out the truth. The remarkable thing about Peggy as an artist is that when you saw her perform you sensed all of this turbulence behind a very placid mask.
On how Peggy Lee crossed racial borders:
In the 1940s Peggy Lee's Capitol singles were being sold in Harlem record stores amid records by Duke Ellington and Count Basie. Peggy Lee was galvanized by the feeling in between the lines of that exciting bluesy swing of Count Basie. She identified with it because she felt that she identified deeply with black-struggle and black-pain and as the years went on Duke Ellington, and Basie, and Ray Charles and all of those great masters felt that she was right.

They heard that authentic sound of the blues in her voice… In spite of the fact that she was an alabaster-skinned, very fair, blond Scandinavian girl -- it was unmistakable. That sound in the universe of swingier singers who were usually girls-next-door, who sang on the beat, who had a very "white, clean" sound. There was Peggy with just enough of a dash of something else to make her stand out.
On the real and imagined troubles throughout her life:
The lunacy of this story kept me amused from the beginning to end. Peggy Lee at her most tragic also had a great comic element… She was no Billie Holiday in terms of being identified historically as a tragic figure. I cannot think of Peggy Lee as a tragic figure, I think of her as triumphant. Happiness was hard to come by for Peggy Lee, but she had a fabulous sense of humor.