A Peek at the City's Newest Subway Line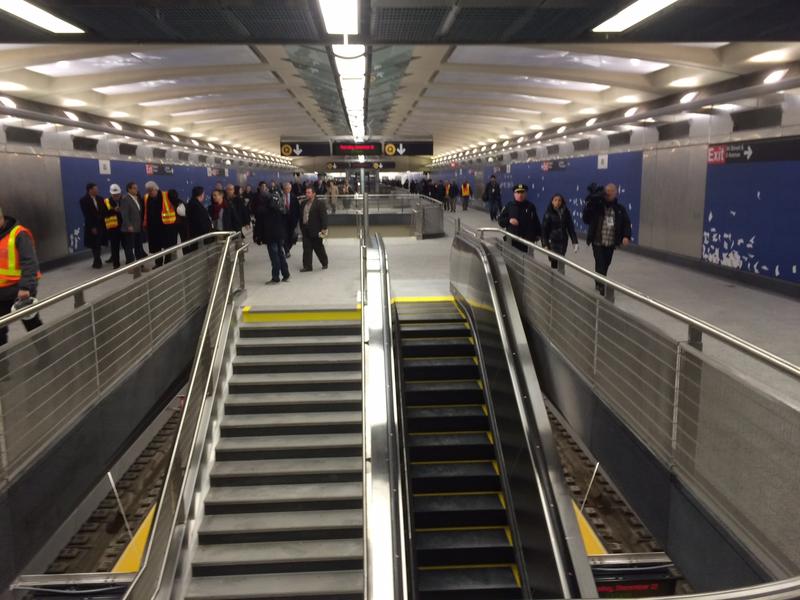 Is the opening of the Second Avenue subway line, the first subway line to be opened in the city in half a century, "an achievement that is right up there with the construction of the pyramids," as Rep. Carolyn Maloney (D-NY) suggested? 
Possibly. Really, it depends on which pyramids. (maybe these?)
This much is certainly true: the one station that was previewed by members of the Fourth Estate, the 96th Street station, is spacious, tastefully decorated, and clean.
->Art on the Second Avenue subway
There's no scent of pee to be detected in the air, no hard black wads of gum underfoot, or defaced posters. A traditionalist might argue that the station doesn't even belong in New York, that it's too "Euro" for local tastes. 
Regardless, the station and the rest of the Q line are set to open at noon on New Years Day, 2017.
"And we are committed to that deadline," insisted Governor Cuomo. "And the train is gonna run. If we have to push the train down the track, that train is gonna run January 1."
But you don't have to wait to get a peek: the 96th Street station will be open to the public on Friday, December 23 from 8 a.m. to 10 a.m. and again from 5 p.m. to 7 p.m.
When the line does open, the hope is that the 4, 5 and 6 lines — the most-overcrowded lines in the country — will become a little less claustrophobic, commuters a tad less harried.