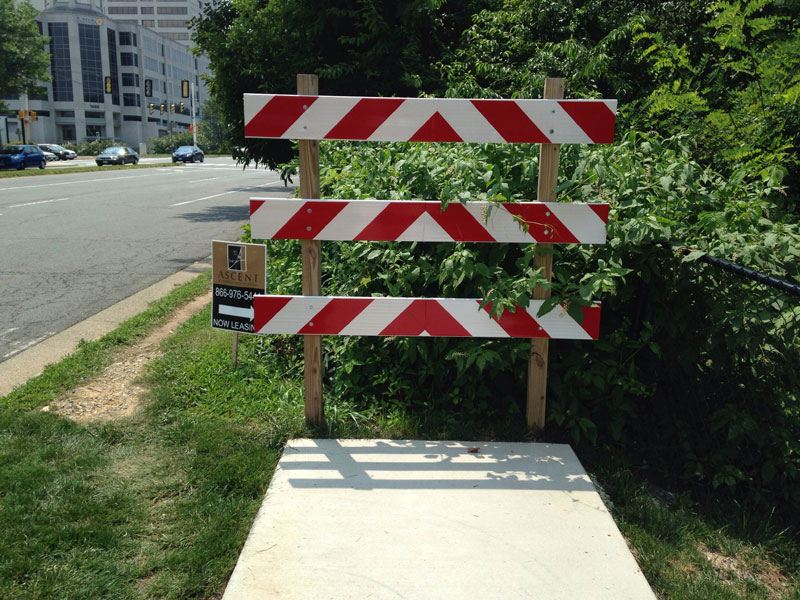 Days before the $3 billion Silver Line Metrorail carries its first passengers to four new stations inside this sprawling suburb, key pieces of pedestrian infrastructure – projects that cost little in comparison – remain unfinished and will remain so for several months, county transportation officials said on Wednesday.
The Fairfax County Department of Transportation concluded a study in 2011 (pdf) to make Tysons Corner more pedestrian- and bicycle-friendly. Although engineers have added crosswalks, sidewalks, and traffic signals to busy intersections near the Metro station entrances, residents in the nearby neighborhoods say many more remain missing in an area whose population swells from 20,000 to 100,000 each work day.
The gaps in pedestrian access threaten to limit use of the Silver Line, as Metro has concluded sidewalks and crosswalks enhance rail ridership more so than parking lots.
"We've added crosswalks to ten locations in the past year. This happens to not be one of them," said Chris Wells, FCDOT's pedestrian program manager, in an interview at the intersection of Tysons Boulevard and Park Run Drive. The intersection is near apartment complexes and shopping malls and within walking distance of the Greensboro and Spring Hill stations.
Wells said his team would be out in Tysons Monday morning monitoring the first flows of walkers and bikers to determine where the next round of improvements would make the most sense. He said building a crosswalk at the above intersection would be considered, depending on where people are walking.
"Crosswalks are not a panacea to safety. Crosswalks can sometimes make safety worse. So crosswalks are something looked at seriously in the engineering community and we want them to be installed correctly," said Wells.
Three major intersections along Rt. 7 are missing crosswalks on one side. On the side with a crosswalk and traffic signal, a pedestrian would have to hustle across ten lanes of traffic sandwiching a wide median under the Silver Line's elevated tracks in order to get to the Metro station entrance.
Wells explained the county's plans at the intersection of Rt. 7 and West Park Drive.
"Unfortunately what we have on Rt. 7 at the intersection here, at the intersection of Spring Hill, and at the intersection of Tyco Road, the rail project was only able to build one crosswalk across Route 7. So Fairfax County has a project to add the other crosswalk," he said.
"Since [the Silver Line's] active construction literally just wrapped up, we were not able to begin our design until it was finished out there in the median, where we could reasonably know what we are dealing with. So that project is in design right now. It is not going to be ready for this weekend's opening," he added.