The Takeaway
Portlanders Struggle to Say Goodbye To Airport Carpet (Seriously)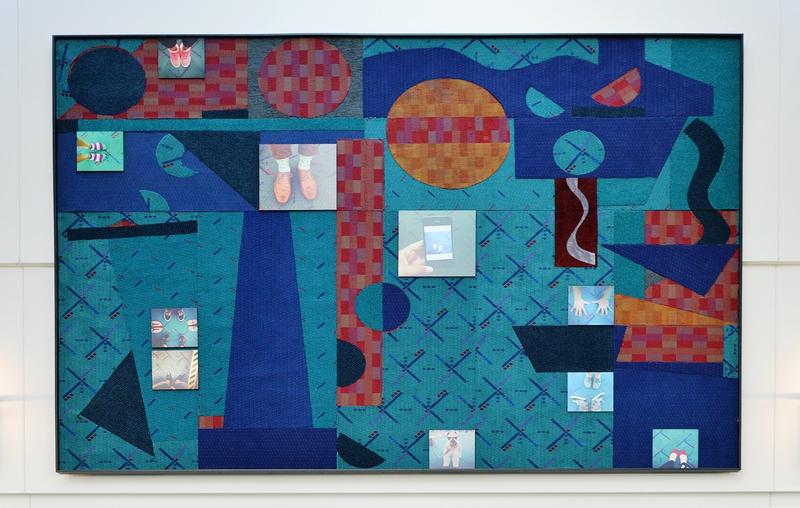 When we fly the friendly skies, our eyes tend to be on the clouds. But if you're one of the 15 million people who've been through the Portland airport in the last year, we'd forgive you if your eyes were on the carpet instead.
That's right, the carpet—the iconic turquoise geometric patterned stuff below your feet when you land at PDX. It's so iconic that there are socks, shoes, shirts, and dozens of other products that boast its pattern.
It sounds like something out of the TV show "Portlandia," but it is all too real. For Portlanders, the PDX carpet pattern is shorthand for "you're one of us." And just about any time you land there, you'll spot people taking selfies of their feet against it, as if to say, "I've arrived."
There's the carpet I know and love!! @flypdx #pdxcarpet pic.twitter.com/AEbZYleJM1

— Cameron Whitten (@CameronWhitten) January 6, 2015
But very soon, the carpet will be no longer. In 2013, the Port of Portland announced that they'd be tearing out the old carpet in 2015, in favor of a more modern look.
Well, folks, it's 2015, and that means the carpet could be gone any day now.
One of the many Portlanders who's feeling dismayed about the loss of the carpet is Alan Cassinelli. He owns the PDX Carpet online store, which sells products boasting the iconic PDX carpet pattern.
"I hope to get a piece of the actual carpet once they actually rip it up," says a sentimental Cassinelli. "The carpet was installed in 1987 and has really been there for my entire life. It brings back a sense of nostalgia for people who go to the Portland airport. At this point, it's almost kind of like a 'Portlandia' inside joke for people who were born and raised in Portland."
Cassinelli says that residents and visitors alike love the iconic "Atari-style" 1980s look of the carpet. It's become somewhat of a symbol of the city itself.
"It brings those memories of home for people who travel to and from Portland," he says. "That's why I started the store—there's all of these people who live outside of Portland who want to hold onto that sense of home."
Cassinelli's online store sells pillows, tote bags, and posters that are decorated with the carpet print.
"The color scheme is kind of a blast from the past, especially the logo design," he says of the print. "You don't really see logos like that anymore. It has so much history—each person has lots of different moments associated with the PDX carpet."
Cassinelli says that the PDX carpet has been with Portlanders throughout some of the biggest moments of their lives—some have see it on their way off to college, or on the way home from a honeymoon, for example.
"You see the PDX carpet before you even see the people," he says. "It's that first visual moment that you know that you're home."
This is the #PDXCarpet to end all. let's see someone top this. Going to #Jamaica single coming back #married @FlyPDX pic.twitter.com/pHFF5GXejS

— Tip Vongbouthdy (@tippydoowhop) December 1, 2014