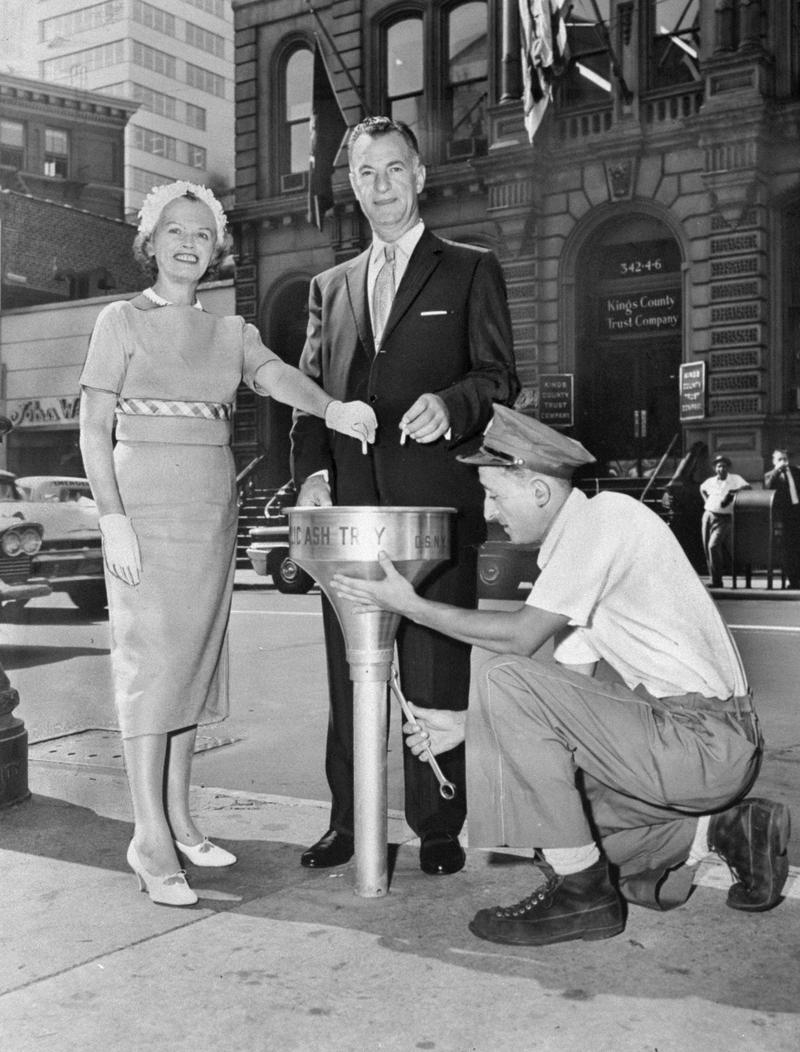 Summary
This episode is from the WNYC archives. It may contain language which is no longer politically or socially appropriate.
Scrivane, Commissioner of Sanitation, answers question about the department's initiatives to clean up the city and "Operation Big Sweep."
Marvin Sleeper hosts.
Panelists: Alan Cohn, Marvin Oppenburg and Larry Lipsitz
Questions:
New York is the cleanest today that it's been in many years. The problem is social and economic. There is a difference between European cities and New York. We tend to be wasteful. Budget is roughly $100 million per year. Alternate side parking has been useful. The Big Sweep pulls together the five major areas of complaint: unswept sidewalks, inappropriate trash cans, people who don't curb their dogs, misuse of litter baskets, and discard of materials in to vacant lots. Bulk trash pickup. Violations and prosecutions. Tickets to litter bugs. Disposal of cigarette butts. Planned receptacles created for cigarette butts. People stealing trashcans. Responds to criticism that sanitation workers are quieter in rich neighborhoods and louder in poor neighborhoods. Inconvenience of alternate side parking, street cleaning. Comparison between neighborhoods in the city, other cities. Discontinued the practice of letting sanitation workers pursue union activities while on the city pay roll. "Lively Louie," the talking trash can has a two-way radio installed.
Audio courtesy of the NYC Municipal Archives WNYC Collection
WNYC archives id: 72052
Municipal archives id: LT7678
Transcript
This is a machine-generated transcript. Text is unformatted and may contain errors.
How dirty is New York City New York dirtier than other studies as a citizens committee to keep New York clean the successful in its campaign for the answer to these and other questions listen now to your city station's campus press conference in this transcribed discussion the editors of college newspapers question a prominent personality in the News Marvin sleeper award winning columnist for The New York Journal American is the moderator to introduce the panel and tonight's guest here is Mr sleep Good evening and welcome to another edition of campus press conference says that infamous day a couple of years back when Edna for about called New York City the dirtiest in the world things have been happening in our sanitation department this week these things are coming to a sweeping five week climax It's called Operation big sweep and perhaps by the time it's over some observant writer may be calling our town the cleanest city in the world to be interviewed about Operation big sweep the sanitation commission of Paul screw vein who has been the big brain behind the big broom and asking the questions our campus press conference reported ALAN KOHLER of the Columbia Graduate School of Journalism and modern often Bergen Larry let sets of the N.Y.U. square Journal and how about the first question from you Martin machinist vein how dirty really is New York City for Marvin's I'm quite happy to say that it is not as dirty today as it was six months ago or two years ago we have made a lot of advancements and the inspection tour I made yesterday reveal what I think New York is perhaps the cleanest today that it's been in many years and how much how much percentage wise would you say the city is cleaner than one had an affair been cut off that crack Well I don't like to use percentages Marvin's these areas of the study as you know have to be judged individually I would say that we are pretty close to home at the present time by way of achieving a clean city I think just a little more effort on the part of everyone is going to achieve that goal. The questions Malecon to commissioners New York dirtier than any other cities in this country are in Europe you know Alan as a matter of fact I think we're cleaner than several other cities in this country directly in Europe. I would also say this that there are cities which are much cleaner than New York and I would say that there are several European cities which are clean it could but that doesn't mean that. We're ever going to be as clean I might say to some of the European cities because the problem is more than just one of skill or technique or public cooperation there's a social problem an economic problem and a difference between European cities and the City of New York what how do you account for the dirty New York City the well and the different from other cities where we're enjoying in New York and I'm very happy and I'm sure most of the Yorkers are that we enjoy a very high standard of living in New York we're not the most frugal people in the world that we don't attempt to save every scrap of paper and string and other items as they do in many European cities where we tend to be wasteful we throw material away and we don't always throw it away in the manner prescribed by law do you think we can make any money if we save this waste material and sold it well we do as a matter of fact mostly from the Department of Sanitation we affect the certain amount of salvage but we find that the cost of the revenue we receive from our salvage operations in many cases because of the high operating costs are not very profitable to us a lot about the private citizen who could they make themselves of pennies if they say their scrap while the market fluctuates so wildly that at any given time I wouldn't be able to suggest what they might save. Correct with the modern appetite of the sanitation program in New York compared to those of different cities and different countries while I'm Type Like Marvin that we have perhaps the finest program for achieving a clean city anywhere in the world I receive communications daily from men I know who are my counterparts in other cities throughout the United States and as a matter of fact from some European cities and they want to know how we're doing it and I am very happy to furnish them with our at least partial solution to the overall problem is a program that you carry on saving the city any money well it's saving them indirectly in this sense if we were not to have the cooperation of the public the city in order to maintain a sad degree of cleanliness would have to spend substantial amounts of money as a matter of fact the year ago we estimated that if we did not have public whopper ation on the ark we would have to spend something in the order of one hundred million dollars a year additional and allotted to clean the streets how much of the cost while our operating budget now is about seventy five million dollars a year and we have a capital budget of another twenty million so roughly one hundred million dollars a year just what is done to keep New York claims. Well that's a pretty big question there are many things done to keep your clean one of them might blink which has resulted in the greatest improvement has been the installation of the alternate side parking program which we started a few years ago and we have that program installed on better than two thousand and thirty miles of streets presently look like you got a question there Allen Well does the illegal parking cars interfere with this program very greatly connection or well they don't because the police department cooperates with us and of course after the car is tagged by the police department we tow the car away and there's a twenty five dollars total fine on this and that has a very strong beat aren't people parking in our ultimate parking areas well tell me about two weeks ago I believe on the Lower East Side you made a survey the area there and you counted over two hundred cars illegally parked in that sort of interfere with your operations Well we do have that occasionally and again. When you're talking about a city with six thousand miles of street we are going to have certain selections from time to time where perhaps the enforcement isn't as vigorous as a child the morale of general Arment by police lines annotation they are outages which we experience the same with the police department experiences minor slick when are on vacation they're on leave and you can't always have maximum enforcement I heard that after you pointed this out. A number of cars the line to sanitation and place in the area where suddenly ticketed what happened there well I think that was coincidental I don't think that was by design they hadn't been ticketed before they had a well as a lot of things that haven't been done before that are being done now such as. Take the big sweep as an example we never had a big sweep or were having one now and it's meeting with great success that will tell us something about the big sweep What is your biggest concern in this all out drive that's starting this week well Actually Marvin it's more than one item we have several big sweep is pulling together the five major areas of complaint as far as the citizenry is concerned in this far as the department is concerned the unswept sidewalks the improper receptacles for containing the refuse put out each day the people who don't curb dogs that misuse of our little baskets and the discarded material of the vacant lots they have the things whereafter in the big sweep program are like crack down on sanitary code violations we certainly are annoyed each of these items I enumerated is a violation of the Sanitary code now and in the question of vacant lots on the stand that's one of the areas that. Violations are pretty flagrant Have you any plans for tightening up regulations to get at this very important problem well yes I do most a sleeper this is a problem which has annoyed me for some time it's annoyed me primarily because we installed a service more than a year ago to provide the citizens of New York with a special collection for any bulky materials which they want to dispose of all you have to do is call a barrel office of sanitation in the bar in which they reside in an appointment is made and that material is collected for from them but some people insist on throwing this material into vacant lots some truck operators dump material into vacant lots we've observed garbage in the rubbish in these lots and they present a very serious health problem. They should know that they provide harbors for rats and I don't have to tell you about the seriousness of the right infestation so on Monday and tomorrow I'm going to direct my inspection force to prosecute under the admin and under the sanitary code rather than the administrative Well why are you going to do that while under the administrative code it constitutes an offense and an offense is punishable by a fine not to exceed twenty five dollars but under the sanitary code becomes a misdemeanor and as a misdemeanor it's punishable by a fine of up to five hundred dollars and they might also do a year in jail and I feel I'd seriously about it that I think we're going to have to insist on that type like the Forstmann have you learning idea how many people have been prosecuted on the administrative code and once this particular vacant lot violation in the past year I just want to get an idea what the public can look forward to in fines and and and jail sentences Well I don't recall the exact figure but I would say that most of our prosecutions have been as offenses and we're going to change that picture now Mike the misdemeanors you know how many prosecutions you had altogether last year last year about one hundred twenty five thousand the question from Alan Leshner you spoke in this connection about cracking down and forcing the sanitary code now you've taken over the department for only a few months I wonder what other policy he would have for him improving the department Well let me say that as Alan while I'm the commissioner of the department since March first I've been with the department for about twenty years and for the last several years I've been the director of operations of the department so that policies and programs and so forth which are presently installed in the department I think I had something to do with. So this is not an outsider coming in and saying I'm going to turn the world upside down I'm going to continue to develop programs and policies which I had something to do with initially but I gather they weren't in force before by your predecessor Mr Moreno Well I wouldn't say that I think they were enforced I think there are specific areas that we're discussing now where perhaps more vigorous enforcement is required and I intend to look for that. Question for modern appen commissioner in speaking with their office last week they told me that seventy thousand warnings were sent out to little bugs in the Occitan Now what are these warning state and just exactly how is a little bug caught well they weren't sent out marginal the way it works we instead of equipping our personnel during this warning phase of the big sweep program with someone's books we left them with warning books and one when they apprehended someone violating the code they wrote out a warning a written warning the same as they would write out a summons it didn't carry any punitive action with that it's not a summons to a court but it did have the effect of pointing out to that individual that he had committed a serious infraction of the code and that if he persisted in doing it he would receive a summons subsequently to the police are due the are there special sanitation investigators who hand out summons and when a summons is when they do well we have the distinct advantage of horsemen on the sanitation Horrigan in addition of our sanitation patrol and who are out full time on enforcement all of our sanitation offices assistant foreman Foreman and district superintendents are also Swan and I was special patrolman and have the authority empowered to issue summonses So it gives us a force of about thirteen to fourteen hundred men on the street for this purpose has a number of litterbugs decreased in the past year I certainly think they do just the visual evidence is there in the little baskets on the street we see more littering them now we're collecting more a little from them than we did previously I notice that one of the. Things that is keeping New York dirty according to some of your releases that you put out is cigarette butts. And I'm just wondering the question is come up with do you throw a let's cigarette butts but a little basket and start a fire what do you do in the open them up and spread them apart and stamp out the the ash and let us leave Britain missionary scoreline you are on the subject which is a very delicate one and one which we have attempted discreet only because we do not have the solution to the problem. In the army for those of us who were in the service we recall we used to feel scripts like rats to have a paper down let the bike will come out loose roll the paper up in a little ball and get rid of it and that gave the general appearance of not seeing of largely right but on the straight but when not asking all the people to feel strip cigarettes although I appreciated if they would but we are trying to come up with some kind of a separate receptive go to receive cigarette butts and locate them at the entrances to some of our larger hotels in department stores subway entrances at bus stops and other places where people have to stand for some period of time and before they go where they are going get rid of that's legal right but do you see now this would be quite an innovation when it's a New York City is any other city have a public cigarette butt receptacles Not that I know of the Citizens Committee in New York experimented with a unit last year but it wasn't successful and we're still talking with the trying to come up with a receptive call or a unit which will be practical that's the big problem getting one which can be service properly by the sanitation personnel and also one that will not create a fire hazard on the street or if you put water in to quench the cigarette you have the problem of the water becoming stagnant and then of course presenting the difficulties in trying to went through this receptacles in or out of the problem of not having it wind up in someone's apartment as a cigarette ash tray Well I had one that I don't think knowing on New York is wouldn't happen all in a way that will remember the problem we had with with the trash baskets being disappearing off the street well it's true. Commissionaire in some of the one of his novels Thomas Wolfe talked about the sanitation man and he said they seem to have a habit of shall