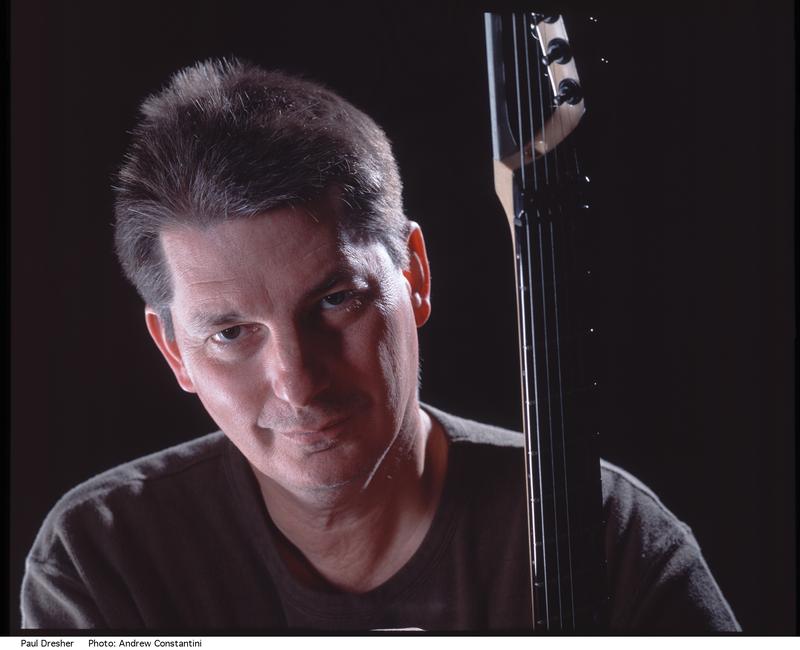 Composer, electric guitarist, and inventor of the Quadracord, Paul Dresher, joins John Schaefer for this New Sounds program. Listen to his work, "Glimpsed from Afar," for a pair of newly invented instruments: the Marimba Lumina – an electronic mallet controller played by percussionist Joel Davel and the afore-mentioned Quadrachord, a 15-foot long four-stringed instrument invented and built by Daniel Schmidt and Paul Dresher, that is plucked, bowed, hammered and strummed.
Watch the video too. It's super-cool:
Then, listen to Paul Dresher's "Double Ikat" from the late 1980's for violin, piano, & percussion, which takes its title from weaving techniques of Indonesia. Also, hear a portion of Paul Dresher's three movement duo for cello & piano "Family Matters," which was written for TwoSense (Lisa Moore, piano & Ashley Bathgate, cello). Plus, Martin Bresnick's "Fantasia on A Theme By Willie Dixon." All of these works will be performed live this Sunday night, October 26, at Roulette, in Brooklyn.
PROGRAM #3653 With Paul Dresher (First aired on 10/23/2014)  
ARTIST(S)

RECORDING

CUT(S)

SOURCE

Paul Dresher

Dark Blue Circumstance

Dresher: Double Ikat, Part 2, excerpt [8:38]

New Albion #053
dresherensemble.org OR available as a download via Amazon.com 

Paul Dresher

Private recording

Glimpsed from Afar [6:56]

This performance not commercially available.

TwoSense (Lisa Moore, piano | Ashley Bathgate, cello)

Live 10/11/13 @ Southern Exposure

Family Matters II Close and Personal [8:45]

This performance not commercially available.

Paul Dresher DoubleDuo

Private rehearsal recording

Martin Bresnick: "Fantasia on A Theme By Willie Dixon" [9:46]

This performance not commercially available. The work has been recorded on New World Records #80635 "Martin Bresnick: My Twentieth Century" newworldrecords.org

Paul Dresher feat. Rinde Eckert

Shelf Life

Shelf Life, conclusion: [3:19]