The Path to Labor Peace: De Blasio's Challenge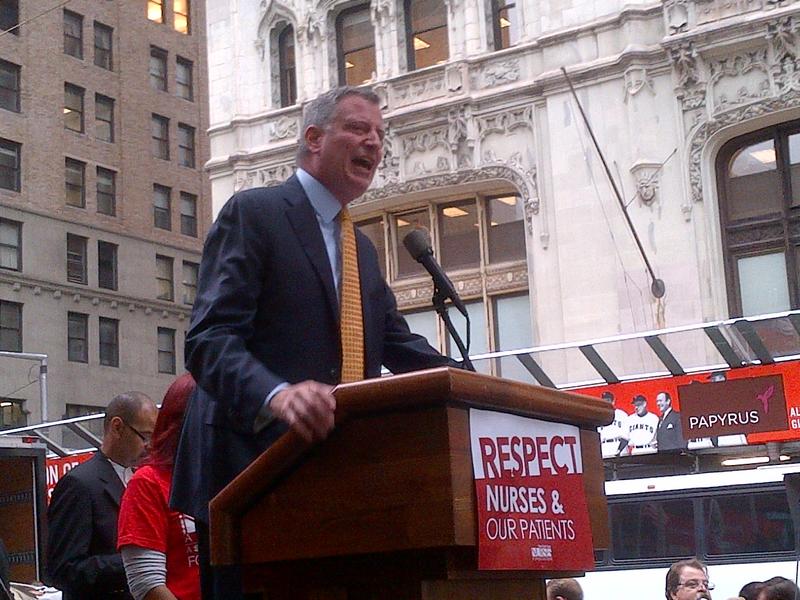 Mayor de Blasio has taken the first steps towards tackling more than 150 expired labor contracts that present the biggest financial challenge to his young administration.
Earlier this month, the city struck a deal to settle contracts from years ago with 200 environmental officers who guard the city's upstate watershed. Union leaders say they were surprised at how easy the talks went.
"I mean, when I say what a difference, we're talking night and day -- night and day from the old administration to the new administration," said Kenneth Wynder, head of the Law Enforcement Employees Benevolent Association.
But WNYC's Brigid Bergin reports that future settlements may not as easy to achieve.
Part of the challenge is the process itself. The city must negotiate wage and work rules with the unions themselves, and health care benefits with a separate coalition. And it has no control over pension costs -- those are negotiated in Albany, even though the city pays.
The mayor must also choose which union to negotiate with first, and the outcome of those talks usually sets the pattern for everybody else. This year, everyone is watching the teachers' union. There are 152 unions representing 300,000 city workers. All of them are working under expired contracts.
"Every mayor has the responsibility to be fair to their own employees and fair to the taxpayers," said Ed Ott, a veteran of the labor movement who now teaches at the City University of New York. "I don't know why they want that job, but that's the job they've asked for and it's a tough, tough job."