A Patch of Clover That Comments on Land Use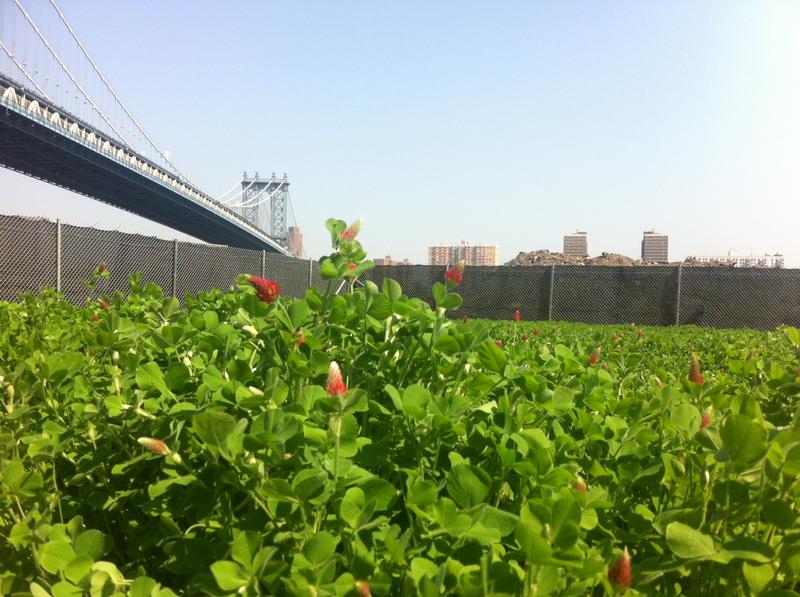 Commuters and bikers who take the Manhattan Bridge now have a new view of a patch of green.
John Street Pasture is a temporary living earthwork at Brooklyn Bridge Park that grows crimson clovers. A commentary on land use, it occupies an area of about 6,000 square feet.
Andrea Reynosa, the artist who created the piece, lives upstate with her family, but she has kept an apartment across the street from the site where she used to live. "I use to park my car here, there were rats living underneath it, it was completely trashed. It was pretty crazy back then, 20 years ago, there was nobody down here," she said.
The seeds for the artwork were actually planted by Brooklyn Grange, an organization that operates two rooftop farms in New York City. Gwen Schantz worked on the project during several weeks, starting in late April. She said they had several challenges.
"We had to come and fight off the pigeons, who were eating our seeds, we had to manage the irrigation and make sure everything was germinating properly, but now everything is really a lush, green field and you see the red starting to pop up, so it's doing what it's supposed to do," she said.
View of Jon Street Pasture from the Manhattan Bridge (Gisele Regatao)
John Street Pasture is part of FOODshed, an exhibition of upstate and New York City artists who work with food and agriculture.
Amy Lipton, the director of the non-profit Eco Art Space who she curated the show, said the piece is beautiful to look at, but it also talks about other things.
"What is the value of land, what do we use land for? You know, here in Brooklyn, on the waterfront, it's going to be luxury housing after this, so you can draw your own conclusion with those kinds of questions," she said.
The show includes two other public pieces and a group exhibit at Smack Mellon — a nonprofit arts organization in Dumbo that supports female artists.
At the end of the summer, goats will be brought in to eat the clover of John Street Pasture.
The enriched soil will be incorporated into a new section of Brooklyn Bridge Park.
Tattfoo Tan's NEMRE (New Earth Meal Ready-to-Eat), 2013, Social sculpture. (Photo courtesy of Smack Mellon, Brooklyn, NY.)
Jenna Spevack's Victrola Microfarm, 2012  (Photo courtesy of Smack Mellon, Brooklyn, NY.)
Linda Weintraub's Let Us Eat the Colors of Nature's Spectrum, 2013 (Photo courtesy of Smack Mellon, Brooklyn, NY.)