A Parole Office Grows in Brooklyn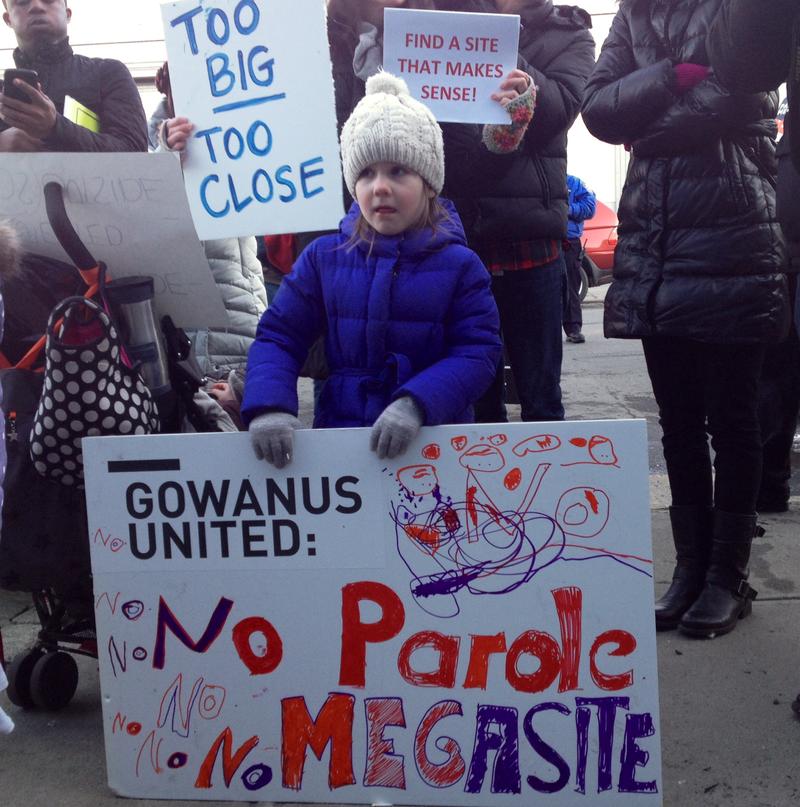 The state Department of Corrections is poised to open a huge new facility in Brooklyn where every person on parole in the borough will be required to check in with their parole officer. As the January move-in date for the building nears, local opponents hope a pending lawsuit will block it from operating in their neighborhood.
At a recent rally against the plan, nearly 100 residents huddled in the cold about a block from the 2nd Avenue and 5th Street construction site. Many — including Borough President Eric Adams — complained that the project was kept secret by state officials until it was almost complete. He said he learned about the plan by reading about it in the newspaper a few months ago.
Stefanie Wood cheered with the crowd near her 9-year-old daughter.  "Do I not want it in my backyard? No I do not," she said. "However, I don't think anyone would." She denied her participation was motivated only by "NIMBYism." She wondered why state officials decided to place the facility in such a hard-to-reach spot on a dead-end street. "It certainly makes more sense in a place where people could access it easily," said Wood. She added that the site was also too close to schools; the nearest is only one avenue away.
The new office isn't scoring points with advocates for prison reform, either. Alyssa Aguilera, political director of Vocal New York, said they'd prefer to see a number of local offices in different communities rather than one massive site. But she dislikes some of her fellow opponents' rhetoric.
"I think some of the children holding signs insinuating that people on parole are unsafe and are coming to neighborhoods to commit criminal activity… was particularly vile," said Aguilera.
 A group called Gowanus United filed a lawsuit last month seeking to block the plan. They say the state Department of Corrections didn't complete the required environmental study on traffic and parking.
Parolees used to visit one of three offices in downtown Brooklyn. Richard Laysath, who was recently heading into the only remaining office on Livingston Street, said it was hard for him to picture someone breaking the law near a parole office. He said he's been home for less than a month from Attica Correctional Facility and must keep two appointments a week with his parole officer or risk being sent back. 
"I'm not trying to go back to prison, so in front of parole or around parole is the last place that a person would want to do something," said Laysath. 
The Department of Corrections declined a request for an interview because of the pending lawsuit. But the agency said in a written statement that most of the 155 employees at the community supervision office will be armed peace officers. The building will also have interior and exterior security cameras and every bag will be X-rayed and searched.
Stephen Giumenta, who runs a family business just a short block from the new parole center, said he can't believe that four or five hundred people a day will be walking up and down his street.
"Just the sheer volume of people – it doesn't matter what type of person it is – if they're a parolee or they're Boy Scouts," he said.
Giumenta said employees have been coming up to him recently, asking what he was going to do to keep them safe.
Mayor Bill de Blasio said he's reserving judgment about the plan until he has more details. A hearing on the lawsuit is scheduled for Dec. 19.