In Bryant Park, a Temple Made of Art and Tar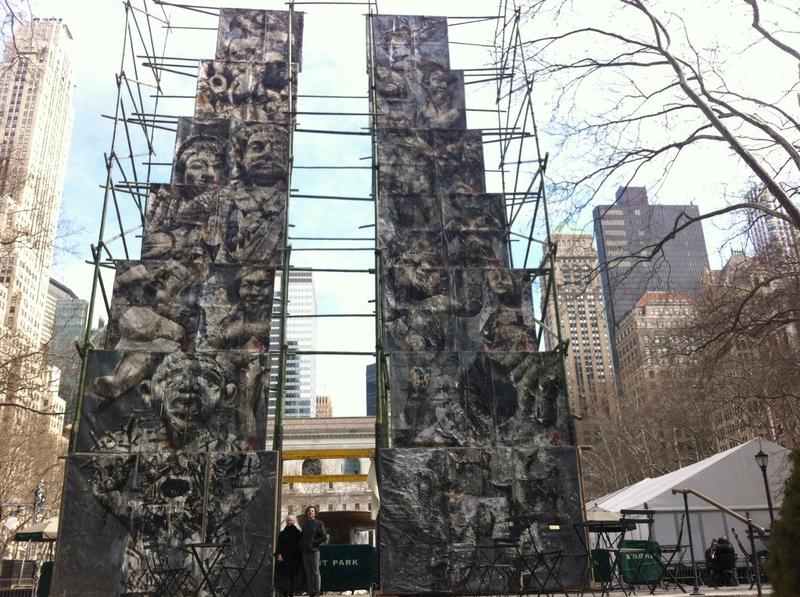 If you can't come to the museum, the museum will come to you.
And it comes as a 60-foot tall pyramid-like painting standing on a structure made out of bamboo. "Analogia" was created by New York-based artist Ben Tritt. It is installed in Bryant Park in midtown Manhattan until March 18th.

The images that Tritt created in paint and tar are reproductions of 14 sculptures he chose from the Metropolitan Museum, from different historical eras and departments. He spent four months visiting the Met to draw the sculptures, and 30 days painting the piece in a space that he rented across the street from the park.
Tritt said his idea was to bring art to the public outside of the traditional places of museums and galleries. He made a point of choosing sculptures that are not very well-known, some of which are small and corky, and bring them to life. "With the idea that we can kind of take people from the park, from the work that is outside, meant for the public and direct them back to the museum, to do their own, their own discovery," he said. 
Whereas most public art is usually funded through grants, "Analogia" was independently financed by Tritt and his producer Jodi Kaplan, who has worked mostly as a dance producer for 20 years. They raised half of the $500,000 that the project cost selling Tritt's work, and hope to raise the rest through a kick-starter campaign.
Kaplan explained they didn't have the time to go through the conventional route because they wanted his piece in place for The Armory Show, an international contemporary and modern art fair that is taking place until Sunday on Piers 92 and 94 in midtown Manhattan. "To get foundation support you need to have an internal network, you have to have a development staff, it takes time, years of cultivating those relationships and we didn't have that, and I wasn't willing to wait."
"Analogia" will also include sounds and the opening on Saturday will feature dance and music performances.
Detail of the base of "Analogia." (Photo by Gisele Regatao)