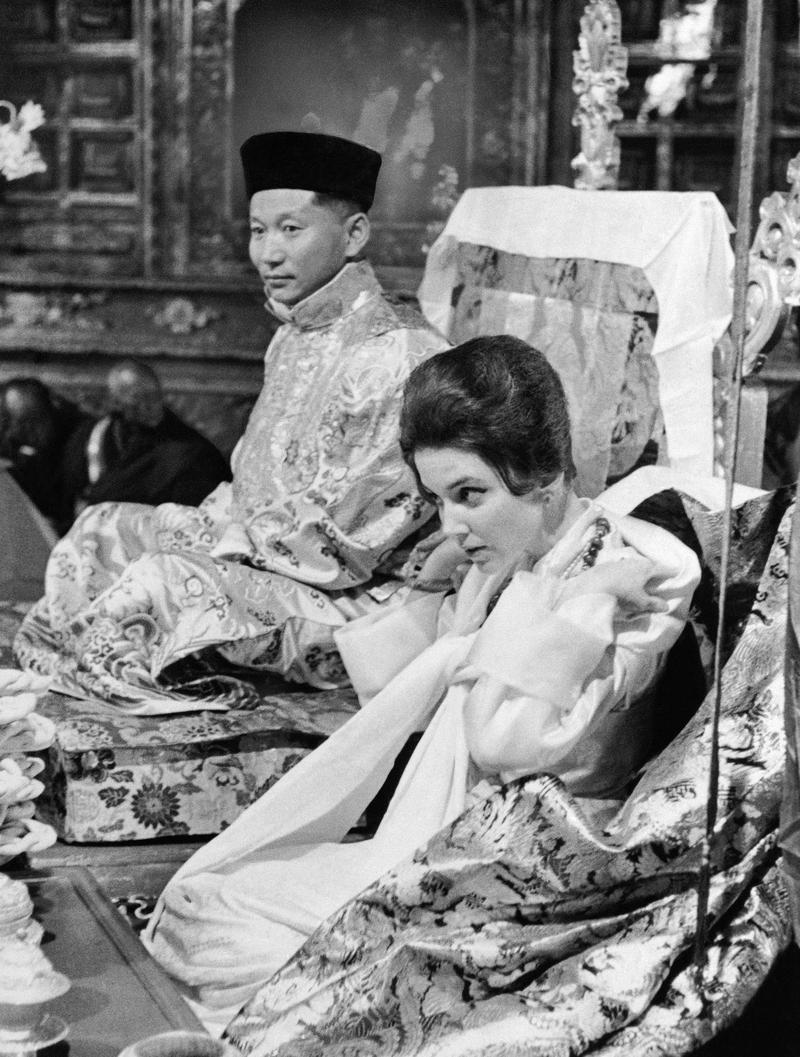 Summary
This episode is from the WNYC archives. It may contain language which is no longer politically or socially appropriate.
From card catalog: King and Queen of Sikkim. The King talks about his country - it's history, location, and economic and political conditions. Queen of Sikkim discusses cultural and social aspects and search for national identity. Question and answer.
Host introduces head table. Namgyal gives a history of the country, during which room noise gets loud). Cooke talks more about Sikkim.
Question and Answer: A typical day in Sikkim? Diplomatic exchange with red China today? Role of women in Sikkim? Materials for the American market? How many people from Sikkim live in the US? Is red China a threat to Sikkim? What are her impressions of New York? What do children do after school? How are they dressed?
Audio courtesy of the NYC Municipal Archives WNYC Collection
WNYC archives id: 70442
Municipal archives id: T587
Transcript
This is a machine-generated transcript. Text is unformatted and may contain errors.
It's a very great pleasure for all of us here at the Overseas Press Club to welcome today the king and queen of Sikkim all of us know the dramatic glamorous story very well indeed. The story of the Yankee Maharani as one magazine wrote the story of Sikkim and its Yankee queen as N.B.C. title did and they are one our television show this past summer is something that has been in the country's most of all of us before asking their royal highnesses to address us I'd like to present those who are here at the head table as our special guest today. Mrs Sheldon Seldon shapen the widow of the former United States ambassador. Who raised. The money a runny embassies around the world. Is excellent say the Japanese consul here in New York Mr Togo. At the other end of the day I still like to present the wife of the president of the college which Cook attended Sarah Lawrence. Ward. Joe Norman our program director who will handle the question period. Charming Mrs Togo white the consul general Japan. The president of Sarah Lawrence Dr Paul Ward. Without further ado it is my great great great privilege to present to you His Royal Highness the king of Sikkim. Mr President and friends. It seems rather presumptuous of me to try and teach you more about thinking but. I would like to say a few words about taking so that. You may know our small country a little better. Our. Country was first to. Establish to around about fifteen hundred. And our family has been ruling there since then. We are placed between. And never. And that is very important because be the link. Between the three actually in money and kingdoms. We are at the same time astride the main trade route to do to Tibet which is of course now closed because of. A Because of the troubles between India and China. But very small. About a very important politically in the sense that we are at the head of the very small neck that separates actually eastern India from actually western India so in that way we are very important too for India and maybe there is. A and. And and various and various other neighbors. But we are trying to keep ahead. Of. Our neighbors because we. We believe we have survived because we had been one step ahead of our neighbors. Though we are those. We are the smallest and our neighbors have in the past taken slices of bacon there we are still being able to survive because of this. Hand. We are trying to give money education for our children not just schooling but we want them to learn that there is a trade and there is profession. I think our government spends a great deal of money and. In fact we would be spending something like. Actually twenty percent of our whole budget then. We at the same time have to believe that we cannot keep up our standard of living merely by. Our present economy which is purely agricultural. So we are trying to start or there is factories and small scale industries in our country. To try and get them. In. The other government the second gives very liberal decks. For example the first. People that came in we gave them a tax free holiday of seven years and a guarantee that income tax will not be more than ten percent for twenty five years. So you will see that we are trying to keep one step ahead of this way and. Big deal it is essential for our survival now for this. We get quite a lot of aid and help from our southern neighbor the government of India which is. Protecting power. Now something about well. On the crossroads. Of the north and south we. We have several kinds of people in singin. We've got people from Tibet we've got people from India and people from entering that. We have they have very many tribes and I think. One of the tribes that live in a nearby. I have come over to see him in in some books and. We got about six to five percent of our people have come from. We have people come to bed especially especially recently we have some five thousand a Tibetan actually refugees total population is one hundred and sixty thousand so five thousand is a large number for us to have about these two being good neighbors. As far as port and I thought of port and culture is concerned again it is a meeting point between the north and south. About four languages spoken in sick and. Let me. Actually sicken me today and actually go to college that is the language spoken in that town. And to very many people speak in the halls of. So it is a blending of language and I don't and culture we. Actually Hindu and of with this. And substantial. A number of our people are Christians so. I didn't I do not know what else I could tell you but I hope in the future I have been able Don't do to introduce a little of thinking to you again today and I thank Apple and the president very much for the one and they have done and in that line in having us here today and. Very many. Arrival Highnesses classmates were here coming up saying Hopi were with lovely to see you talking to her highness I said that one thing I'd like to know is how do you pronounce it Himalayan Oregon Mullion and she said I've never known any extraordinary thing is that they are. In the at the top of the world in those mountains in the name isn't used at all. Ministry of National Development. It's. Interesting around the world. It's my pleasure to introduce. First first question which I think might be addressed to the king. He would please describe a typical day in see him and if you would please hold us to just a few minutes. This is. Just people meeting people and I think that takes up about more than half the time. We don't. Have a very many parties. So you may have about. Three or four parties. And then the rest of the time you spend. Trying to shuffle. The I've. Been able to. This one. Also won. The king as a British protectorate in one thousand ninety six when was recognized by China do you have diplomatic exchanges with Red China today. No. In fact in fact the external actually relations are looked after by India and at. And at the moment we have not only ceased trade with the North but plan to close. The corresponding to the Associated Press. Have they been imbibing have there been any line millions of the. Border from Tibet. We have had one such violations about. March. But no. Violations have taken place because. Some. That's one of the best when you can tell the women. They can. Enjoy. The money. Properly. When. The going away all the regulation the the. I'm. Sure. But. The the. The the. How many. My wife. The shows you. The. So you. Resort. The and the right. People. Culture. Happy People. I do. The right. That once again. To the security of. Well. I don't think China would have. Had a small area. In a greater big and. Trying to do a little bit. Of that they. Will not be a direct. The queen by. The fire. When you're in New York. With your mom when you had to make. I wonder if the king would try this one what kind of recreation do teenagers and after school hours the day. Where. I suppose they were born is one. Thing. But the boy that. I'm either not. The Red. And the Go head of. The House and the good boy calls I suppose the right. And then the last one on a personal note. Could you tell the what you are are integrating rather condition do you where are all. The other. But it. Should. Be cool if we would we. That is if you. Read it which. He was. Putting. I think about all. Right you're making a happy experience. The world of everyone. There I know what we're busy to run them I make one request that everybody remain. While they can clean. They have a quick appointment there with the television and then have a. Family dental appointment by going with.