A Pair of Clowns in a Senseless World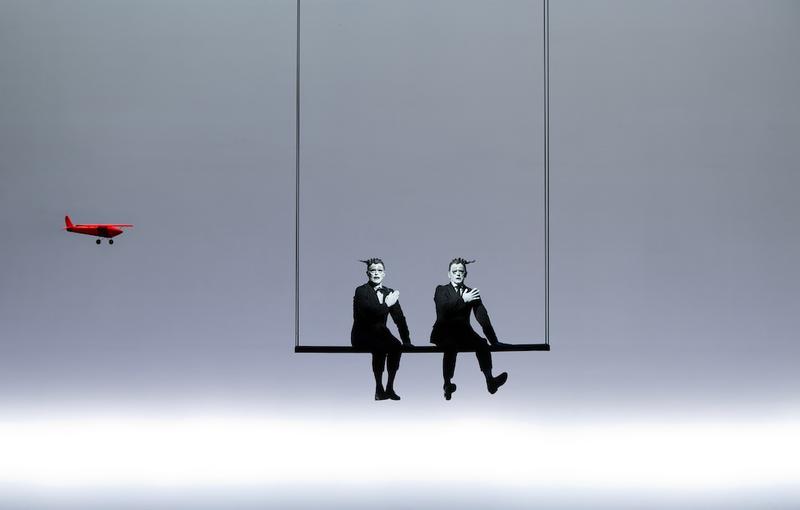 The Old Woman, directed by the experimental theater artist Robert Wilson at Brooklyn Academy of Music, is an absurdist comedy based on an avant-garde Russian short story. There is no plot, and yet there is an emotional narrative, as two vaudeville-like characters in kabuki white-face and black suits struggle to find comfort in a meaningless, slightly menacing universe.
There is a thin through-line that links the 12 scenes  — an old woman shows up with a handless clock, another six women fall out a window, and still another (or perhaps the same woman with the deformed clock?) shows up dead in the narrator's home. 
Actor Willem Dafoe and dancer Mikhail Baryshnikov  turn in performances of highly stylized, exaggerated movement, often in synchronicity; and dialogue that is more like song, with its repeating phrases and strong rhythms. As one might expect, Baryshnikov conveys more emotion through his dancing (or even walking! or sitting!) while Dafoe can express nuances of feeling through his voice alone. Together, they are well-matched and bring sparkling humanity, creativity and humor to a text that is otherwise purposefully cold. 
Robert Wilson designs the set and lighting of his pieces, and in this case it is these that make The Old Woman into art. The stage pictures are like ravishing surrealist paintings. Jewel-colored light turns a small, white biplane into a red one, or an actor in white-face into a green demon. The actors' faces seem to float in the air. Sausages rise up in a line from the stage; windows, their angels disturbingly askew, fly in from above. At one point, a giant illustration of a chicken slides in and out of a hen house before being met by a fox. 
Interestingly, it is these strange stage pictures that provide the most emotional resonance. In some instances, the actors say the same words with similar movements and so the set is what provides context. The light and shadow, the rich, saturated color and oddly-proportioned furniture, all provide clues to how the characters are feeling. It is why the dialogue seems hopeful or horrific, chaotic or calm.
In this piece, what is said means nothing. It is what is shown that gives some meaning to a meaningless world.
An interview with Mikhail Baryshnikov and some scenes from an earlier performance of The Old Woman are in the video below.