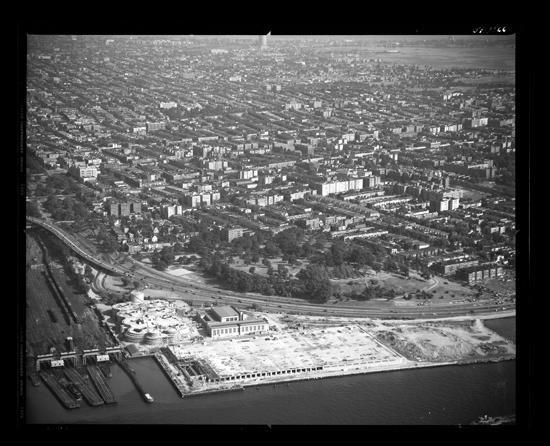 Summary
This episode is from the WNYC archives. It may contain language which is no longer politically or socially appropriate.
Rpbert Moses: Our water has gotten away from us; cites a trip to Sao Paulo, where no treatment plants exist. Was told by the health commissioner that the beaches were making people sick and might need to be shut down. Thanks to Zurmuhlen, we're beginning to solve the problem.
John F. Mahoney, Health Commissioner: environmental control and health (ex: milk, smoke)
John Cashmore: first sewage, pollution to harbors, destruction to fish; Moses's "scientific" vision for sewage disposal. 85% of NYC's sewage will be brought under treatment in 4 years; all of it in 8 years. "The water in our bathing beaches will have the highest possible standards of purity."
Mayor William O'Dwyer: Examples of changes and updates that need to be made city-wide (more schools, a 62nd Ave subway, better pay for city workers, expansion of city departments [esp. the police and hospital departments]. Sewer rental tax program.
Audio courtesy of the NYC Municipal Archives WNYC Collection
WNYC archives id: 5826
Municipal archives id: LT514
Transcript
This is a machine-generated transcript. Text is unformatted and may contain errors.
The the. The you. Ladies and gentlemen of. Keeping with the traditions of our country I am trying to revise the program and I asked the. Right Reverend months senior Joseph Kelly to give the invocation. My senior colleagues. We invite the blessing of God this assemblage and on this project for the safeguarding of the health of our people and in a particular way for the health and well being of our children. In a very true sense our action of the moment is an effort to repair our negligence of the past. A kind I'm bound people Creator gave. Me Our incomparable hob. He gave it to us not merely as a highway a lot of global traffic. But in its pristine Carmina we would delight our I. Invite the rest and relaxation health and a sense of wellbeing to our off times tired body. In the designs of the creator of this harbor of ours what's your name meant as a lasting home of the resolute lady of Liberty. It is the first and perhaps the most impressive reminder to the visitor to our shores that America is truly the favored Christ left home free man. God gave it to us pure and I'm solid and it is an humble joy that I recall that the business of this meeting today is to determinately affirm and effectively arrange that he or sully it shall be. Ours then is an act of reparation to the creator or Author of all that is beautiful. Ours as an act of reparation to our intelligent long suffering the citizens of the citizenry regretful as we are that the acknowledged health protecting blessings modren were disposed have been delayed for even a single day. As we see this splendid project take form today we thank God for the genius of our engineers all the wisdom of our legislators. For the cooperation of our status and jury and in a particular way for the friendly partner of our chief executive the Honorable William K. O'Dwyer we pray that this instrument designed to safeguard the public health should operate always at maximum efficiency and we pray to and even more earnestly that it will ever symbolize that cleanliness of heart that purity of life which must ever characterize those who claim some here with the father of all. These are our aspirations these are humble hopes of a lot Dame thou invite kindness to bless them and to bring them to full fruition for our good and to lie on a greater glory a man. Of their own remain standing the Department of Sanitation band or play the Star-Spangled Banner. Thank you. You. Right around my senior Muslim I had the president's national Moses commission amounting. On a guest ladies and gentlemen. It is always a happy occasion when we can celebrate the advancement of another public and prove. I will bring about that out and living conditions for the people of our city. As public likes connection us I am naturally pleased with this ceremony that it reflects an achievement of the officials and employees of my department we can all be justly proud of the share of small and large we have had in the design and construction and later the operation of this out head pollution control project. Much more credit is due. And many more people are responsible for making possible this great project in fact none of these projects would even get started well if not for the leadership of those so much planned organize find the funds and push the public and chrominance in a city where public demands are heavy and most complex. We are fortunate in having with us today some of the most outstanding of these leaders. I wish it were more possible a place in this cornerstone some symbol that would preserved for posterity. The under eight tie aren't hiring efforts the headaches not Hynix of the administrative planning which the speakers we all had today at contributed to bring about this project but no cornerstone or no oil would be large enough to contain such a symbol a public service. Place because it is a man whose relation to the construction of public and prove means has reached nationwide and I might say into nation wide recognition. I shall call on him for eight because the as another meeting to an end. I present to heal the Honorable Robert Moses commissioner of the Papa pox and City construction coordinator. Senior Calif. Missionaries are millions of American must bar press. It's is a great day not only in the history of the borough of Brooklyn but in the history of the city and indeed of the whole metropolitan area and it's not so long. Since we were put on notice. By our own officials and others. Including federal officials. At the time and come for us to clean up our waterfront. I don't know how many people in New York know what certainly every child auto and we have the greatest waterfront. In any city in the world and that's no exaggeration to. Make the upper and lower bay Hudson the Harlem the East River and the sounds of the ocean Jamaica Bay. Is nothing like it anywhere else in the world I like many other communities as we've grown very fast we've been indifferent about pollution and the result has been that our waterfront Ascott away from us. And it's meant not only danger of infection. Not only the possible closing of beaches not only the destruction of conservation facilities fishing boating and all the other waterfront activities but actually it's resulted in the detail we are ation. Of values. And finally we've got to the point where we have to do something about it out costs about three times as much as it would have cost maybe four times as much of it had been tackled before and in a way it seems a pity that so many of these burdens should fall on Maryland yron because they don't represent the troubles that he's made. Just represent an accumulation of miseries that have been left to him. Now but it was done about this problem in the Guardia administration but not enough when the war came along and that stopped work and now are launched on a real program which will bring about the desired result. I had occasion not long ago to go to one of the South American cities one of the most rapidly growing cities in the world San Paolo had two million people there and they have no sewage disposal of any kind not even the most rudimentary system so all cesspools. I just got around to thinking about it. Now has happened in many places throughout the world. And here we are on notice that we've got to act on the city administration is acting and this is the proof of it I don't know how many of you know just what the feeling is of a commissioner of parks it was told by the health commissioner was the final authority in such matters that. The big issues may have to be closed down and some of. That's something you have to listen to it's worse than being informed by the commissioner of housing and buildings that there are sixty seven violations on a city building much worse because it's more dangerous we've never gotten around to having to do anything as drastic as that I'm delighted to be here to congratulate commissioners and militant on the progress he's made because we're beginning to see the end of all this pollution at a scene we ought to get them at the forefront of all the cities in the world and really tackling a big problem thank you. Thank you Bob. High on the list of the benefits that accrue from a project that would clean up the water surrounding our city. The improved beach facilities and better health conditions generally no one is more closely related and already better authority to speak on this subject than our next speaker the Honorable John F. only health commissioner of the city of New York it is my pleasure to present him to you Commissioner Moni. Mr to mail on down the line yes ladies and gentlemen. As a representative of the health forces of the city. I surely would be remiss in deed if I failed then to this audience. The for which the project is to help the victims. Or that race it is eighteen pleasure from the participate in the program the fact that no. It may be of some interest to this audience and to the radio audience as well. To know. That a very sad sprightly and unusual set of circumstances are present in the city. Basically the city represents the most dense concentration of population in the work that any of the other large cosmopolitan cities are comparable in this respect. A total of eight million people live work and of almost equal importance to date place within Islam. In addition there are several hundred thousand visitors on business and later enter the city into the city today. And health workers. We come to depend very largely for our information and our guidance of fund disease sickness rate and death rate. When we compare the sickness rate and the death rate in City of New York with those of smaller communities. Somebody even almost quasi rural community. We are standing still but the prevailing rates within New York City. Are as low in many instances and some instances more favorable than those of the smaller and the supposedly more healthy communities. We must attribute this to a basic the healthy and environment which prevails in the city and it would seem to become the duty of those charged with safeguarding the health of the future the future health of the city to maintain this environment in its present state in order that this favorable set of Star consensus which we have presented with may continue in so far as this can be accomplished by any man made make sure. The. Dedication of the I will said pollution control progress project represents the most important step in this program of a fireman of. The woods operation the pollution of the waters of the harbor will be reduced and secondarily the maintenance of an adequate standards of purity of the water saving beaches on Long Island and on staff. This protection of Asian beaches in order that full advantage may be taken by all of the people of these recreational facilities surely becomes a name for a set to the broad program for. Environmental Control has several other assets all of which the president ministration is undertaking. When we come by in the steps which have been taken toward provide providing of adequate healthful water supply towards the safeguarding of all the milk and products which are brought into the city and almost an unusual similar importance being placed upon the controls smoke and who are the key to the atmosphere within the city we have embrace the four major sets of environmental control upon which helps. All four of these have that are in the process of working control is being undertaken under the present and I feel sure that the work in the other field make this thing will tell you that that is in the control of the listeners are making that indeed we will be able to pass on to the next generation an environment in the city of New York which was as healthy at least as that which was handed to us and that will be a major topic. Thank. You either. Good commissioner Mahoney. Most of you people know a lot of estimate the highest governing body of a city. That appropriates the necessary funds and initiate some proven such as the which would mock privacy of our city. A spar a president is as zealous Guardian and an active champion of all improvements that would bring benefits to his home borrow In addition he must keep an objective view of what must also be provided in a way a public and province but a city as a whole. Today we have a member of the Board of Estimate was this thing which themselves in both these fields of public service the outside pollution control project is an excellent excellent example of the type of public and prove once which the power presidents of Brooklyn as Shad and creating I am happy to present him to you now President John Cash Money. Thank you so much does a man. I'm saying a callee. Now all why Dr Mahoney and Bob Moses distinguished guests. Neighbors and friends. It was not so long ago that I had the honor of representing that old Wyoming. Out of Sodom on me. A similar to this one. It was the cornerstone of some money for the eight million dollar treatment plants on Jamaica Bay. On that day I recall I mentioned that when I was a youngster there was quite an oyster industry on Jamaica Bay that industry like so many others was grievously damage to the pollution of the waters of New York Harbor but Jamaica Bay was not the only spot where pollution took its toll in colonial times the island sutlers that came to this spot and which we stand today. Found that it was one of the finest ice the beds in the world of. Travellers from England over as it had here in sixteen hundred seventy nine recorded the fact that the shards of Brooklyn produced ice there's a foot in length. Before the year seventeen hundred the shores provided Brooklynites not only with food for themselves but they produced a delicacies that was among Brooklyn's fight export commodities. But in sixteen ninety six the phrase or in Manhattan was built and so commenced the pollution of the waters of New York harbors and from that time on funny really three centuries the record of this city and the matter of so much control was one of indifference and neglect we finally reached a point in our own day when the destruction of fish was a matter of mild concerning compared to the threat of the health of our citizens who bathe in the polluted waters on city beaches. Obviously the problem of pollution is not entirely new by any means what is know about it however is that after generations of bungling it is now being attacked and solve scientifically. Those of you who have good memories will agree with me when I say that there is something very new about that. I can recall that ten or fifteen years ago it was the function in city government to give the taxpayers nothing but projects they could look at and fact I heard one mayor saying they don't appreciate what they can't see now this matter of controlling water polo ssion it's something the taxpayer can't see Nevertheless there is more than one man on this platform today who had the courage and the foresight to face this problem our park Commissioner Bob Moses has long advocated a scientific program of sewage disposal but there is a public official here. To Home I wish to pay particular trivia OK here's a man who lived here in Bay Ridge for many years he is now the first citizen of the world's greatest city our marriage bell O'Dwyer. Here is the one man in our city hope despite his heavy burdens and responsibilities could still realize the importance of this problem and had the foresight to kill something about it the twenty one million dollars planned on the construction right here represents but a small part of the great program he has undertaken despite all the post-war part of the thing inherited the crying need for schools hospitals housing and other services Maryland Why aren't nineteen forty eight courageously launched a five year program costing one hundred million dollars to wipe out the sins of the class that began some money generations ago. To win the gate how tremendous a program the city has begun to attack let me draw your attention to the report of the interstate sanitation commission of one thousand nine hundred thirty eight the commission reported that if the poll ocean coming into the New York New Jersey and Long Island districts at that time had to be pumped it would take a level one hundred fire engines working twenty four hours a day to go those Jap it is clear that the responsibility for ending the contamination of the waters in this area is not the responsibility of New York alone but under the leadership of Mayor world where New York City is in the forefront to meet this challenge to the health and welfare of the people throughout the metropolitan area eighty five percent of New York City so if you will be brought under treatment in four years and all of that will be control within eight or ten years the waters in this habit. An hour but even the change will have the highest possible standards of purity I've said this before that marrow drives occur pursuance in the fields of health education and social welfare or welfare are without power alone and today as we stand in the shadow of this huge building looking across as Babbles is said the finest harbor in the world I want to repeat in emphasize. That all mail order I has done for the health and welfare of our cities eight million people will stand for all time miss out on monuments to what is your main and progress of administrating of the greatest city on earth for your most America until all my fellow members of the board of the stomach I saying. Brooklyn welcomes this plan our three million people appreciate lot of things on an unknown name I can only say thank you. Thank you most of our president. That I very fine tribute to I may add. That would be useless for me to use the usual time to diffuse the functions of its kind and saying that the next speaker needs no introduction. I am only an engineer and an architect. But I would have to be a combination of an orator. And a part of a poet laureate. And adequately do justice to the man that I am introducing. As knowledge of the needs of the city has been suppressed only by the foot duck given walk right manner with which he has administered the complex requirements of the study without his leadership this guidance and strong will to make New York City a better place to live in this out head pollution control project would still be an idea instead of the concrete and steel which you see before you I want to take this opportunity missed to make the public to report to you that are so its disposal program is on schedule and going forward all time high reckons or established by the department of public likes during the past year in the construction of sewage disposal facilities they are a direct result of the backing and cooperation given to a mighty class meant by you and a lot of estimates. We are honored that you have come here today laid a cornerstone of this project which is of which you may be well as another place in the team and in your public career ladies and gentlemen the mayor of the city and the Honorable William of life. National. Let's sing it Kelly. John Tesh mom Moses John Mahoney distinguished guests on the platform the neighbors. I deeply appreciate the words of praise that were given to me. I do believe that this work should have been done long ago I think the health of a city of eight million people require is that it be done as promptly as possible I think anything else nothing that I know of than our whole program is more important than the health of the little children father and mother grandmother and grandfather and yet ladies and gentlemen this business of providing Florida making programs and I had to begin at the beginning Bob and I was spent many an hour on many a day and many a year before we came into office planning this I personally could not possibly have done this without the approval of a whole lot of the prover of the board of estimates home one of the most experienced and valuable members comes from Brooke on the price and John Cashman. When we add it all agreed on a plan of finance just don't have to have the machinery to put it across. And that ours happen time and again in the last four and a half years certainly a sense Fred simulant took over as commissioner of Public Works and to him and to his men or the splendid work that done generally throughout the city and particularly in this case I cannot thank him enough on my own or on the on the air left German There's a lot to be done in this city to make it truly a livable place for the eight million people that are concentrated in it there are many things that you could think of today for example you've got to build upwards of one hundred fifty new goals if you're going to take care of the additional population of children in the next three or four years that cost you anywhere from a million and a half to two million dollars a scope that's got to be done and it's important that not only you who are looking at me but those who are listening in would understand that that's got to be done you will never never have a decent transportation system in this city to be adequately furnished business and pleasure rely on till you've built the Second Avenue subway and the other improvements in the three boroughs that it will tax Queens and Bronx and Brooklyn well as Manhattan I don't cost you know upwards of five hundred million dollars but it's got to be done our hospital plant when we took it over and nine hundred forty six was not only an adequate but just buildings were all it was them possible to properly administering a public hospital system. I remember last year you voted to give us one hundred fifty million dollars above our debt incurring power so that we could rehabilitate your hospital plan for the needy sick I was done you've got a budget and I'd just defy anyone to show me where there's a wasted dollar remnant of over a billion two hundred fifty million dollars to run the city for a year experts have Condit put their microscope Sanath magnified and make can possibly find where there is one dollar out of the way and I budget I'm yet there are many of our workers that are entitled to better pay the fire the money that get it and yet again there are many of our departments that are crying for expansion and ordered to give the people of the city what they need your police department or eighteen thousand five hundred men is not enough and yet every thousand extra policeman will Karcher three million dollars Your hospital Apapa taking into account the hospitals that were taking over the brand new ones that were building cars one expenditure light is in jobs on a better than twenty million dollars more if we were to do a reasonably good job welfare under the present rise in figures gods for about thirty million dollars more than with got I am the fire department the same way and with all of the criticism of the Department of Sanitation it will finally get down to our manpower mechanization program that will cost you at least eight million dollars if I have that I can give you know that service if I haven't got it our in God's name can your up to get it simple as that. Now I'm leading up to a point I'm leading up to that job that we're doing here today. And this is one of the five plants that we are actually building are about to commence which when I'm finished will give you waters especially your beach waters free from Paul Lucian some of them on Jamaica Bay Some of them around the corner and Coney Island one of them over in Staten Island and The Bronx speeches especially arch and beach and the new ones that are proposed now may discuss that. For a moment I helped apartment has found pollution and harbor and in our bathing beaches that is true but we're coming in during our hot weather period and that's all right to put a glaring headline that your health department of family pollution it's another thing to explain to the people that I have the PAP and is watching those waters careful like that when they are dangerous to public health there will be flowers. Then looks cation Belviq flowers and I was always sure the people of the city and the hop months especially from the crowded sections the poor neighborhoods where the host of men women and children's look forward to that hour on the beach that angèle lead told them there is no danger at all a shame. Go out to Coney Island go to your beaches you're perfectly safe we're watching a we're taking full responsibility for that we will not permit the thing to go if it's dangerous to your health there is nothing there today that would indicate that there's some you have any fear and I'm talking to those listening in that you have any fear of going to your veiling beach as you always did our ever since however that pollution from all add up and the surge that follows your nose growing all the time that day is not very far away when they will be dangerous on life the city takes action ladies and gentlemen that's what we're here for today to take action this is not an overnight building this has been carefully planned over the last three and a half years this is financed this is going through as Johnny Cash more Told You twenty one million dollars worth what do we expect from its neighbors and you're going to expect this time next year to walk along that lawyer walk along the waterfront in this beautiful park without any of the offensive things that you have been looking at since that walk was built all without the of fence of old age because that will be taken care of that now your bridges freed from this pollution will be safe and clean without any pollution Coney Island but what's being done and just might give a and what's being done here today sorry I had Suppan chair you'll have back again. The pristine purity of the water I won't guarantee you're the I stood as a foot long that Johnny Cash was said but you'll get better you'll get customers down there and that'll help you take up the slack. And so it is throughout the city this program is on the way I stress again that it is one of the most important programs from the standpoint of their health of the city that we could possibly engage him and I turn stress that too much I don't want to bring up memories that frighten people but wherever you have filthy water and you have children playing in it and I thing might happen we don't want the responsibility of that you're in the up top in the house you know in the one family house you know in the two family house your multiple dwelling house every one of your contribute to the pollution of the space your a Curan are intitled to water to bathe in and public beaches without ball ocean the health of you and your children as a partner so I'm going to ask you to tiny for those cleansing program I'm going to ask you to pay for it without squirming I'm going to ask you to make this investment in your health and the health of your children and in the health of everyone in this city who comes after we're gone I don't want I want that done why do I ask this you know got a condition here traffic road building road mending. New stores and storage you've got a lot of things that are not built by the ordinary capital budget money that comes out of general assessment and borrowing assessment ladies and gentleman if weight takes all of the money that way you can get that financed now out of general assessment and I'm talking about this program of Antipolo should ever way take that out there is no money left for our major programs that in another way I'd just as important to you if you're arterial on the highway on straight program and not carry it out that's why I'm cry for them point but made I stress and these days of traffic and long distance planning to make this an easier city to get in and out of need are stressed the need of that well you've got a not terror program of twenty two million dollars but your mommy got two million dollars from last year gotta get the rest of it somewhere if we put in your fact I watered tax on of the form of a server rental tax to each family. That will release the money that we need to carry forward our other very important program. I have to door going to were talking on this one because you don't see four thousand miles of stores. You don't see what goes on here and on the left the public is looking at things you have to spend that much more time telling them what their way are not what preppers is a service and why they're necessary to continue to have their life in the Senate. On a go back to the board of astronaut has Consider this leave given a lot of consideration over a year and a half or two years we've finally found ourselves come tell an order to carry out these two necessary programs and other programs that I have mentioned Doe and buck the powers that we have and to edit this year and that once I read from tax based upon the water consumption to pay for those programs of L. that will come to approximately one third of the want a bill that you're paying now added just take a third and added to your water bill and the gauges of one family to family household one family it well now I'm out to more much more than forty cents a month for the entire family ladies and gentlemen my I'm hesitating late advocate this I ask for it I don't ask for it in my name I asked for it in the name of the hell are you your family your children everyone who will come in contact with the beach. Not a pleasant thing to tell you about but don't quibble about forty cents a month a family one night I mean polio one of my main gastronomically decision that will cost anyone something much more valuable than any money of the convention and that is that some of the individual or the family of the city that for today this is the first announcement I'm making of it the Board of Estimate is ready to go through based upon a conference where a final conference we held last week this is the job it's positively necessary it is essential to your health it must be paid for and nodded to get the money not to interrupt the other programs that are necessary on their own want this has to be done they love gives us the right to do what we believe the Board of Estimate and I take full responsibility for pressing it on the Board of Estimate I believe and I hope you'll agree with me that it would be a crying shame to leave dollars beaches in the polluted condition that their own land for forty cents a month you can have water is the worst cure or the day that Henrik Ibsen came up that rather let him gentleman. That's longer than I usually speak it's important to those who are here important to dollars who are listening and let them part and to those who will take up this question and there is to make groups later on dwell time not because I want to make the issue clear. It's forty cents a month per family against the health of the City thank you very much. General. Gentlemen in concluding this program I want to express my appreciation to all of you of comedy at and joined us in the laying of this cornerstone and I want to express my price in the gratitude to all the city departments throughout the cooperative making this event a success I thought I had it all fixed with Steve CARNEY But he definitely needle in the clouds again and I asked. I also wish to thank the contractors but the nice arrangement so that when we did get rain you people don't have to get wet and I'm as the mayor of five distinguished guests represent the young and gods may we proceed with the lang in a contest on.