Outcry After Immigration Agents Seen at Queens Human Trafficking Court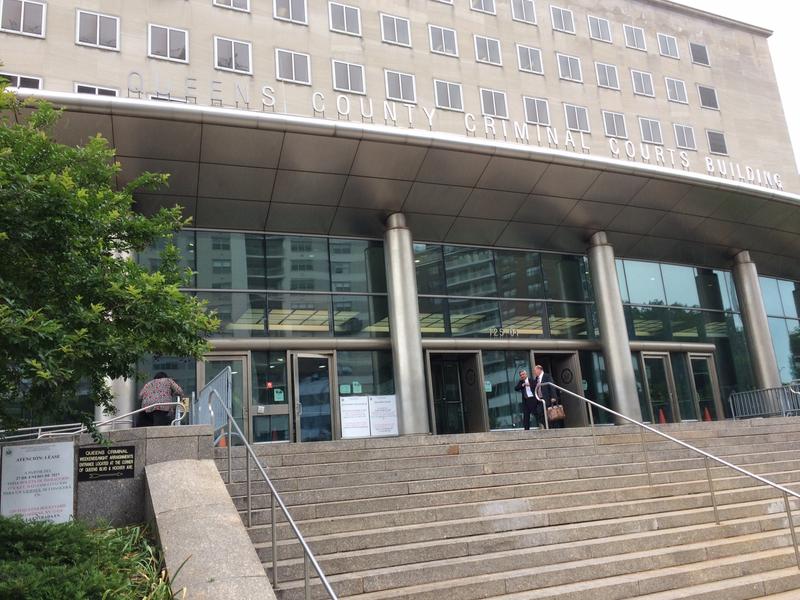 Public defenders and the state's top judge were rattled Friday after federal immigration agents were present in a Queens criminal courtroom for human trafficking victims.
A WNYC reporter was in the building when Legal Aid lawyers huddled frantically in the hallway: Immigration and Customs Enforcement agents had been spotted in the building. The lawyers approached one of the agents, and he acknowledged there were warrants for several people in the building.
The lawyers said they learned from the judge that ICE wanted a young Chinese woman in the Human Trafficking Intervention Courtroom. They said she'd been charged with working illegally as a masseuse, and was about to receive an adjournment in contemplation of dismissal after completing a program with a community group — a goal of human trafficking court.
The attorneys were able to protect their client by asking the judge for bail, and bought enough time for her to leave the building without being detained.
Chief Judge Janet DiFiore said in a statement she was "greatly concerned" by the presence of ICE agents in the Human Trafficking Court.
"We are committed to the safety and security of all New Yorkers who use our courthouses throughout the state," she said. "In a continuing dialogue, we have met with federal officials on a local and national level to convey our concerns and request that they treat courthouses as sensitive locations, similar to schools, hospitals and places of worship. We are meeting again next week with Homeland Security officials to further voice our concerns."
A spokeswoman for ICE, Rachael Yong Yow, said that officers arrested three individuals outside of the Queens courthouse. She said no arrests were made within the Human Trafficking Intervention Court.
Tina Luongo, the attorney in charge of the criminal practice for the Legal Aid Society, said immigration agents have been seen much more frequently in city courts since President Donald Trump took office in January, vowing to crack down on illegal immigration.
"The Trump administration's promise to cast a very large net to capture the people that are most vulnerable is happening," she stated, adding that it deters frightened clients from coming to court.
City Council Speaker Melissa Mark-Viverito said that immigration agents had "sunk to new lows of moral depravity" by seeking a woman in human trafficking court.
"Contrary to their repeated claims that they pursue only those who are a threat to public safety, ICE agents are now targeting survivors of human trafficking, some of the most vulnerable New Yorkers," she said, adding that stationing these agents inside New York's courthouses is "a shameful, predatory tactic that will make our city less safe and devastate the trust we have worked so hard to build in the immigrant community."
The Council Speaker has been urging the chief judge to ban ICE from the courts.
A spokesman for the Office of Court Administration said a total of 20 individuals had been arrested by ICE agents in New York City courthouses since February.