New Sounds
#3865: The Other Classical Musics, With Michael Church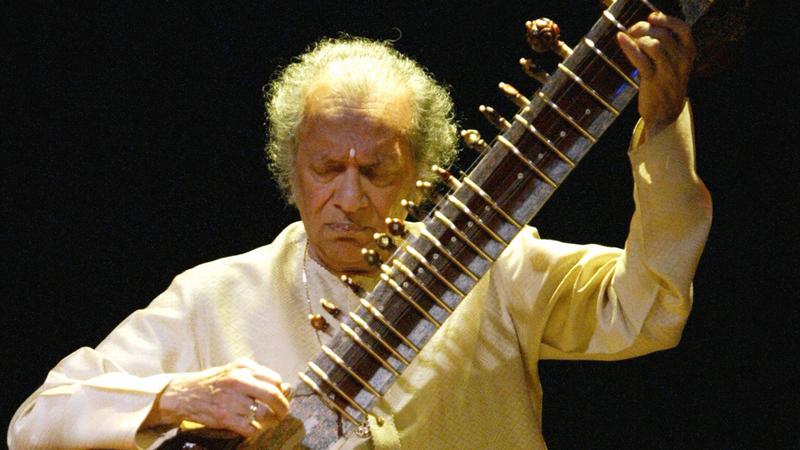 Listen to music the world over from some of the fifteen classical music traditions covered in The Other Classical Musics, co-authored and edited by Michael Church. The British writer has been the music and opera critic of The Independent  since 2010 and reported on traditional musics all over the world for the BBC World Service.
Sample some of the recommended recordings which accompany the world tour of these art forms, some with spiritual or sacred roots, and others having to do with courts. Many of these classical musics have sprung out of a settled society with political or religious hierarchy, and have a set structure, like systems of scales or modes. Overwhelmingly, improvisation underpins most of these world traditions of classical music, while Western Classical Music  is one of the very few which no longer embraces the practice, although it did, as recently as the 18th century.  
Hear music from the Central Asian Manas tradition (Kyrgyzstan) performed by Tengir Too. There's also music from the Mandé tradition in West Africa, featuring the late Malian singer and multi-instrumentalist Ali Farka Touré and kora master Toumani Diabate. Also, hear music featuring Azerbaijani vocalist Alim Qasimov, and a Vietnamese chamber music form called Ca Tru.
Listen to classical Arabic music of the Muwashshah tradition found in Aleppo (muwashahat), which has now been locally obliterated in the five years since the Syrian civil war  began. Plus, hear Persian classical music, and its Dastgahs, or systems of scales and motifs in an improvisation for the tar, by Iranian-born, Manchester-based Siamak Nemat Naser.  Plus, hear a bit of music by sax player and composer Pharaoh Sanders, and a piece called "The Creator Has a Master Plan," from the late 1960's. Jazz is included as a classical music in the compendium, despite being less than 120 years old, although many elements are African in origin. Rounding out the show is Indian classical music by the late great sitar master Ravi Shankar.
PROGRAM #3865, The Other Classical Musics, with Michael Church (First Aired 5-25-2016)  
ARTIST: Ravi Shankar
WORK: Hameer, excerpt [2:30]
RECORDING: Ragas Hameer & Gara
SOURCE: Deutsche Grammophon #2531 216 (LP)
INFO: Out of print. Try Amazon.com or auction sites. 
ARTIST: Ali Farka Toure & Toumani Diabate
WORK: Hawa Dolo [5:00]
RECORDING: In the Heart of the Moon
SOURCE: World Circuit / Nonesuch 79920
INFO: nonesuch.com
ARTIST: Kronos Quartet with Alim & Fargana Qasimov and Homayun Sakhi
WORK: Qashlarin Kamandir, excerpt [:52]
RECORDING: Music of Central Asia Vol. 8: Rainbow
SOURCE: Smithsonian Folkways SFW40527
INFO: folkways.si.edu
ARTIST: Tengir Too w/Rysbek Jumabaev
WORK: Episode from the Manas: Kökötöidün Ashy (Kökötöi's Memorial Feast) [6:21]
RECORDING: Music of Central Asia Vol. 1: Tengir-Too: Mountain Music from Kyrgyzstan
SOURCE: Smithsonian Folkways SFW 40520
INFO: folkways.si.edu  
ARTIST: Ensemble Al-Kindi
WORK: Mawwal, excerpt [7:00]
RECORDING: Le Salon de Musique d'Alep
SOURCE: Chant du Monde
INFO: Out of print. Try Amazon.com or auction sites 
ARTIST: Ca Tru Thai Ha Ensemble of Hanoi
WORK: Thet Nhac, excerpt [4:00]
RECORDING: North Vietnam: The Ca Tru
SOURCE: Nimbus NI 5626
INFO: Available on Amazon.com
ARTIST: Hafíz Kani Karaca
WORK: Rahman (Most Gracious), Surah 55:1-78, excerpt [1:00]
RECORDING: The Music of Islam, Vol. 10: Qur'an Recitation, Ist
SOURCE: Celestial Harmonies 13150
INFO: harmonies.com
ARTIST: Siamak Nemat Naser
WORK: Tar Solo [5:00]
RECORDING: private recording
SOURCE: Not commercially available. 
INFO: facebook.com/siamak.nematnaser
ARTIST: Pharoah Sanders
WORK: the Creator Has A Master Plan, excerpt [2:38]
RECORDING: The Best of Pharoah Sanders
SOURCE: MCA/Impulse #9229.
INFO:  That CD seems to be out of print, but The tune is available on 2 different CDs, "Karma" (Try Amazon.com) and "Priceless Jazz" (Also at Amazon.com)