Studio 360
Oscar-Nominated Documentary Reveals A Place Where Killers are Heroes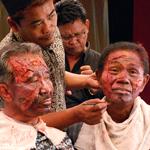 "We killed happily," a sweet-faced septuagenarian says to the camera as he re-enacts a murder. The man is Anwar Congo, a former death squad leader in the 1965 Indonesian mass killings. He is a central character of the astonishing Oscar-nominated documentary The Act of Killing.
When filmmaker Joshua Oppenheimer first set out to tell the story of Indonesia's Cold War-era bloodbath, he tried to talk to survivors, but the leaders of the genocide still occupy positions of power, and the survivors and families of the victims continue to live in fear and silence. The country has existed for decades in a state of willed political amnesia. So Oppenheimer turned his camera on the men who carried out executions and purges, who were perfectly happy to boast of their accomplishments, and demonstrate exactly how they were perpetrated — restaging the murders for Oppenheimer's crew.
The result is a hallucinatory film within a film in which Anwar Congo and other paramilitaries imagine themselves as cowboys and gangsters in elaborate dramatizations that look like bad B-movies. With the help of smoke machines, gory makeup, colorful costumes, mood lighting, and triumphant music, they play the heroes in their own twisted dramas. Oppenheimer tells Kurt Andersen, "Every reenactment, every dramatization implied a denial of the moral meaning of what they had done."
It isn't until the very end of the documentary, after almost a decade of filming these re-enactments, that Anwar begins to grapple with the horrors of his past. And The Act of Killing is creating a groundswell in Indonesia, breaking the state of silence about the killings. 
And yet the film is not a grueling reckoning, a Shoah; parts of it are even funny. "It's the unmasking of the whole regime. So, it's both terribly moving, but also cathartic and joyful because finally the regime is showing its true, rotten logic."
(Originally aired July 19, 2013)
Music Playlist
Score from the trailer of The Act of Killing