Soundcheck
Oscar Isaac Inhabits Greenwich Village Folk Scene In Coens' Latest Film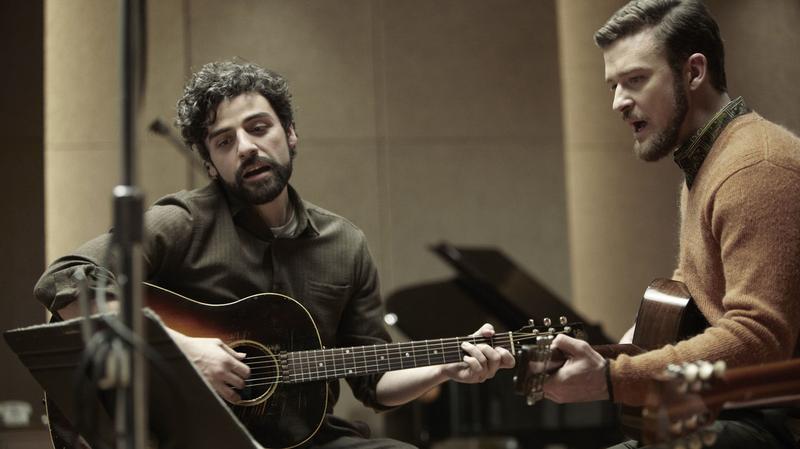 The latest film from Joel and Ethan Coen, Inside Llewyn Davis, is set in the Greenwich Village folk music scene in 1961, before the game-changing arrival of Bob Dylan. Oscar Issac plays the the titular character, a down-on-his luck musician -- loosely based on real-life folk singer Dave Van Ronk -- whose career has hit a wall.
Throughout the film, Isaac not only portrays a musician, but performs much of the music on the film's soundtrack, which was produced by T Bone Burnett. In an interview with Soundcheck host John Schaefer, Oscar Isaac talks about about preparing for the role of Llewyn Davis, collaborating with the Coens, and performing alongside musicians like Justin Timberlake and Marcus Mumford.
Oscar Isaac, Justin Timberlake, and Adam Driver in a scene from Inside Llewyn Davis:
Interview Highlights
Oscar Isaac, on what Inside Llewyn Davis has to say about creating art:
It is an acknowledgement of luck and how you need a lot of things to go your way in order to succeed -- or at least succeed without ever having to compromise. Which is something that the Coens have done from the very beginning. From Blood Simple, they have never once had to compromise their vision. And yes, they're geniuses, but they're lucky geniuses. Llewyn wants to be that kind of artist; he wants to not compromise. He has an idea of what he wants to express, but he just doesn't have the luck to do it.
On preparing for his audition:
I happened to be doing this very small movie in Long Island, and there was a guy in the scene - basically a featured extra, older drunk guy at the bar - and in between takes he picked up a guitar and started finger picking, Travis picking so incredibly in exactly the style that I wanted to learn.

So I said "I'm auditioning for this thing kind of based on Dave Van Ronk - you ever heard of Dave?" He says, "Yeah, I played with Dave. You want some guitar lessons? Come to my place on Macdougal Street. I live above the old Gaslight." So I go to his place and he starts teaching me how to play, and I start opening up for him at Cafe Vivaldi and a couple other little places where they have these open mics.
On the troubles of working with a cat:
It would be tied to my arm, and sometimes it was not very happy about that. And it would try very hard to get away from me. Yeah, we had a few moments there.