Why One Brooklyn Community Went for Trump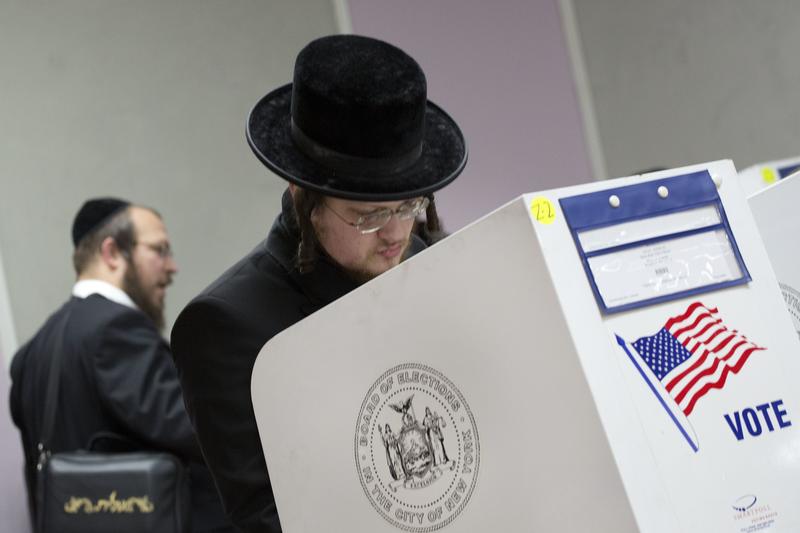 For Alexander Schaechder, 64, an Orthodox Jewish resident of Borough Park, Brooklyn, voting for Trump was an easy choice.
"He supports Israel, he supports Jews, and he supports conservative ideas, which is very important for religious life, the way we like to live," he said last week.
Schaechder is among the 68 percent of Borough Park, a predominantly Orthodox Jewish neighborhood, that voted for Donald Trump. Nationally, 71 percent of Jewish voters chose Hillary Clinton. But Schaechder said he couldn't vote for Clinton because of her support for gay marriage. And he's not concerned about Trump supporters who spread anti-Semitic memes and attack Jewish reporters online.
"No, no, no, no," he said waving his hands. "I believe he might have some of them, but I'm sure the majority of the supporters are not like that."
Barry Spitzer is the district manager of Community Board 12 in Borough Park. He believes many people that voted for Trump weren't aware of the harassment online.
"They know it exists, but the details, to how ugly it is really out there, I don't think they really know the extent of it," Spitzer said. "The Orthodox Jewish community, especially the Hasidic community, tend to be more insulated and not really go explore on the web what's out there."
Spitzer said he voted for Clinton and that many rabbis supported Clinton as well.
Many people interviewed for this story pointed to Jared Kushner, Trump's son-in-law, who is an Orthodox Jew, as proof that Trump would have their interests at heart.
Another consideration, according to Professor Steven Cohen of Hebrew Union College, is a divide in liberal and conservative Jewish thought.
"A major element in the Jewish traditional historical consciousness is that non-Jews are expected to be anti-Semitic," he said. "It's almost excused and expected. It's nothing surprising. It's the more liberal Jews who believe that the western world has become more welcoming. For them this is kind of a rude awakening that there's still politicians who abide if not utilize anti-Semitic sentiments in the population."
Cohen said he doesn't believe that Trump is actually anti-Semitic.
But Steven Goldstein, the Executive Director of the Anne Frank Center for Mutual Respect, said Trump's recent Tweet in which he asks, "Are we living in Nazi Germany?" in reference to an intelligence report that was leaked to the media, reminded him of the propaganda leading up to Nazi Germany.
"It is unmistakable that Donald Trump's rhetoric during the past campaign, which seems to continue as President-elect, is similar to the rhetoric we saw in Germany in the 1920s and 1930s, that demonization," Goldstein said.
Speaking to the New York Times after the election, Trump said he didn't support the white nationalists that rallied behind him. "I don't want to energize the group. I'm not looking to energize them. I don't want to energize the group, and I disavow the group," Trump said.
Part of Trump's appeal in Borough Park may also be generational. 
A woman named Dubryan, who didn't want to use her full name, said the election divided her family. "The younger generation supported him. My parents were heartbroken that he won. I never saw my father so upset in years. My boys, my husband, they were all for Donald Trump, excited and they wanted him to win." 
She didn't cast a vote.
"I felt that Trump doesn't have much character, enough character for me to stop what I'm doing and go out and vote for him," she said. "Leaving the house and getting dressed, and taking care of things so I can go out and vote, not worth it."
Joel Lebovits, 34, owns a hip, kosher coffee shop in the neighborhood and said he cast a protest vote for Gary Johnson. But admitted that for many of his friends, the horrors of Nazi Germany are distant history. 
"We're third-generation Holocaust survivors, but like today...we feel a little safe over here that all these other views by the alt-right, and the KKK and all that is just is further away, it's distant," he said. 
Like many interviewed for this story, Lebovits has a wait-and-see approach when it comes to Trump — he's willing to give him a chance. But still, Trump's divisive language doesn't sit well with him.  "His rhetoric against Muslims and Mexicans, that's a little scary," he said. "Because what's if that rhetoric would have been against Jews?"