SchoolBook
Opinion: Teachers Should Not Be Lonely At Work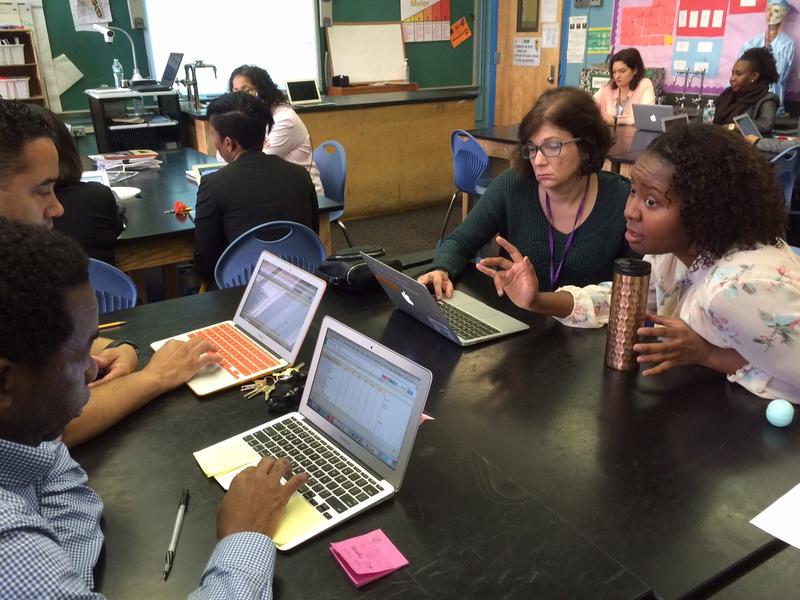 When I first entered the classroom as a new teacher 13 years ago, I was filled with excitement and a sense of possibility about all I could do for my students. Very quickly, however, I experienced an often overlooked reality of teaching: I was lonely.
And though I was dogged in my efforts to connect with other educators to learn and improve – requesting time to observe successful teachers, pestering veteran colleagues with questions, and discovering the most valuable professional development of my early career (happy hour with teachers) – I couldn't help but feel I was never going to become the best educator for my students without stronger support.
That's why today, as a school principal, I am committed to ensuring my teachers at Leaders High School, a NYC Outward Bound School, don't experience that sense of isolation. I have seen firsthand that when teachers have time to work together, drive their own learning, and craft shared plans to support our students, they are happier and more fulfilled.
They are also more effective: over the past four years, we more than doubled Leaders' graduation rate from 38 percent to 86 percent, and 100 percent of our graduates matriculate in college.
Happily, I am not alone in recognizing that sustained school improvement will only occur when teachers have opportunities for greater collaboration, professional growth, and leadership. More than 97 percent of teachers list school leadership as essential or very important for their career decisions – more than any other factor.[i]
Last month, a group of more than 40 organizations representing diverse voices and perspectives in education came together as the TeachStrong coalition to demand that political leaders prioritize modernizing and elevating the teaching profession.
Here are three ways principals can help make teaching a desirable, sustainable career choice: 
First, strong principals provide time for teachers to collaborate. At Leaders, we've added time to the school day on Monday, Tuesday, Thursday, and Friday so teachers can spend a half day every Wednesday in team meetings, planning with their colleagues and problem-solving together through ongoing inquiry cycles. By making this time part of the regular school day – rather than something teachers must do above and beyond their already grueling hours – collaboration becomes a sustainable, recurring, energizing part of the job.  
Second, outstanding principals empower teachers to own their professional growth. The inquiry cycles I mentioned earlier are part of our teacher-led "professional learning communities," opportunities for teachers to work together to analyze student data, dig into the latest research, and develop action plans for building on students' strengths or addressing learning gaps. When educators drive their own learning and development, they are more invested and we see stronger outcomes for teachers and students, alike.
Finally, great principals build leaders. When I first became a principal, I unilaterally made many decisions about the direction of our school – in part out of necessity and in part because I was still figuring out how to be a strong leader. Since then, I have worked hard to bring more staff into the decision-making process. For shared leadership to work well, principals must tap teachers for leadership roles at the right moment in their career and build up their leadership skills and responsibilities over time.
It may seem like a simple recipe, but supporting collaboration and training is far from straightforward. 
Pushing educators out of their comfort zones requires a foundation of trust that has taken years for us to build. Unleashing teachers to take ownership over their profession and truly lead requires that I provide that just-right balance of autonomy and support – an ongoing leadership challenge.
I certainly don't think we've figured everything out and there have been many times when I've stumbled. But I am dedicated to bringing out the best in every teacher at our school, and that commitment has enabled me to retain exceptional educators and attract great new talent to the diverse, vibrant community we serve.
All teachers deserve a principal who is equally committed to their success and who has the skills to help them grow, thrive, and advance in their career, and, ultimately, get results for all our kids.
[i] Scholastic Inc. (2012). Primary Sources: America's Teachers on the Teaching Profession. New York, NY: Scholastic and the Bill and Melinda Gates Foundation. Retrieved from http://www.scholastic.com/primarysources/pdfs/Gates2012_full.pdf