SchoolBook
Opinion: Success Charter School Parents Should Not Be Afraid of Eva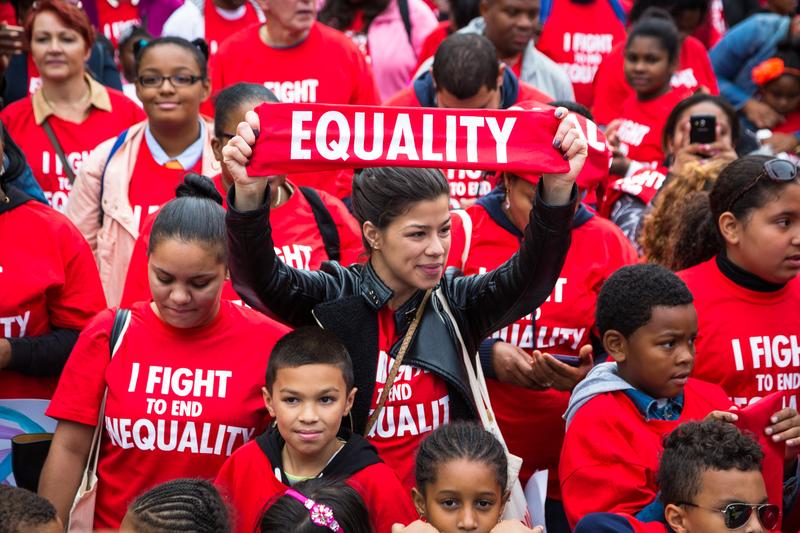 I am the parent featured in the controversial PBS report about Success Academy Charter Schools that aired on Oct. 12, 2015. I agreed to be interviewed on tape to talk about my family's painful experiences at Upper West Success in Manhattan, a decision that launched a public conflict with Success founder Eva Moskowitz. 
The whole experience has been a learning opportunity, to say the least. But I know now I am not alone. There have been media reports about other problems with discipline and more legal action filed by families against Success.
I can only hope my case bolsters the bigger fight to force the city's largest charter school network to overhaul its suspension and discipline policies.
For starters, there is a tendency among the Success administrators to intimidate parents that needs to change. Look at my own case: after the PBS segment aired, Moskowitz sent an inaccurate account of my son's disciplinary record to reporters and posted it online.  Although we sent a cease and desist letter, and followed up with a FERPA complaint sent to the U.S. Department of Education about an alleged violation of federal student privacy rights, Success refused to remove the post.
In addition, there is the disconnect between what Moskowitz tells outside groups and what actually happens at the individual school level. That's why I attended a Jan. 22 speech Moskowitz gave at a New York Law School breakfast forum. The video of the entire event is here. 
In her speech, Moskowitz defended Success Academy against the numerous charges made in the lawsuits, and claimed that the "secret sauce" of the schools' success is that "we work extraordinarily hard" and "we love kids more than you can possibly imagine."
Again, she argued that the large number of suspensions at her school were of minor importance because 83 percent were only for one day, while the school provides 55 more days of instruction per year than most New York City public schools.  
But according to a recent federal complaint, it was very common for Success staff at Harlem 4 to send a child home on a regular basis up to three times a week and even as early as 10 am, with no alternative instruction.  Another parent I met told me she was forced to agree to pick up her son at his Success charter school every single day at 10:30 am! 
Moreover, it is incredibly stressful and time consuming to be forced to continually pick up your child from school during the day.  I had to quit college.  Other mothers I know lost their jobs. 
At the forum, Moskowitz also claimed that upon returning to school, suspended students were provided with "restorative conversations."  I can say that my child never received such a conversation and I have never heard from any parent that their child got one, either.
Moskowitz joked about having been sued 22 times by the teachers' union and politicians, failing to mention that parents were the primary plaintiffs in all of the current lawsuits.  She thanked her "incredible pro bono counsels" at some of the most prestigious and expensive law firms in the nation.
Moskowitz admitted she had a fundamental "disagreement" with her critics about discipline and that she had "no-nonsense nurturing approach."  She said most families choose her schools because they think they're safer than the regular public schools. She maintained that the main reason she suspended students was because of violence.  She told the audience they would be surprised at how young children can be "quite violent" and that most of the suspensions were for that reason. She added that other suspensions were for "sexually inappropriate language." 
For me, the most disturbing part about this was that the audience was overwhelmingly white with a sprinkling of black people who, like me, were mostly former Success Academy parents. The majority of her schools are comprised of black and Latino children, as are the children who are suspended, while most of the teachers and administrators are white. 
That Moskowitz would imply that some of her five- and six-year-old students were violent and used  sexually inappropriate language to a predominantly white audience was beyond troubling. I felt it fueled the mostly unspoken impression that black and brown children were inferior and couldn't be educated in the same way as their white counterparts. 
Moskowitz said the obligation of her charter schools was the safety of the other children and this justified her suspension practices. Yet the public school my son now attends feels perfectly safe.
In fact, fewer than 90 days after moving my child there from Success, he attended an overnight camping trip with his school, without incident. Success staff had labeled my child as having severe behavioral issues; they wouldn't allow him to go on a local field trip without my accompanying him, let alone a camping trip.
I had a chance to question Moskowitz at the law school event. I told her she abused children's rights and gas-lighted the network's parents. Moskowitz said she thought her schools "have a really high level of customer service." 
Although my exchange with Moskowitz was less than satisfying, I showed my son the video of the speech and my questions. He thanked me for fighting for him and other children, adding "I want to be like you when I grow up."
That was reward enough for me.