SchoolBook
Opinion: Cut Waste at Education Dept. Before Negotiating Teachers Contract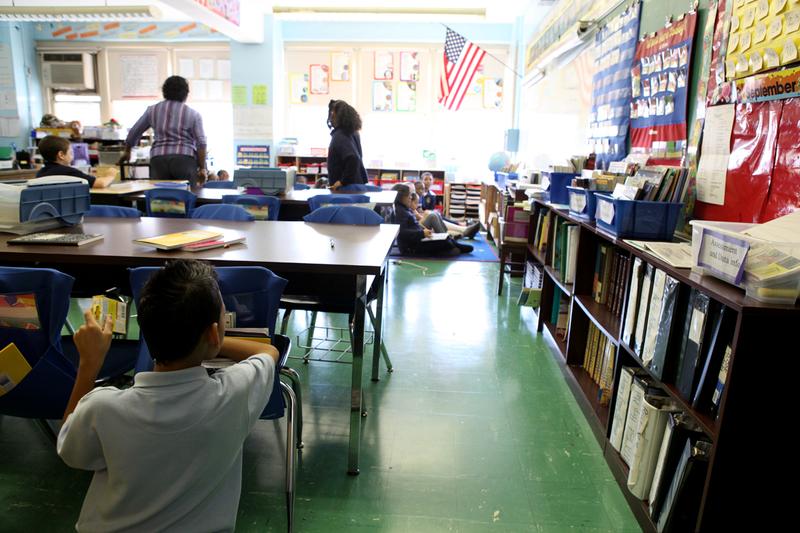 Mayor Bill de Blasio faces the prospect of negotiating 152 municipal labor contracts that were left unresolved by his predecessor. While there is debate about whether the city will have enough money to grant raises to city workers, one thing is clear: the settlement with the United Federation of Teachers will be particularly challenging.
Teachers have not had a raise in four years during which time they have absorbed new responsibilities and changes. Meanwhile, the Department of Education has become a sinkhole of wasted money.
Before the mayor and the United Federation of Teachers sit down, I suggest the mayor looks closely at how the D.O.E. has spent its annual $20 billion budget for the last few years. I predict there will be plenty of waste found, maybe enough to pay for a fair contract.
Consider the following areas of misspent dollars: 
Special Education Student Information System (SESIS): The city comptroller's office estimates that the D.O.E. has spent $67 million to build an online system to track documentation connected with special education students and intends to spend another $12 million to "finish" it, a total of $79 million for a system that users can barely operate. The comptroller's audit said that "SESIS is not meeting its overall goals" and that the D.O.E. "did not take necessary steps to ensure that the SESIS system and its data are protected and secured."
Achievement Reporting and Innovation System (ARIS): The D.O.E. made many promises on behalf of this technology system--that it would revolutionize "data-driven" analysis of student achievement and allow previously unimaginable levels of teacher interaction. ARIS cost at least $80 million to build but was so poorly designed that schools paid thousands of dollars from their own budgets to procure their own add-ons so that it could be marginally useful. The city merged ARIS into a state-built and funded system and teachers are forced to use the mongrel system to little useful end. Money flushed down the drain.
High School Application Processing System (HAPS): The city built a system to manage high school assignments online. It spent $23 million to build it (originally estimated at $3.6 million) and abandoned it before it could ever be used.
Non-Competitively Bid Contracts: The state and city have procurement regulations that require agencies to use competitive bid processes in order to assure that they buy goods and services at the lowest possible prices. The state comptroller found that in the two fiscal years ending June 30, 2010 the DOE had used non-competitive or single-source bid processes for nearly $350 million in procurements and that "lack of documentation supporting the justification for the contracts….significantly diminishes assurances that D.O.E.'s non-competitive contracts are justified."
Failure to Claim Federal Medicaid Reimbursement for Related-Services for Students with Disabilities: In 2011, the New York Times found that the D.O.E. had failed to recover tens of millions of dollars in Medicaid reimbursements for services provided to special needs children. The D.O.E. did not even submit claims for nearly $500 million in eligible reimbursements and repaid $432 million of the claims it did manage to make when a 2005 audit found that that they were entirely unsubstantiated.
Networks and School-Support Structure: The Children First Networks were set up to support school administrators by providing budget, hiring, professional development, curriculum and other support services. There are more than 60 networks scattered around the city, employing hundreds of people. Critics of the networks claim they have failed to make their schools more efficient. Turns out neither does the D.O.E.'s own $375,000 consultant, The Parthenon Group, brought on last year to assess the networks. Every school in the city is allocated $50,000 to procure Network support totaling approximately $77 million, with indirect costs buried in the DOE's central budget bringing the total to more than $90 million.  
The D.O.E. has wasted hundreds of millions of dollars on poorly-performing or abandoned technology projects. It has spent hundreds of millions of dollars on services using non-competitive bidding processes. The D.O.E. left hundreds of millions of Medicaid-reimbursable dollars on the table and was forced to repay to the federal and state governments much of what it managed to claim. The networks have wasted nearly $100 million a year on school-support services of questionable value.
Many of the city's teachers rightfully are concerned that they may be required to offer up "give-backs" without any actual raises included in the final contracts.
Before teachers are pressed to accept anything other than a fair contract, the D.O.E. needs to identify ways to reform its willfully incompetent management of the school system's resources by reducing administrative overhead, fraud and abuse  -- and by opening its books for complete inspection by parents, teachers and education policymakers.
Nothing less would be fair.