The Online Tool That Gives Democrats A Fundraising Edge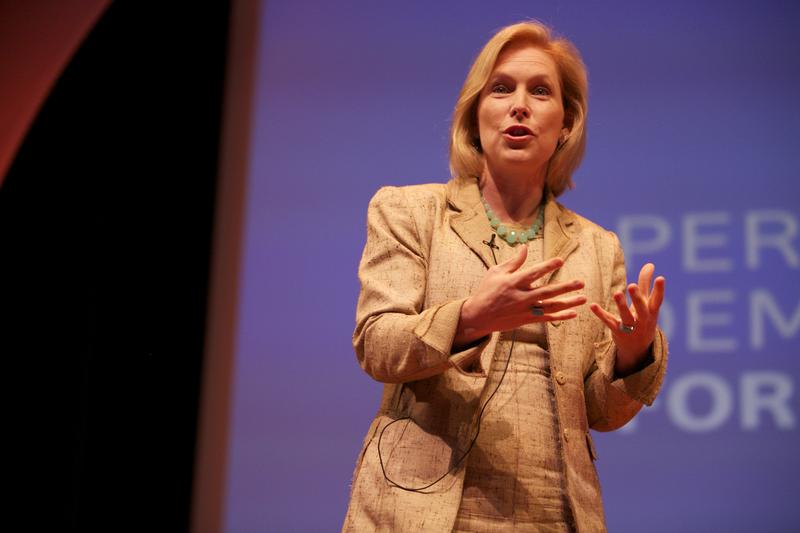 Joyce Thibodeaux lives in Houma, Louisiana, halfway across the country from New York.
But every month Thibodeaux makes a small donation -- about the cost of a lunch or a dinner out -- to New York Senator Kirsten Gillibrand and roughly 15 other candidates.
Thibodeaux gives to Gillibrand because she is helping other women running for office.
"I think we need more women candidates for Congress," she said.
She helped one of Gillibrand's political action committees raise more than one million dollars for other women running for office during the last election cycle using ActBlue, an online donation platform.
ActBlue makes giving as convenient as shopping and gives Democrats a technological advantage over Republicans.
Donors gave $207 million to Democratic candidates through ActBlue last year and Republicans don't have a similar system.
Thibodeaux says it's easy to give to any Democrat through ActBlue. Just one click -- like buying socks or a new book from Amazon.
"Well, in the first place, I'm pretty sure it's legitimate when I give a donation to ActBlue, she said. "They're a reputable organization."
Gillibrand has a knack for convincing donors to give online and has made the most of ActBlue.
New York's other senator, Chuck Schumer, has raised a lot more money this year because he's running for re-election.
Gillibrand isn't. But campaign reports show she has roughly three times the number of donors giving through ActBlue than Schumer -- more than $274,000.
Most members of Congress say they don't like having to raise money – often spending hours on the phone dialing name after name.
"I do not want to put myself through that," said Long Island Democrat Steve Israel after he announced he would not run for re-election.  "I don't want to put my friends through that, I don't want to put my donors through another cycle of groveling."
Israel is one of the House members who are in charge of making sure other Democrats are hitting their fundraising goals.
ActBlue CEO Erin Hill says the nonprofit's founders wanted to change how candidates raise money when they founded the nonprofit in 2004.
"They realized that fundraising was kind of the least democratic part of the process," she said.
ActBlue's Hill says their philosophy is different. Small donations keep people interested. Someone who gives $5 is more likely to follow the campaign, and actually show up to vote.
They talk to their friends and other activists; build networks.
"More donors are apt to give if you make it simpler for them to take that action," Hill said.
John Heimerdinger agreed.
"Instead of having to retype your name in," he said, "and retype your address and retype your credit card and doing all of that it's now very automatic and makes it very easy to do."
Heimerdinger says he gets an email about once a month from Gillibrand asking him to donate money.
"And very often the request is because she's raising money for colleagues or people who are running races in other places," he said.
The Armonk, New York retiree gives $15-25 every couple of months. 
"My mother taught me to be a feminist, as did both of my wives," he said. "And I guess I'm a feminist and I support female candidates."