SchoolBook
Ongoing Search for Missing Teen Weighs Heavily on Family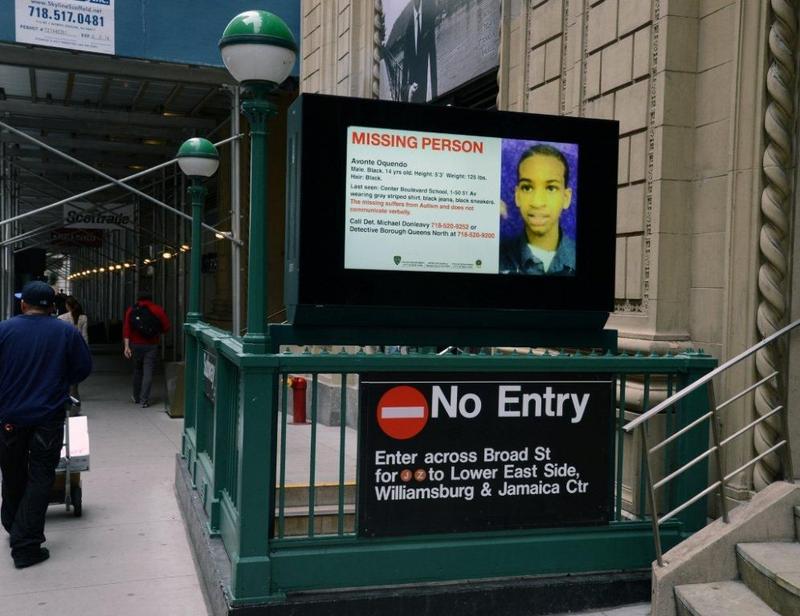 Family members and volunteers in search of missing 14-year-old Avonte Oquendo said their spirits felt tested almost two weeks after the autistic boy was spotted on surveillance video leaving Riverview School in the middle of the day.
Avonte's brother, Danny Oquendo, says he's spent almost every waking moment – day and night – searching, alongside police and volunteers since Oct. 4. 
"With each day that passes by, it's just more weight on our shoulders and more and more, I guess, negative thoughts on our minds," he said. "But with the help of the community and everybody, we're staying as strong as we can."
Danny says search efforts have almost doubled, as his family is receiving a "tremendous amount of support" from families of autistic children and strangers offering help.
Mayor Michael Bloomberg said Wednesday the city will investigate.
"It's a tragedy," he told reporters. "We're also checking in the schools to make sure that procedures were appropriate and followed and we'll do an investigation."
Meanwhile, Police Commissioner Raymond Kelly said on Wednesday that the school safety agent did nothing wrong. Kelly said the agent told Avonte to go back upstairs. Instead, the boy went down the hallway and out through a side door. School safety agents are trained and employed by the NYPD. 
Police have said Avonte was fascinated with trains. Officers have searched all subway stations and tunnels and were working with authorities in New Jersey and Long Island in case Avonte got aboard a train leaving the city. 
Kpana Kpoto, a parent of a child with autism and a special needs advocate, said she recently visited the command post that Avonte's family set up near the school in Long Island City.
"We realize this could've happened to any of our children," said Kopoto, who's been handing out flyers in different boroughs. "We're heartbroken that he's been lost for so long and that no one has any strong leads of finding him."
Kpoto said despite efforts to spread the word there are still many areas where people do not know about Avonte.
There is a $70,000 reward for information on the boy's whereabouts.
With reporting from the Associated Press