One Year Since Sandy, Little has Changed on Fielder Avenue, Ortley Beach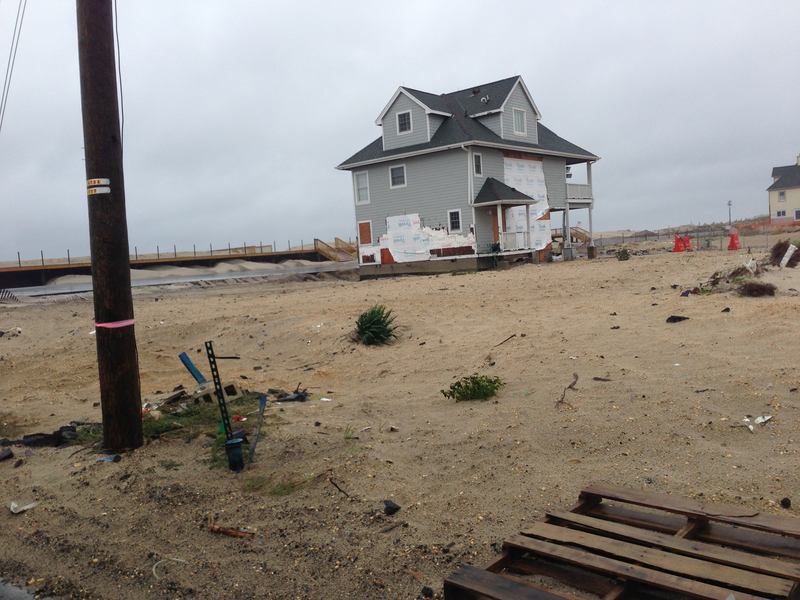 One year since Sandy washed away whole houses, knocked out boardwalks and flooded roadways, pockets of the Jersey Shore remain dead zones, with few residents back at home and little progress on damaged homes. Residents who applied for federal loans have fared far better than those who applied for government grants.
In February, New Jersey Governor Chris Christie announced that the state would initially funnel most of  the $1.8 billion it received in federal monies on grants for residents and businesses. 
"Our goal on this first section of the money, is to use it predominantly for a homeowner grant program, and a small business grant program," Christie said. "Notice I'm saying grants not loans. We know a lot of our homeowners already have debt."
And yet, a good deal of the grant money has yet to reach residents, especially those who applied for the Reconstruction, Rehabilitation, Elevation and Mitigation (RREM) Program. That program provides a grant of up to $150,000 for homeowners to rebuild.
The New Jersey Department of Community Affairs administers the grants.  It said that of the 15,100 homeowners who applied for the RREM grant, only 100 applicants have actually received the money. Another  200 would be receiving their grants by the end of this month, said Lisa Ryan, Communications Director, New Jersey Department of Community Affairs, which administers the federal grant.
That leaves thousands of New Jersey residents waiting for the grant money in order to rebuild and in some cases, elevate their homes to comply with newly mandated federal flood maps.
"It's hard to find a positive story. What we've heard is lots of stories about how people were denied funding for reasons that were so obviously wrong that it was as if nobody looked at their file," said Adam Gordon, staff attorney at non-profit advocacy group Fair Share Housing Center. The group has filed a lawsuit against the Christie Administration seeking more information about where the grant money is going and why it's taking so long to reach residents.
The lack of payouts from the RREM program is in sharp contrast to loans originating from the U.S. Small Business Administration (SBA). Of about 85,000 applicants, all but 100 have been processed.
Fewer than one percent of the applications for disaster loans related to Hurricane Sandy still have to be processed, according to data from the Small Business Administration. The SBA received more than 85,000 applications, about 100 were being processed as of Monday. The program provides government-backed lower interest loans to homeowners and businesses who qualify.
The lack of grant money has slowed rebuilding, especially in places hardest hit by the Sandy. "Ortley Beach was ground zero during Sandy," said Tom Kellaher, Mayor of Toms River Township.
Houses on the town's ocean blocks sustained significant damage.  The township says it's working to condemn and demolish more than 600 houses that are more than 50% damaged by Sandy and left abandoned by residents. Some homes still lack basic utilities.
On Fielder Avenue, 10 homes were completely destroyed, and most of the others on the block sustained more than 50% damaged. WNYC has been visiting the block and collecting the stories of residents and their struggles to rebuild. Most of the homes are still vacant, and the few that have been rebuilt are rental properties that qualified for business loans, not grants.

"We weren't able to get any free money. Through the SBA we secured about $128,000. That's why you see it in the condition that it is," said John Rominski who owns three rental units on Fielder Avenue.
He's hoping to see more construction happening in his neighborhood soon, as are other residents.