One Republican Congressman in New Jersey Holds a Town Hall and Gets an Earful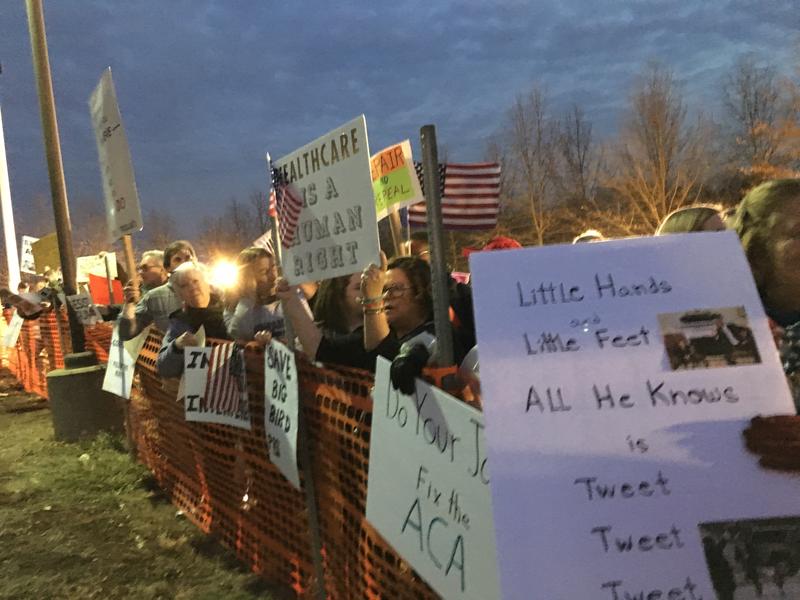 On a night marked by chants, heckles and angry questions, there was one moment that ignited the packed auditorium at Raritan Valley Community College in Branchburg, N.J.
"What are you going to do to stop that man?" a woman asked Rep. Leonard Lance, the Republican who represents the state's 7th district.
That man, everyone in the room knew, was Donald Trump. And Lance had been getting an earful about him for 90 minutes. The crowd leapt to its feet and chanted, "push back, push back!"
Lance is one of five Republican congressmen in New Jersey, and the only one to hold a town hall this week. He told reporters after the event that he wasn't surprised at the level of anger, nor the big crowd. "I'm aware of what is going on around the country," he said.
For over an hour, he gamely answered most of the questions put to him. And more often than not, the audience was not happy with his answers.
He wants to repeal the health exchanges in the Affordable Care Act. He agrees with President Trump that refugees need to be vetted more thoroughly. He won't support a bill to force the president to turn over his tax returns for review by the House Ways and Means Committee. But he did agree with audience on Russia – he favors an investigation into the election hacking and he does not see Vladimir Putin as a friend to the country.
Outside the town hall, a few hundred protesters chanted about saving the ACA and against the travel ban on people from seven Muslim-majority nations.
Lance will hold another town hall on Saturday morning in the same hall.