One NY Artist: Shirin Neshat
There are thousands of artists in New York City. Some are famous internationally. Others are scratching out a living while perfecting their craft. WNYC is bringing a few of them to the spotlight, in their own voices.
Artist Shirin Neshat works mostly with film and video, but for her new show at the Rauschenberg Foundation's Project Space, she and her photographer and frequent collaborator Larry Barns traveled to Cairo to take portraits of Egyptians in the aftermath of the revolution. She said that by tapping into universal themes of death, loss and mourning, she hoped to humanize the faces behind the headlines.
"It was my first time ever in my artistic practice to really approach people as for themselves," said Neshat. "So I'm hoping the images convey that feeling of pain and have the audience be able to transcend looking at these people as that they are the other."     
Neshat moved to New York in 1983 and has now lived here longer than she did in her native Iran, but she still draws inspiration from classical Islamic and Persian art.
"I am not a political activist. I'm born into a country that has been forever in political turmoil and I am very interested in making work that is accessible to the general public," Neshat said. "But at the same time, I'm very interested in aesthetics, in beauty, in poetry, ideas that are not just politically minded."
Our House is On Fire is on view at the Rauschenberg Foundation's Project Space through March 1. Proceeds from the sale of prints from the show will support human rights organizations in Egypt.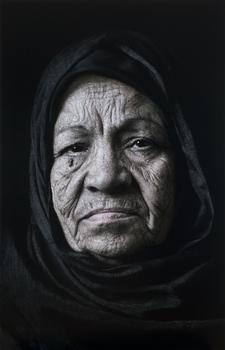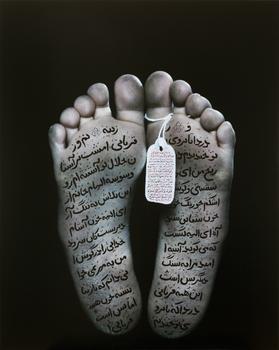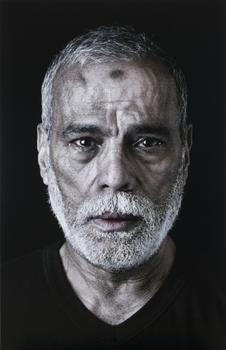 of