SchoolBook
One Last Tango for City Council and Outgoing Chancellor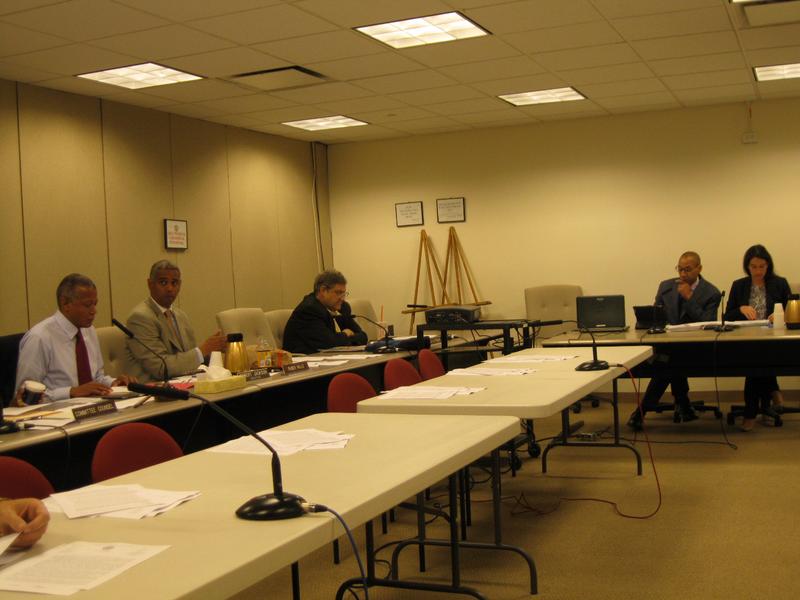 With the Bloomberg administration moving full steam ahead in its last few months to place 43 more schools inside existing public school buildings, City Council members took one last opportunity to press Chancellor Dennis Walcott on this controversial practice of co-locating schools.
At an education committee hearing on Wednesday, Brooklyn councilman Stephen Levin questioned the effort to move ahead on schools opening next school year when "the person with the 40 point lead in the polls," meaning Democrat Bill de Blasio, wanted a temporary moratorium on co-locations.
"Maybe we ought to call well enough alone and wait for a new mayor to implement a new vision for the city?" he asked.
But Walcott stood his ground.
"I will never, ever call well enough alone when it comes to our students, quite frankly," he said. "I have a responsibility for 1.1 million students and to pursue policies that we feel are in the best interests of our students."
Walcott rattled off evidence that the Bloomberg administration's policy of closing failing schools and replacing them with small, new schools and charter schools has led to higher graduation rates. In 2002, he said large failing campuses such as Prospect Heights High School had a graduation rate of just 34 percent. Today, he said, the small schools in the same building collectively have a graduation rate of 70 percent. He also noted that almost a quarter of city students were dropping out in 2002 but that rate is now just 11 percent.
But this policy has drastically remade many communities. Bloomberg's administration has closed a total of 164 schools and replaced them with 654 new ones. In total, roughly 1,100 schools are co-located inside 538 buildings; Charters make up 10 percent of them.
Sharing buildings has required some schools to give up classroom space, and to coordinate gym and lunch times. There has been friction in some communities between the charter and regular district schools
The old Stevenson high school building in the Bronx is now home to nine different schools, with 3,500 children from pre-K through high school, the most in the school system. D.O.E. officials told council members that the average co-located building housed 2.5 schools.
The Department of Education is required by state law to notify communities in advance of any changes to a public school building and to hold hearings. In practice, council members said, there is little public input because the Panel for Educational policy, charged with approving any new schools or co-locations, is controlled by the mayor and has never voted down a proposal.
Queens Councilman Ruben Wills complained that there are four co-locations planned for his community but that all of the hearings are taking place within a short time ahead of the vote later this month.
Brooklyn Councilman Lew Fidler told Walcott that it seems like the D.O.E. just sends a "designated piñata" to communities to listen to complaints but not do anything about them. He also raised the specter of a new administration, led by a Democrat who won the primary based partly on his education proposals.
"There's been an election and the people have spoken," Fidler said.
But Walcott reminded him not to get ahead of himself. "They have not  spoken yet. I mean there's an election in November."
Despite the hard questions, they were moments of levity as council members - many of whom are also leaving office in December - bid an early farewell to Walcott. When one lawmaker thanked the chancellor for his service, Walcott responded "thank you. And can I use you as a job reference?"
Council members have proposed three non-binding resolutions to curb the city's power to force schools to share space. One would require local Community Education Councils to approve any co-location before it could advance to the Panel for Educational Policy, effectively giving these councils veto power. Another would set a one-year moratorium on co-locations beginning next July. The third would require more community notification of any changes in the use of the school building.
The teachers union has proposed adding requirements for charter schools seeking free space in public school buildings. It wants them to publicly disclose financial data and all political donations, along with their student demographics, suspension rates and attrition rates for teachers and students.
The union is suing the city to stop the next round of co-locations. President Michael Mulgrew called it "a farce" to plan another round of them to open after Bloomberg leaves office.
But the groups StudentsFirst NY and Families for Excellent Schools called on the city to keep its current policies, arguing that they have improved the public schools.