One 9/11 Widow On Her Journey, And The Need To Remember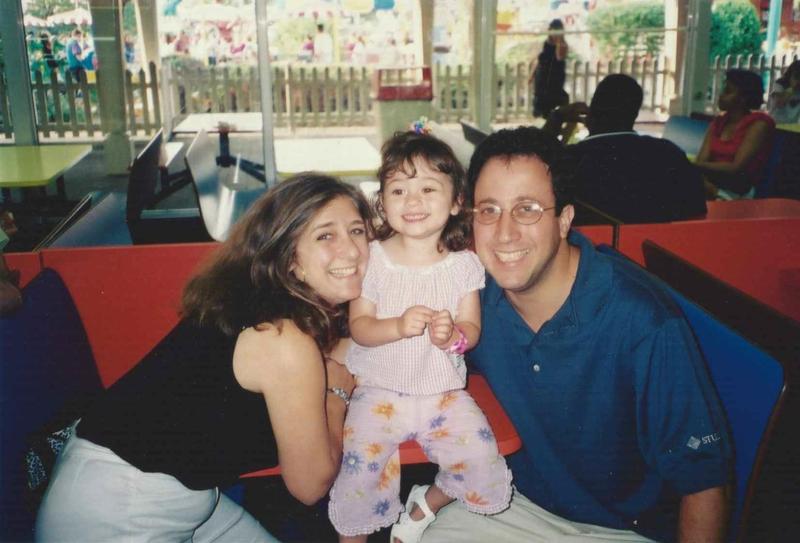 On Sept. 11, 2001, ABC News listeners heard James Gartenberg, speaking calmly and reassuringly while trapped on the 86th floor of the Word Trade Center's north tower. He was among those who died when the towers collapsed.
In 2002, Here & Now's Robin Young visited with James' widow Jill Gartenberg, and their two daughters, Nicole, then 3, and Jamie, named after her father, who was only 6 months old.
Now, Jill Gartenberg Pila has since remarried, raised her two daughters along with her husband Jay's two children, and created a happy new life — which is exactly, she says, what her late husband would have wanted her to do.
Listen to a conversation between Here & Now's Robin Young and Jill Gartenberg from Sept. 11, 2002, the first anniversary of the attacks:
Array
Note: The audio above contains some distortion.
Interview Highlights: Jill Gartenberg Pila
On hearing her interview from 2002
"I've done several interviews over the years, but this audio piece really was something different than anything else I remember doing. It's very emotional because the raw aspect of it when you hear Nicole as a little girl, a year later, still calling her dad in her toy phone. It's just a very emotional piece."
On memories of the days immediately after 9/11
"What I remember is right after 9/11, I remember being up all night long, looking at pictures, making new photo albums, making these memories last as long as they can last, and having proof of that in the beginning… I went back to work soon after. I was pregnant — I had a little girl. We had to move on with our lives, and that's what Jimmy would've wanted."
On shared experiences with other families who lost someone on 9/11
"I'm definitely part of the community and my kids are part of the community. My kids are growing up with thousands of other kids who lost a parent that day, and it was — I would say — a national tragedy, and I think it's important to keep telling the story, especially for the younger generation."
On being a 9/11 widow
"I wouldn't say it's a burden. I'd say that my loss is very public. People have loss in tragedy daily and it's not public. People don't always know the anniversary and where they were when that tragedy happened. This one everybody who remembers that day feels a loss that day and feels the tragedy and I think in a way, I find comfort with that. And I wouldn't say look at it as a burden. I think that it's something that we just need to constantly talk about and share with the world what that day was for all of us, not just those of us who had an immediate loss."
Array
On "new life" since 9/11
"New life with other life missing a part of the new life. And I think Jaime and Nicole are testaments to moving on, and achieving as much as we can achieve. Keeping his memory alive but making him proud, even though he's not here to be with them."
"I remarried 12 years ago. My husband also lost his wife, not in 9/11. And so he knew what loss was, he knew what that kind of loss was. He has two children, and I have two children, And we have four children now. And we've made a new home and a new family for them. I can tell you that our children are happy and really doing great. I have to say that from the time my now husband and I met, we always said our previous spouses are pulling strings from above."
Guest
Jill Gartenberg Pila, widow of James Gartenberg, who died in the terrorist attacks on Sept. 11, 2001.
Copyright 2016 NPR. To see more, visit http://www.npr.org/.