Louis Armstrong's Corona Sure Has Changed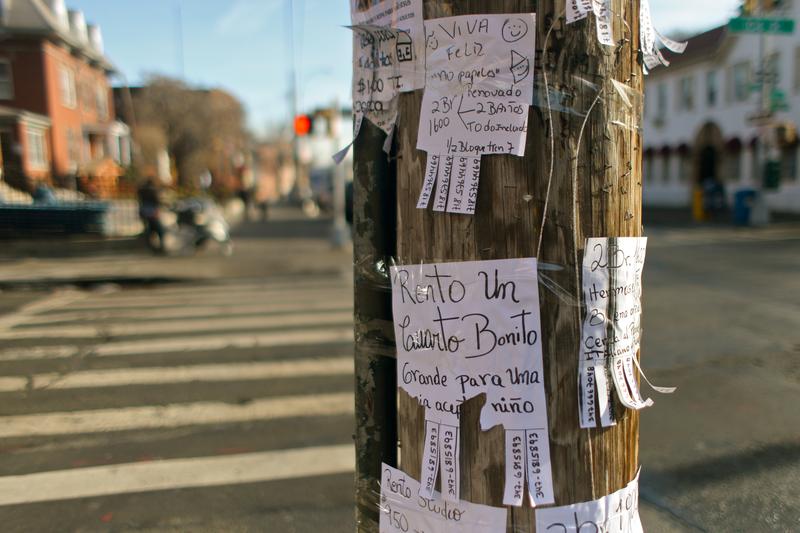 Mayor Bill de Blasio won office, in part, by describing New York's story as a tale of two cities. And indeed, there are corners of New York City populated solely by the super-rich and others shadowed by the most desperate poverty. But most of us live somewhere in between – and some of us live squarely in the middle. All this week, WNYC reporters are visiting neighborhoods – one in each borough – smack at the city's median income: just $51,865 per household. We want to learn how it feels to live here on that sum, and how it feels to be middle class in New York City now.
Today Ilya Marritz reports from Corona where single-family homes dominate, but many residents are just passing through.
In the popular imagination, Queens is a land of proud homeowners. Think Archie Bunker, Peter Parker's Aunt May and Uncle Ben, or George Costanza's parents. And the stats seem to bear this out. The borough has many neighborhoods where median yearly income is close to the city's median of $52,000.
Corona is one such neighborhood. And strange to say, its reputation as a modest sort of place to settle down is partly due to a man who was rich.
For the last three decades of his life, Louis Armstrong made a simple two story house on 107th street his home. His wife Lucille picked it in 1943; her best friend lived next door. The price: under $9,000. At that time, Armstrong's yearly income was half a million dollars – or around $6 million in today's dollars.
"He was one of the greatest superstars of his generation, and he's living in a terribly middle-class neightborhood. And the question is 'why?'" said Ben Flood, a tour guide at what is now the Louis Armstrong House Museum.
Armstrong died in 1971…And you have to wonder whether he would recognize the Corona of today.
This former neighborhood of proud homeowners is now much more a neighborhood of renters. On doors and windows and lamp posts there are handwritten flyers, advertising apartments, or rooms. Usually, they're in Spanish.
"I need to work here first, make money, and go back to by country," said Carlos Sanchez, a construction worker who was born in Ecuador.
Juan Carlos Minchala, another Ecuadorian construction worker, said despite earning $120 a day on a job, he doesn't feel middle class.
If he saves any money at all, Minchala doesn't spend it on fun, or home improvements. No. He sends it to relatives.
"For my family in Ecuador, you know,"
This part of Corona is one of the neighborhoods where the median income is close to the city's median of $52,000. Middle of the pack. But it doesn't feel prosperous.
According to the U.S. Census, three quarters of the residents of the tract where the Armstrongs once lived arrived in the last ten years. Only around three percent were living here at the time when you might, through an open window, catch the sound of the great jazzman practicing his trumpet.