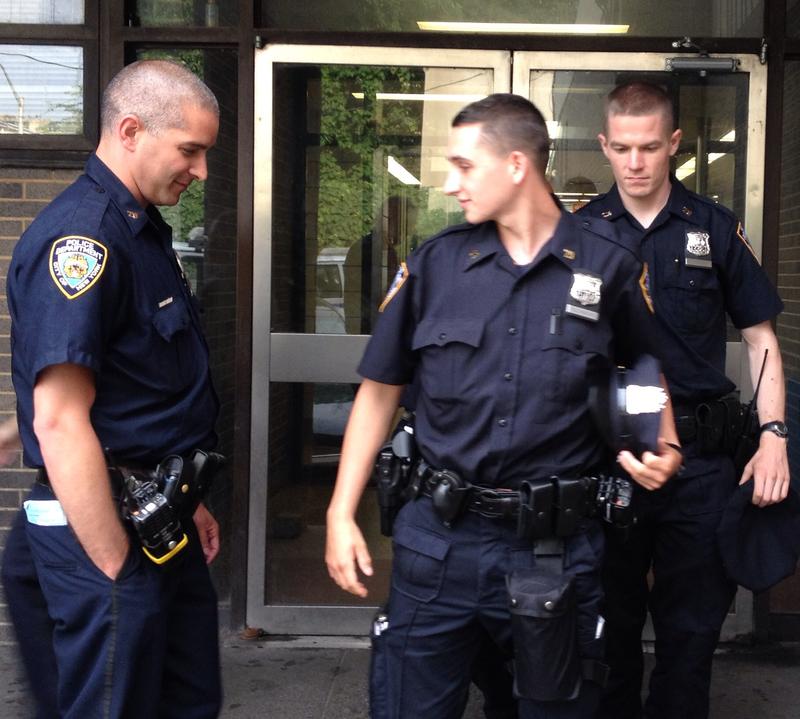 As the police department tries to reassure New Yorkers about a recent spike in shootings, a new program pairs rookies with seasoned officers to heal police-community relations at the same time. The 79th precinct in Bedford-Stuyvesant is one of eight precincts taking part in a pilot program that aims to show new cops how to bring a more personable approach to law enforcement.
Officer John Buchanan is one 82 rookies participating in Bedford Stuyvesant. In the old days — some six months or so ago —rookies rotated through a revolving list of neighborhoods without much continuity or oversight. The tactic, known as "Operation Impact", was criticized because new officers brought little expertise to their police work in the city's highest crime areas. Trial and error didn't help build good habits or the department's image.
"I've wanted to be a police officer since I was a little kid — I've always just wanted to help people," said Buchanan. "I'll be able to do that a little better than if I graduated in previous classes."  The 22-year-old also expressed relief that he would get to regularly work with one of 10 mentors to help him make the transition from what he learned in the academy to the streets, with less mistakes.
In Von King Park across from the precinct recently, lessons in bonding were put to work as officers and detectives operated grills, cooking thousands of hamburgers and hot dogs to feed to mostly school-aged Brooklynites. 
The NYPD is promoting the importance of more stress-free interactions between police and community residents. / Ruddy Roye
Some came out for the free food but not the NYPD's new touchy-feely message. "I feel like they only try to be friendly to make their job easier, to find out what's going on," said 22 year old Rushina Shaw.
As the new officers attempt establish stronger roots in the neighborhood, they're going to be assigned a regular beat. Six community mentors will introduce the young officers to residents and business owners in an attempt to make them more a part of the community they'll serve. The pilot is set to last through the rest of the year before city officials decide whether it should become permanent.
Captain John Chell, commander of the 79th precinct, taking time to shoot the breeze with a picnic-goer on Harmony Day. / Ruddy Roye
This story is the latest installment of the WNYC series RESET: Bedford-Stuyvesant, which examines effort to improve relations between the police and residents of one Brooklyn neighborhood.