NYPD Officer Peter Liang Found Guilty in Shooting of Akai Gurley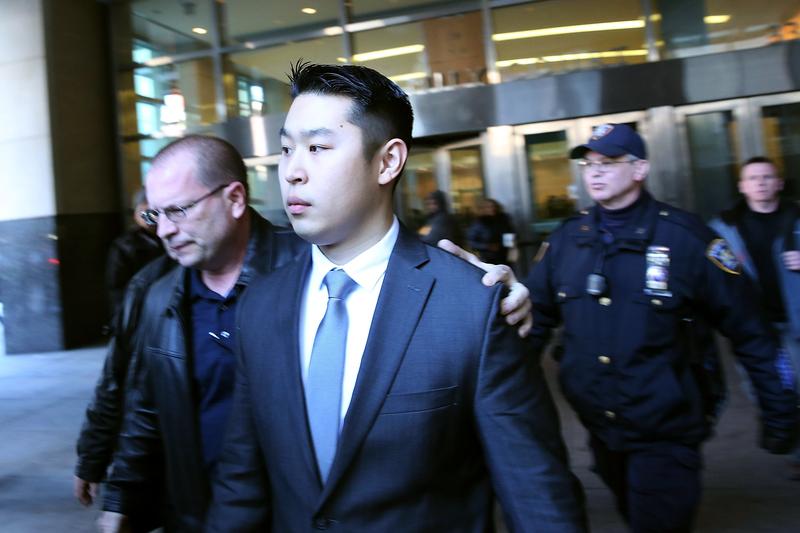 A New York City police officer who shot an unarmed man in a pitch-dark public housing stairway has been convicted of manslaughter and has lost his job.
Jurors delivered their verdict Thursday evening in Officer Peter Liang's trial. Soonafter, NYPD spokesman J. Peter Donald said Liang was fired.
The rookie officer was patrolling the stairwell with his gun drawn in 2014 when he fired. The bullet ricocheted off a wall and hit 28-year-old Akai Gurley on a lower floor.
Prosecutors said Liang handled his gun recklessly and did almost nothing to help Gurley.
The 28-year-old Liang said he fired by accident after a noise startled him. He acknowledged not helping Gurley's girlfriend try to revive him, but Liang explained he thought it was wiser to wait for professional medical aid.
The case has been closely watched by advocates for police accountability. The fatal shooting of Gurley came just months after the deaths of Michael Brown in Ferguson, Missouri and Eric Garner on Staten Island, all three of them unarmed black men killed by police.
"The jury has now spoken, and we respect its decision," Mayor de Blasio said in a statement. "We hope today's outcome brings some closure to the Gurley family after this painful event."
Patrick J. Lynch, President of the Police Benevolent Association denounced the verdict, saying it would have a "chilling effect" on police.
"We are very disappointed in the verdict and believe that the jury came to an absolutely wrong decision.  This was a terrible and tragic accident and not a crime," Lynch said.
Liang declined to comment as he left the courthouse after the verdict. His sentencing is scheduled for April 14.