NYU Hospital Throws Sandy Birthday Party, But Is It Just a PR Stunt?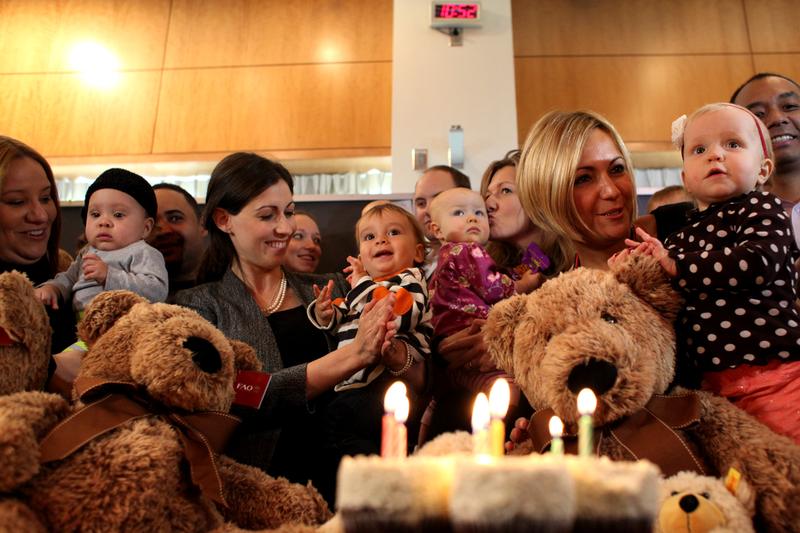 One-year-olds in all shapes and sizes, in colorful rompers and bibs, smeared their faces with birthday cupcakes at the NYU Langone Medical Center Tuesday. They had returned to the place where they had evacuated a year earlier, after Sandy hit and the power went out.
Hoboken resident Meredith Birllon, mother of a cherub-faced girl named Chole, said that around 3 or 4 in the morning, she was strapped to an emergency sled and evacuated by volunteers and nurses.
After the initial chaos of the situation passed, she said she did get mad at the hospital, but her anger quickly faded. 
"Their generators failed, which was awful and unbelievable when you're in that situation," Brillon said. "But things happen and you have to move on. It's a year later and she's happy and healthy and that's all that matters."
There were 19 babies born that night, and nearly two dozen other infants staying in the neontal intensive care unit. All survived.
NYU marked the occasion a year later by bringing not just the babies and their parents back to celebrate, but also the news media to see how well everything has turned out. The hospital has also launched an aggressive marketing campaign, with magazine ads and a television blitz, touting the hospital's safety record.
Mother Helen Chen, her daughter Ilia Pas, and her father Robert Pas, celebrating their daughter's first birthday. (Stephen Nessen/WNYC)
Dr. William Schweizer delivered three babies that night. He said it was impossible to get the mothers to another hospital in time.
"Using flashlights and glowsticks and my iPad flashlight, we were able to put in epidurals in a number of patients who were pretty uncomfortable," he said at the birthday party. "And we gave them beautiful healthy babies." 
Questions have been raised about whether NYU and several other hospitals made the right choice to try to stick out the storm, but the hospital has repeatedly defended its decision.
Paul Argenti is a professor of corporate communications at Tuck School of Business at Dartmouth. He says NYU's public relations strategy is gutsy: to put a positive spin on a near-disaster.
"Would I have done a campaign around that?" he asked in an interview with WNYC. "That takes a lot of hubris. I guess my hat's off to them as PR folks."
After hundreds of patients were evacuated during Sandy, billions of dollars in damage, Langone is largely functioning as it was before the storm. A spokeswoman wrote in an e-mail that new back-up generators will be in operation starting next year, with more in the next two years. And storm-proof construction should be completed by 2017.
Meredith Birllon and her daughter Chloe. (Stephen Nessen/WNYC)
Fifteen babies evacuated from NYU Langone reunited for their first birthday party, with their parents, at the hospital. (Stephen Nessen/WNYC)