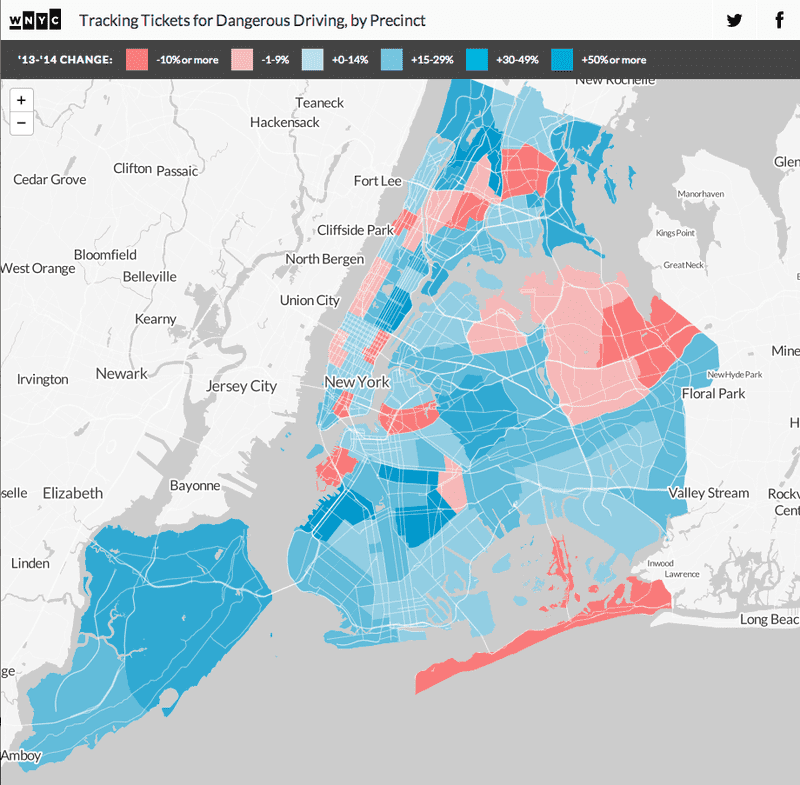 New York City police are writing more tickets citywide for the most serious traffic violations, according to a new WNYC analysis of police ticketing data. Targeting dangerous driver behavior is central to Mayor de Blasio's Vision Zero plan to reduce traffic deaths (pdf).
In 55 of the city's 75 precincts*, officers wrote more tickets in the first quarter of the year, when compared to the start of last year. The tickets covered six key categories: using a cell phone while driving, disobeying a sign, failing to stop at a signal, making an improper turn, not giving right of way to a pedestrian, and speeding. Overall, ticketing in those categories was up across the city: 89,868 tickets in 2013, compared to 100,172 in 2014.
The biggest increase was in Sunset Park's 72nd precinct, where officers wrote almost 80 percent more tickets in January, February, and March 2014 than in those months last year. The biggest drop was in Red Hook's nearby 76th precinct, where ticketing fell by 32 percent. Ticketing was also down in the 24th precinct, which includes the Upper West Side neighborhood where three people were killed in January.  
*A data note: The 121st precinct in Staten Island was formed in July 2013 with portion of the 120th and 122nd precincts. In order to compare 2013 and 2014 data, WNYC has combined the current 120th, 121st and 122nd precincts.