NYPD Makes a New Push to Build Trust and Cooperation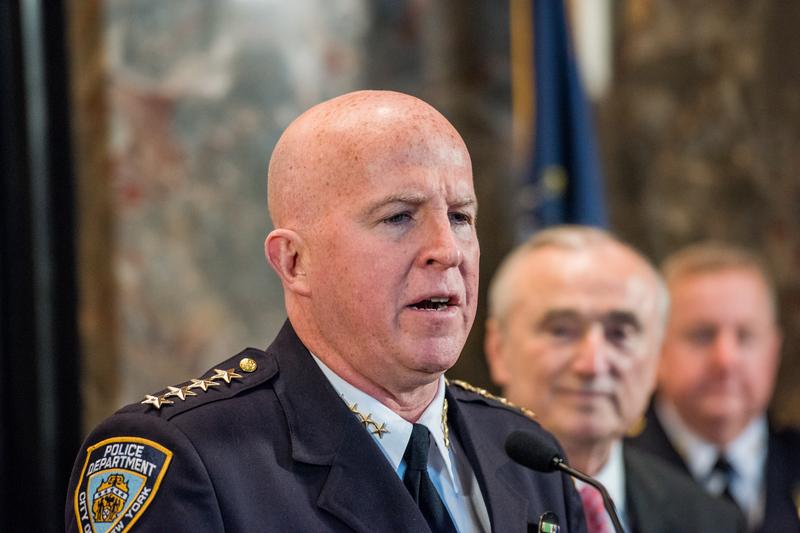 A new NYPD campaign is aimed at building trust in communities and, ultimately, cooperation in crime fighting. Commissioner James O'Neill said the effort was not a marketing campaign, but a movement that "forges true relationships."
The effort is supposed to convince people to report crimes, talk to prosecutors and testify in court. To make his point, O'Neill cited the unsolved murder of a Bronx woman who was hit by a stray bullet last June. He said detectives couldn't get people in the area to say much and reward posters got torn down.
"The clear message is: we need every member of the public to help us. This is a shared responsibility," he said while speaking at a breakfast sponsored by the Association for a Better New York on Tuesday. 
O'Neill acknowledged that years of racking up arrests and driving crime down had come at the expense of alienating communities.
"We did so sometimes in ways that inflamed old wounds, especially among people of color.  And those wounds run very deep," he said. 
The new police commissioner listed ways the NYPD is trying to change that, including a focus on serious, violent crimes instead of low-level offenses.
"But to close the gap in trust and approval of police, we have to do more than eliminate unnecessary enforcement activity," he added. 
O'Neill went on to describe the NYPD's community policing initiatives that include making police officers more accessible and familiar to the public. He said soon the public would have the names, emails and even cell phone numbers of cops that patrol their streets. 
The campaign — which includes working with clergy, business people and academics — is supposed to be run by Police Foundation board member Charles Phillips. He is expected to ask high-profile filmmakers to take part.
O'Neill became commissioner last month after his predecessor, William Bratton, announced he would retire.