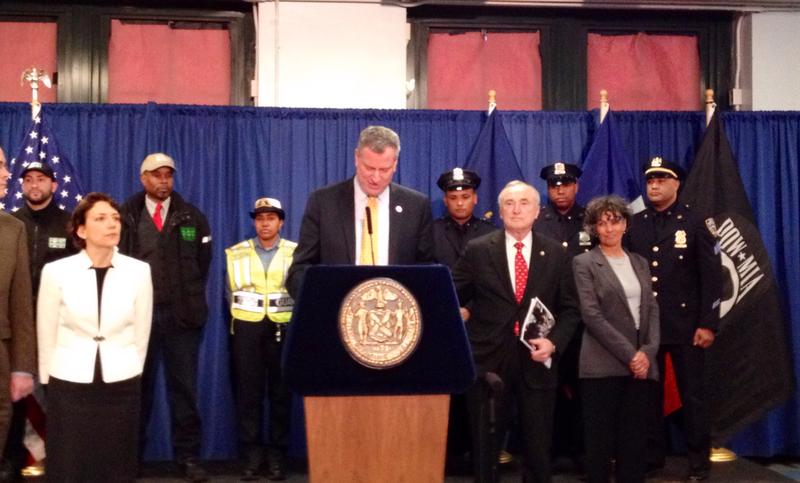 On Tuesday, Mayor Bill de Blasio presented a blueprint comprised of what he called "tried and tested" ideas designed to dramatically reduce pedestrian and cyclist fatalities. 
"We have to act," de Blasio said. "We have to act aggressively, and we won't wait to act."
The "Vision Zero" plan's 63 recommendations can be roughly broken down into three categories: enforcement, education, and engineering.
Key components include lowering the citywide speed limit to 25 miles per hour, aggressively enforcing moving violations, re-engineering streets to calm traffic, and teaching both students and drivers alike the rules of the road.
"This entire plan involves a number of physical and material measures," said the mayor, "but it's about much more than speed bumps and the issuing of violations. It's also about all of us taking greater responsibility every time we get behind the wheel, and every time we step out on the street. Our lives are literally in each other's hands. Our children's lives are in each other's hands."
During the press conference Polly Trottenberg, the city's current transportation commissioner, seemingly gave a nod to her predecessor, Janette Sadik-Khan. "Over the past few years," said Trottenberg, "our street design safety projects throughout the five boroughs have been able to reduce fatalities at specific streets and intersections anywhere from 20 to 88 percent."

Some of those initiatives, like speed bumps, installing new crosswalks, and adding pedestrian islands, can be implemented immediately. But others—like lowering the speed limit and installing more red light and traffic cameras—require Albany's approval.
While de Blasio said he believed the state legislature would be receptive, Albany's support is no sure thing.
Advocates hailed the mayor's announcement. "I'm extraordinarily impressed," said Paul Steely White, who heads Transportation Alternatives. "There seems to be a very concrete focus on action. It's really focusing on what has worked in the past right here in New York City and expanding those practices citywide."
Mary Beth Kelly, whose husband was killed in 2006 in a traffic crash, said she was heartened by the plan. "I can't tell you, after seven and a half years of doing this, how uplifted I feel," she said.  "We have a mayor who has moral courage."
But the Vision Zero rollout has not been without its bumps. NYPD commissioner William Bratton had, in an earlier press conference, said pedestrians were responsible for a large percentage of traffic fatalities. And last month, following three pedestrian deaths on the Upper West Side, local police issued a number of tickets for jaywalking.
Many found the emphasis on jaywalking confusing. By the city's own measure, "dangerous driver choices," like speeding and failure to yield to a pedestrian in a crosswalk, are responsible for 70 percent of all fatalities.
Kelly said she told Bratton "when you said you were going after jaywalkers," she said, "you broke my heart."
But by Tuesday's announcement, the de Blasio administration was distancing itself from that approach. "Anti-jaywalking measures are not part of the overall plan," said de Blasio, although he cautioned that precinct commanders have the right to make decisions they believe are appropriate.
Watch a video of Tuesday's announcement below.