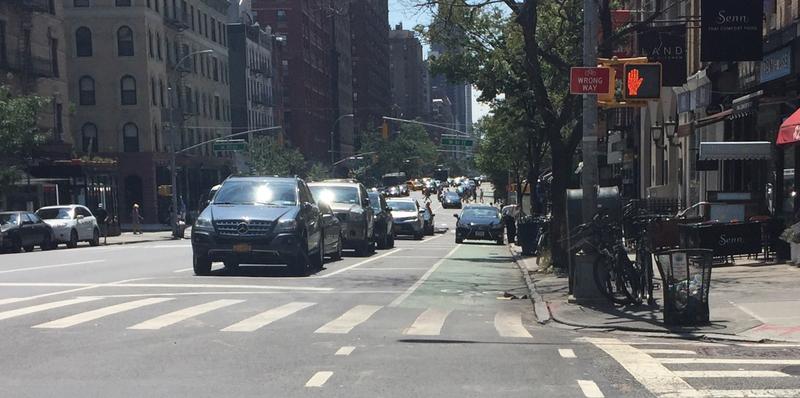 Earlier this week, the city announced it would exceed its original target and install a record-setting 18 miles of protected bike lanes this year, rather than the 15 it had originally planned.
"No cyclist death is acceptable," said de Blasio in a press release, "and that's why we'll continue raising the bar to keep riders protected."
But that bar is not being raised fast enough for street safety advocates. Alarmed by an increase in cyclist deaths, several groups held a protest ride to demand the city step up the pace of bike lane installation, as well as implement other Vision Zero safety reforms.
Almost 2,000 bikers took over Fifth Avenue on Thursday evening https://t.co/6mAzwILaPc #ridetogether #visionzero #bikenyc @transalt

— Paul Steely White (@PSteely) September 16, 2016
So when it came time for Brian Lehrer's weekly "Ask the Mayor" segment Friday morning, it seemed likely that bike lanes would come up. Caller Chris from Soho did not disappoint. "The bike lanes are a fabulous thing," he told de Blasio. "I've been cycling in the city for 30-plus years."
But then the other shoe dropped: "You can't go five minutes in a bike lane without running into somebody illegally parked," Chris said. 
He then suggested something along the lines of a citizen red-light camera, in which cyclists' photos of bike lane blockers could be used to ticket offenders. The mayor said he appreciated the idea, but that traffic enforcement was best left to the professionals who could understand nuance.
"There are people stop in a bike lane to, you know, let someone off at an appointment or something like that, or just drop off kids at home or something quickly," de Blasio said. "That's a different matter than someone who double-parks and leaves their car there."
Leaving that distinction aside, in fiscal year 2016 NYPD traffic enforcement officers issued 71,423 tickets to drivers who blocked bike lane according to city data. That's about on par with 2015, when 72,206 tickets were written. And yet to gauge from the experience of the average cyclist, it would seem that tens of thousands of tickets are both not enough — and can't prevent drivers from encroaching upon bike lanes.
"If you don't have good enforcement to go with that building out of the bike network, you're not going to make the bike network as safe and enjoyable as it should be," said transportation commissioner Polly Trottenberg. "We hear loud and clear we know cyclists want to see good enforcement in those bike lanes. We do too!"
Trottenberg said the idea of citizen photo enforcement, which Chris from Soho brought up on WNYC, was already on the table. "His question — there's a root in it which is something we've been talking about at DOT," she said. "which is 'can we make more of this enforcement automated in some way.'"
Camera enforcement of city roads is an Albany issue, so the city would need the state's permission before being able to photo enforce bike lanes. But Trottenberg said that the city would install the cameras for other purposes.
"Even if you don't have enforcement authority, you can use that data so that when the police go out, they can do smart enforcement, they can look at the camera feeds and see where they're seeing hot spots," she said.