SchoolBook
NYC Chancellor: Matchmaking Makes Better Schools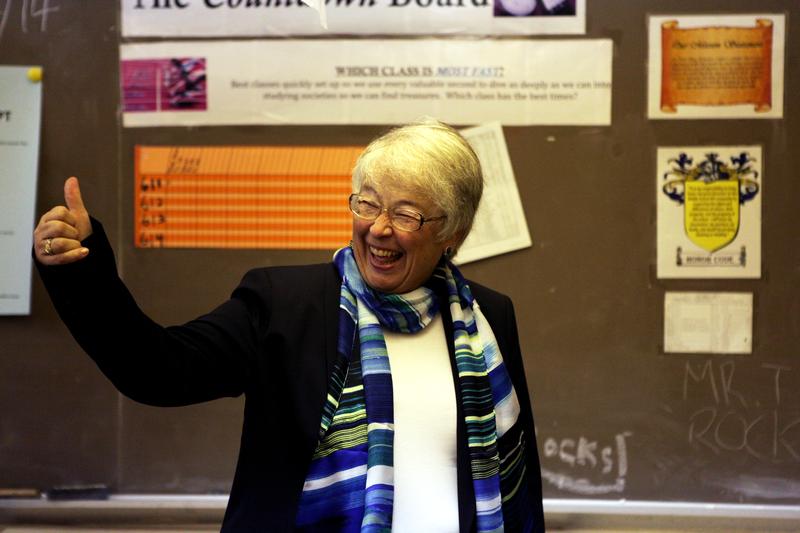 New York City Schools Chancellor Carmen Fariña selected the first batch of schools she's hoping will lead by example, pairing them with other schools in need of improvement, in a program that matches educators from across the system.   
The Learning Partners Program unveiled Monday at I.S. 88 in Brooklyn marked another way the chancellor placed a premium on collaboration, in contrast to more competitive models used by former-Mayor Michael Bloomberg.
The host schools were not chosen for their test scores: only three of them got A's on their last school report cards and two received C's.  But they are all in the top tier "in terms of the commitment," she noted.
The partner schools chosen had grades ranging from B's to D's. The Department of Education said many are in transition with new principals,  serve students with diverse needs, or have a targeted area for improvement.
"I have the analogy that the best way to clean your house is to have your mother-in-law come over for dinner," said Fariña. "And it's the same thing as a principal. If you have an audience for your work you're going to refine it you're going to make sure it's the best you can be."
The partnerships mark a change of tone, according to Ernest Logan, president of the Council of School Supervisors and Administrators, the city principals' union. "There were so many wonderful things happening in schools that we've never shared with each other, we always kept it close," he said.
The schools were selected from all grade levels in all five boroughs. Marble Hill High School for International Studies in the Bronx was named a host for  two other high schools in its shared campus.
The Department of Education will evaluate the program in June with plans to expand to 72 schools next fall, 24 hosts and 48 partners, including charter schools.
With reporting from Stephen Nessen