NYC Progressives Continue Victory Lap With Mammoth DA Inaugural Bash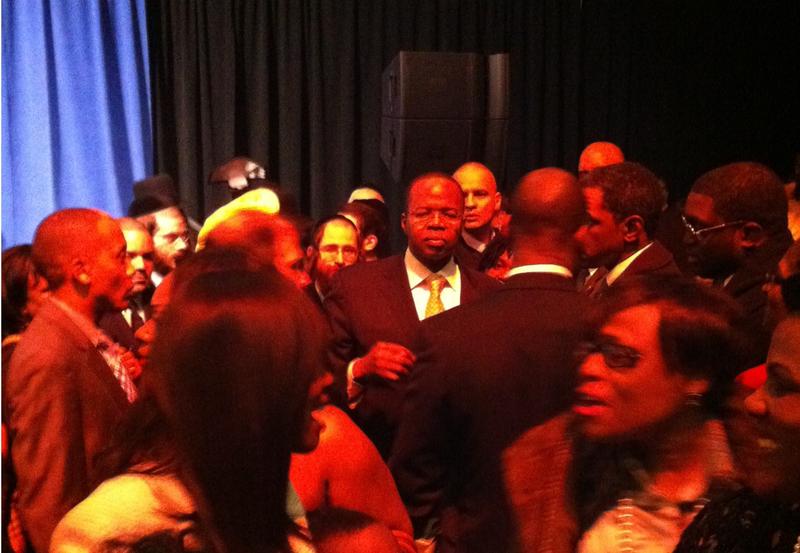 The victory lap for New York City's newly-elected progressive leaders continued Sunday evening with a lengthy inaugural party for Kings County District Attorney Kenneth Thompson that drew a crowd of about 800 to Steiner Studios in the Brooklyn Navy Yard.
Mayor Bill de Blasio was one of the politicians who spoke at the three-hour coronation, which featured more than a dozen speakers, two musical interludes and multiple invocations and benedictions. De Blasio said the new DA will be a good partner is helping push long overdue reforms.
"Ken is going to help to create a new New York in which we make people safe and respect their rights at the same time and that means ending the overuse of stop and frisk once and for all and making sure police and community work together every single day," De Blasio said.
He also said Thompson is part of a broader change in the city.
"He is a thoroughgoing progressive - someone who believes in making government respond to all the people, someone who believes we can do things differently. He comes along at a moment when a lot of other progressives have come into leadership and it's a moment for change, for sustained change," De Blasio said.
Thompson, the borough's first black DA, promised a number of changes under his leadership including a new unit to look at labor law violations and a unit to help immigrants.
He also vowed to expand the unit that looks into possible wrongful convictions - an issue that dogged Thompson's predecessor Charles Hynes during the election. But while he promised to release people who have been wrongfully convicted, he also pushed back slightly against advocates who have been calling for swifter action from the DA's Office in reviewing old cases.
He said that while some want speedy decisions, "we have an obligation to the victims, we have an obligation to their families, we have an obligation to the criminal justice system and to the defendants themselves to get it right. And we will not sacrifice thoroughness in our pursuit of justice."
After the lengthy scripted inauguration ended, a number of supporters and political insiders moved on to a private reception. That event was closed to the press.