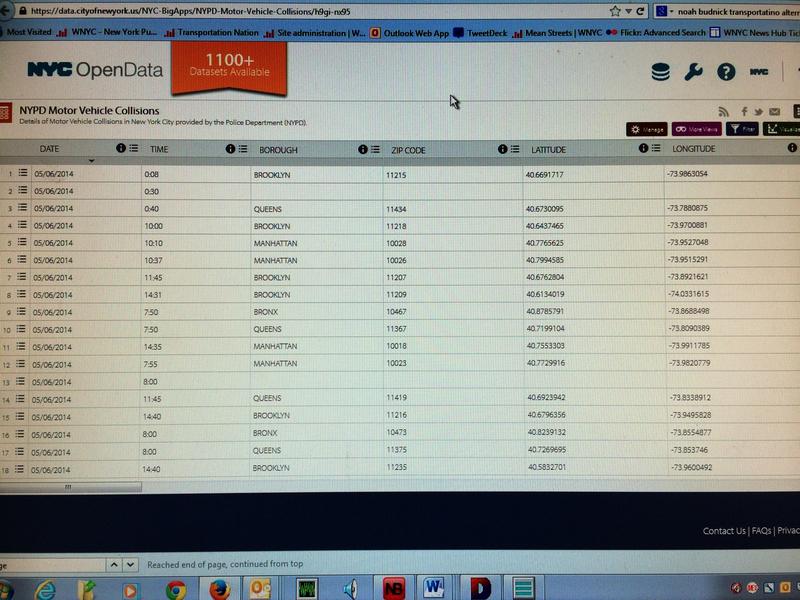 After years of prodding from safe streets advocates, the New York City Council, and the tech community — not to mention reporters — New York City has finally released comprehensive traffic crash data.
"This is amazing, and more than what we were expecting," said coders Noel Hidalgo and John Krauss in a joint statement. "The geocoding and integration with the data portal are unexpected and *extremely* pleasant surprises."
The data went live earlier Wednesday in preparation for this year's BigApps, a four-month long competition that leverages technology to solve civic problems. It represents all collisions for which NYPD completed an MV-104 report dating back to July 1, 2012, and can be downloaded in a variety of formats. As of right now, it contains 329,018 separate entries.
Previously, the NYPD released crash data on a monthly basis (with big lags) in PDF format. At a City Council hearing last year, Hidalgo told the council: "Because of poor, inconsistent, and non-existent crime and crash data, creating tools to make safer streets is next to impossible."
As an example, here's a photo of 2012 crash data WNYC received last year after filing a Freedom of Information Law request with the NYPD:
2012 crash data, pre-Vision Zero. (Kate Hinds/WNYC)
Opening traffic crash data also fulfills a key component of Mayor Bill de Blasio's Vision Zero plan. In a newly-released video for BigApps, de Blasio says: "My big idea is to eliminate traffic fatalities in New York City."
Noah Budnick, the deputy director of Transportation Alternatives, was thrilled by the city's move. "Having the data and being able to analyze it is a very important first step to figuring out what the problems are and how to solve them," he said. "It's almost an epidemiological approach" to preventing traffic crashes.
Even this new and improved data, however, lacks some specificity. The ages of crash victims aren't included, for example, and it's not clear whether the latitude and longitude pertains to the actual scene of the crash or the nearby intersection. But "this is a great start," said Budnick. "It's an amazing step, and hopefully the start of a civic conversation. This is not the end. This is the beginning."