Our Trouble with Trash in 1969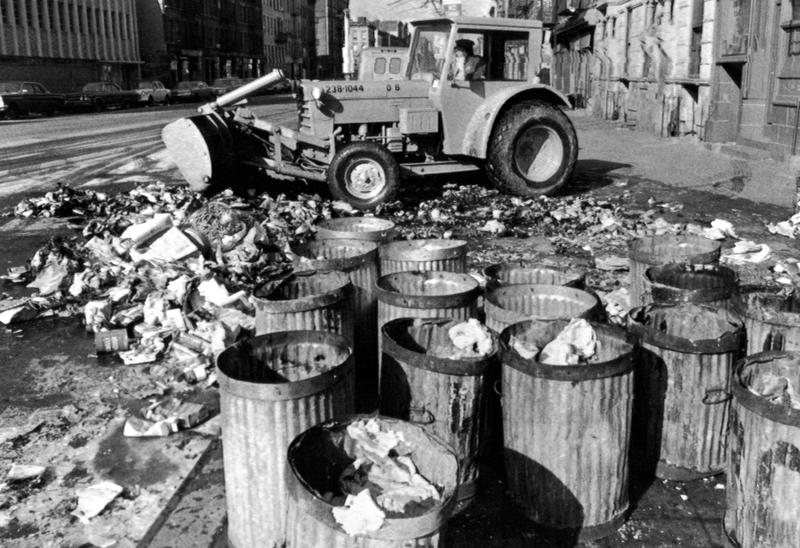 There were several reasons why trash was giving New Yorkers anxiety in 1969. The city was still reeling from a historic sanitation strike that at one point had left over 100,000 tons of trash on the street. That crisis, coupled with a boom in disposable consumer products and a sudden lack of nearby landfill space, had many wondering how New York would deal with its exponentially growing garbage problem. In this broadcast from 1969, writer Paul Wilkes discusses his New York Magazine article titled "The Trash Explosion", which outlines some of the more ominous predictions and specious solutions of the time.
Unlike today, Wilkes doesn't talk much about massive recycling efforts, city-wide composting programs, or plastic grocery bag levees. Rather, the proposed solutions veer more toward the creative, like filling in the Sahara Desert with municipal waste or equipping homeowners with personal laser beams that could 'poof away' kitchen trash. Unless something is done soon, Wilkes argues, the city will run out of room for garbage by 1973.
Even though Wilkes' most dire prediction may not have come true, this audio reminds us that many disposable products we use today were still something of a novelty in 1969: disposable bed sheets, diapers, and plastics packaging was all relatively new. But that novelty soon became the norm as consumers began demanding greater convenience over cost or environmental considerations. Wilkes estimates that within 10 years, this new kind of consumerism will double the amount of garbage New Yorkers produce from 6 to 12 pounds a day.
So where exactly does all of New York City's garbage go today? Well, according to the New York Times, the city has the most complex waste management system in North America. And although there is a fascinating history of garbage removal in New York, the short story is that today the city spends $300 million dollars a year to truck 85% of its waste to landfills in Pennsylvania, Virginia, Upstate New York, and even China and India.
Audio courtesy of the NYC Municipal Archives WNYC Collection.
WNYC archives id: 151640
Municipal archives id: T4784