How Fringe is the Fringe Festival?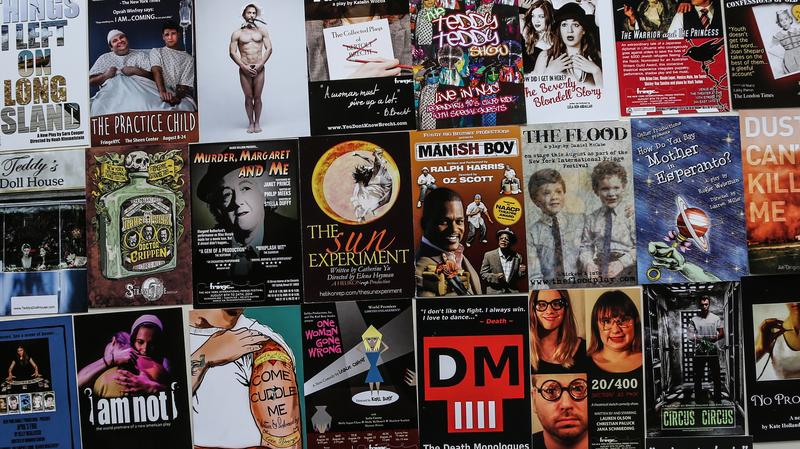 Over its 18-year history, the New York International Fringe Festival has become an institution. With about 200 shows in 18 venues across the city, it draws 75,000 audience members — making it one of the city's largest cultural events.
To regular theater goers, Fringe NYC is a must-do. People buy tickets for six, 14 or even 30 shows at a time. But can something so established be at the forefront of avant garde or experimental theater, which "fringe" seems to imply?
That, it turns out, is the wrong question.
"It's not so much for avant garde presentations as it is for people who don't have a great deal of reputation or money or power. It's a way for them to get some attention," said playwright Jeffrey Sweet.
Sweet himself has had dozens of his plays produced. Yet he, too, has a show in this year's Fringe festival. Called "Kunstler," it's about the colorful civil rights lawyer William M. Kunstler, perhaps best known for defending the Chicago Seven. 
Other more conservative cities might be shy about putting risqué or unconventional work onstage. But in New York, it's not the content that keeps shows away from the spotlight. It's the cost.
"Renting a venue alone can cost $6,000 to $10,000," said Elena K. Holy, producing artistic director of the Present Company, which created and produces FringeNYC. That doesn't include liability insurance, marketing help or box office staff, which Fringe provides. In contrast, the 200 companies that get a Fringe slot (about 850 applied this year) pay only $700 to the festival, in addition to their production and travel costs. 
"You just can't beat the deal," Holy said.
In other words, Fringe gives a home to theater that otherwise wouldn't have a New York City home because the playwright and director would not be able to afford it. Not all of that theater is wacky, though some of it is. 
Take Ryan Williams, who co-wrote "Pickles and Hargraves and the Curse of the Tanzanian Glimmerfish" with his roommate, Georgia Clark. "Pickles" is a comedic murder mystery with a mouse detective. The mouse is never seen by the audience — they only hear his squeaks, which are interpreted by cast members. 
Williams and Clark tried to mount their play in the city, but only got a one-off show here and there, never a run. Until FringeNYC accepted their work. Now, "Pickles and Hargraves" will play for five performances.
"Our show is written by people who have never written plays before. We've got a bizarre concept, there are queer themes throughout," Williams said. "It's definitely not something you'd see anywhere else."
The New York International Fringe Festival runs Aug. 8 through 24 at venues around Manhattan. Tickets are $18 in advance.
My Top Five Fringe NYC Picks
1. "Kunstler"
A two-person play by Jeffrey Sweet about the controversial lawyer William M. Kunstler, most famous for defending the Chicago Seven and members of the Black Panthers.
2. "Pickles & Hargraves and the Curse of the Tanzanian Glimmerfish"
A comedic murder mystery — where the detective is a mouse the audience never sees (he's too small).
A contemporary take on Sophocles' "Antigone" that's a response to LGBT bullying. Produced by Lin-Manuel Miranda's 5000 Broadway Productions.
4. "The System"
An original, experimental play from a South African company — African Tree Productions — about three young men who escape from a Soweto Prison. It was well-received at the Edinburgh Fringe Festival.
5. "The Mushroom Cure"
Can hallucinogenic mushrooms cure obsessive-compulsive disorder? One man experiments.