SchoolBook
NYC Families Jump Start High School Application Process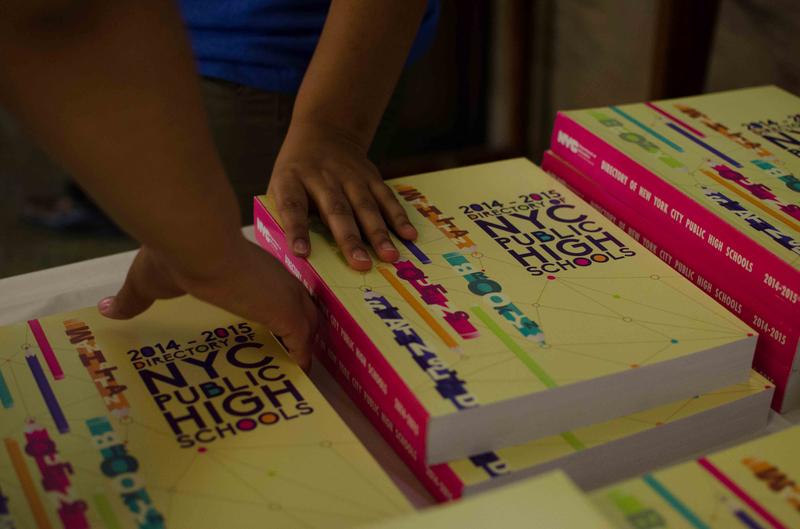 Hundreds of New York City families used their summer break to jump start the high school admissions process by attending recent information sessions hosted by the Department of Education.
On Tuesday, hundreds of families filed into a Hunter College auditorium to learn about the city's specialized high schools. Organizers handed out thick, multicolored manuals detailing the admissions process and including a sample of the Specialized High Schools Admissions Test (SHSAT) or as the evening's host fondly referred to it, the 'Shizat.'
Sebastian Hernandez, a student at the Frank Sansivieri Intermediate School I.S. 73 in Queens, said he had a few things topping his list for an ideal high school.
"Good sports, good programs," he said. "The teachers, the kinds of students that go there."
Added to the complexity of the high school search is the combustible mix of teenagers and parents trying to work together. 
Student Chase Pinherio said she didn't like one school because of its uniform requirement but her mother, Natasha Pinheiro, said she had different priorities.
"I'm looking at class size, school size. I'm looking at the commute," she said. "So those are the things, the logistical things, that a kid doesn't think about but those are the things that actually are important."
Some parents said they were nervous about the sheer amount of information they have to help their children navigate.
"It's very overwhelming, the amount of choices," Daisy Farrugia said. "The college process might be easier."
But others were feeling optimistic about navigating the system.
"New York City doesn't make it difficult on purpose," Michael Hashim said. "It's just complicated because you have a lot of choices which is a good thing, really."
For more information about high school admissions process, be sure to check out Schoolbook's High School Guide.