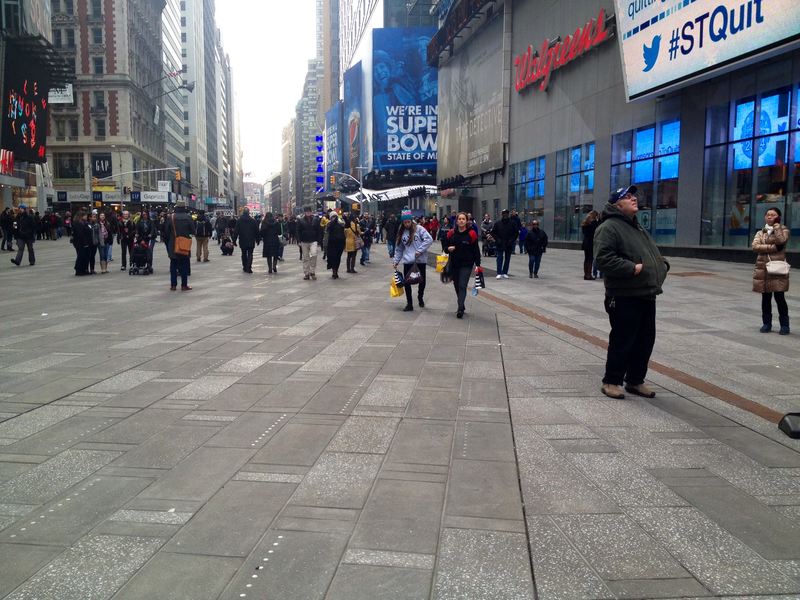 (Updated 4:50pm with additional comments) New York City's transportation commissioner said she wants to make sure streets get redesigned all over the city — not just Manhattan.
At a construction industry forum Tuesday morning, Polly Trottenberg (who took the reins from Janette Sadik-Khan in January) was asked if she planned to make any changes to initiatives made famous during the Bloomberg administration, like bike lanes and pedestrian plazas.
In a word: no.
"I think we're really going to build on what the administration did in that regard, and we're going to continue to build out the bicycle network, we're going to continue the plaza program," said Trottenberg. "I think one particular focus that will be part of the de Blasio administration is to really make sure we're pushing those programs out into the other parts of the city that they're not just Manhattan-centric, so to speak, that we really get out make sure we're getting to all five boroughs."
But paying for them — especially pedestrian plazas — will be a challenge. Trottenberg pointed out that in the past, when the city created pedestrian space in Union Square, Times Square, and Herald Square, the projects had financial support from local Business Improvement Districts. But, she said, in less business-rich neighborhoods, "you don't necessarily have big BIDs, you don't necessarily have deep-pocketed parties that can step in and maintain those public spaces in perpetuity, but we really want to make sure we do that in all parts of the city. That's one of the challenges we're having in creating public space, inviting public space all over New York."
Trottenberg joked that she had sidestepped some of the controversy heaped the previous administration for re-engineering some New York City streets. "I'm blessed because in a lot of ways my predecessor broke a lot of eggs," she said, referring to former DOT commissioner Janette Sadik-Khan, who has been alternately praised and excoriated for bringing bike lanes, public plazas, and a bike share program to New York.
But times have changed. "Now, my line is essentially 'demand exceeds supply,'" said Trottenberg. "I have so many folks all over the city — elected officials, community groups, community boards — coming to me and wanting more bike lanes, wanting bike share stations, wanting plazas, wanting us to see what we can do to make their neighborhoods more livable, more walkable, and more inviting...part of my challenge now is coming up with the resources to meet the demand."
At a separate event, also held Tuesday, NYC Deputy Mayor Alicia Glen expressed strong support for Citi Bike, the city's financially precarious bike share program. Glen, who helped put together the deal to finance the program while at Goldman Sachs, said her former employer is "getting exactly the return on their investment that they expected."
But, she acknowledged, "it's been a bumpy road — pardon the pun." Glen said the city is working "to infuse more capital into bike share so that we can sort of get it back on the road."
Once that recapitalization happens, the city can then look at expansion. "I think everybody would agree," she said, "it's fundamentally changed the gestalt of lower Manhattan and parts of Brooklyn......it's fantastic. So we're going to do everything we can to make sure that it's healthy and that it expands in a responsible way."
"The mayor and I are completely committed to seeing the program expand," Glen added.
(with additional reporting from Ilya Marritz)